There's an oasis in Healdsburg in an industrial park at the end of Moore Lane, past storage sheds and warehouses toward a dead end. Even though it's not the kind of place people just happen upon, when they find it they're not disappointed.
Breathless Sparkling Wines is a local legend, a place to find local bubblies of national stature right here in town. Its tasting area is surrounded by mature trees with overarching canopies and blue umbrellas, creating a comfortable, shaded space cozy enough for conversation. It's a social environment, and it's probably impossible not to have a good time.
After all, they serve champagne. And there's something about champagne—the bubbles, the relatively modest yet noticeable alcohol, the exuberant act of opening a bottle—that banishes the blues. Not without reason is it associated with life's happiest moments: an engagement or a wedding, a birth or a birthday, a promotion or an award.
It's also, more than any other drink, associated with women. Breathless makes no bones about the female power in champagne, and the company's ownership by three sisters is as much a part of the brand as the wine label—a fetching cabaret girl riding the swollen brut cork toward unknown celebrations.
Even though there's an inescapable perfume of femininity about sparkling wine, Sharon Cohn says, "I have to say that men love bubbles, too. They're happy to be here," at the social tasting oasis at the end of Moore Lane.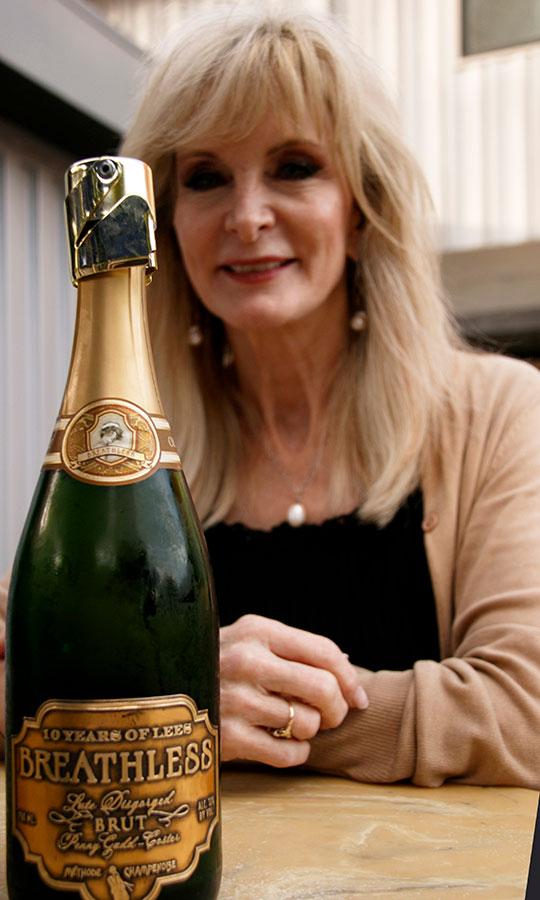 Sharon Cohn is Sister 1 of 3, the eldest and the most visible of the three women who run Breathless; four, actually, if we count winemaker Penny Gadd-Coster, and we should. Rebecca Faust is Sister 2 of 3 and co-founder of Rack & Riddle, a company named for the crucial finishing steps in sparkling wine production. Sister 3 of 3 is Cynthia Faust, the manager of brand development for Rack & Riddle, the onsite custom wine services finishing facility that specializes, of course, in sparkling wines. All three are literally in the DNA of Breathless.
Breathless was started in 2007 by the three sisters' love for and dedication to their mother, Martha Jane Faust. A tennis star in her college years, Martha Jane had a rare genetic condition that sapped her usual high-energy lifestyle and left her, at the end, breathless—just as she had left her three girls panting behind her in her prime as she ascended the next hill, the next summit, the next challenge.
Awards Won
But the wine label, which specializes in Sonoma County sparkling wine and has earned a raft of awards in the wine press—98 points, Best of Show, Sweepstakes Winner, that sort of thing—isn't built on morbidity, but celebration. After all, there's the other kind of breathless, a moment so special and inspiring and elevated that it literally takes your breath away.
Don't think that Breathless is an exclusive club, however. The current director of winemaking is Manveer Sandhu. The director of sales and hospitality is Ethan Glago, ever-present and ever-optimistic at the tasting room. Kirby Booth is a wine ambassador, guiding guests through the charms and surprises of a sparkling flight, and instructing the more eager through the art of sabrage, using a saber to open a bottle of champagne.
But as one employee told Cohn, "It's nice to work for a woman-owned company, because they think of all the details."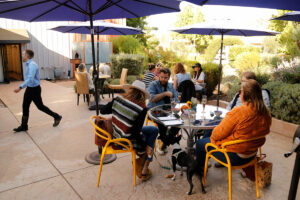 Rebecca Rosenberg, of Kenwood, is one of Breathless' earliest and most loyal customers, and a good friend of the family. Though she began her writing career in life's second half, she has authored several books on women who have made a difference in wine history, with a particular focus on those she calls "Champagne Widows."
When asked about why women are so closely identified with champagne, Rosenberg has a ready quote at hand: "I drink Champagne when I'm happy and when I'm sad. Sometimes I drink it when I'm alone. When I have company I consider it obligatory. I trifle with it if I'm not hungry and drink it when I am. Otherwise I never touch it—unless I'm thirsty."
So said Lily Bollinger, one of a handful of women who personify the champagne story; along with Madame Pommery, the creator of brut; and Veuve Clicquot, the widow who took over her husband's business and steered sparkling wine to the height of social respectability early in the 19th century.
The Real Champagne
One doesn't have to be a hoary veteran of the wine world to know that "Champagne" is the region of France where the only true champagnes are made. Even if made by the identical means of Méthode Champenoise, unless it's from Champagne it's just a sparkling wine. So while all the Breathless bottles can claim to be California sparkling wine, it's becoming less of a stigma even in that hoary wine world.
To demonstrate, Breathless will host a comparative tasting this coming weekend. The so-called Champagne Showdown will compare French bottles of blanc de blanc, brut and blanc de noirs against their California counterparts. The blind tasting will have an all-star panel of judges, including Ziggy Eschliman, the Press Democrat's Sarah Doyle and Heather Irwin, and international sommelier Christopher Sawyer.
Author Rosenberg will be on hand as well, explaining the history of wines and the women who made them. She is as versed in the annals of the wines as in their appeal; their color and bubbles, their elegance and celebratory meaning, their cultural significance. "It's associated with luxury and sophistication, and many women enjoy drinking it because it makes them feel glamorous and special," she said. And woe to the man who isn't paying attention.
The Breathless vs. Champagne Showdown is Saturday, Oct. 28, from 3-5pm at 499 Moore Lane; breathlesswines.com. It's bound to be another breathless moment.