What will become the largest public park in Healdsburg is moving closer to reality, but there remain two key issues that stand between the present and the ribbon cutting: who's going to pick up the tab, and what it's going to be called.
Possibly with the recent memory of the Foley Family Community Pavilion in mind, the City Council rejected the idea that the entire 38-acre park, spreading between Parkland Farms and the Montage resort, might end up with the name of its largest donor.
At a recent City Council meeting, on Aug. 7, the council discussed how a sponsorship model would work to help defray the estimated $35 million dollars it would cost to build out the park. Some of the larger expenses, which would include costs for infrastructure, restrooms, parking and hookups at the community portion of the park, could total $20.6 million. The sports facilities would cost $12 million, and redevelopment of the existing Barbieri Brothers park would be about $2.6 million.
Naming Rights
But more discrete elements in the park might be ripe opportunities for sponsorship with naming rights, said Mark Themig, community services director. He estimated individual park components and their expected costs at a community garden ($300,000), a large-dog park with an open run area ($200,000), a small-dog park ($300,000), hiking trails ($300,000) and a performance area ($500,000).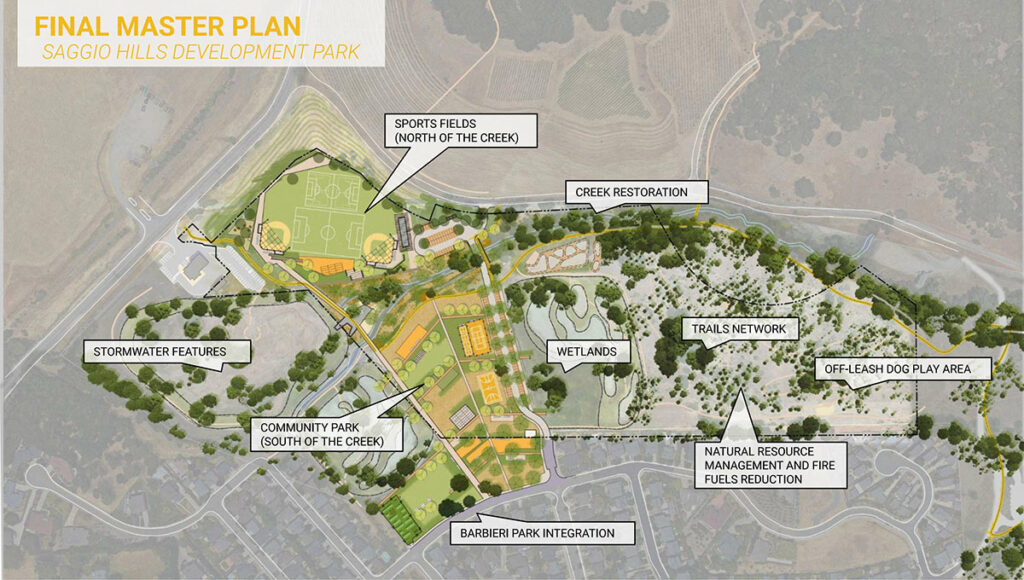 Larger, hence more expensive, opportunities outlined in the master plan include a picnic pavilion ($1 million), a picnic "island" ($2.5 million), a community park playground ($1 million) or a sports complex with a synthetic turf system ($5 million).
While Councilmember Chris Herrod endorsed the idea of seeking sponsorship, he felt it should not be a free-for-all. "I think it would be kind of dystopian to have every bench and every swing named after a corporation or some oil tycoon or whatever—that sort of makes my skin crawl," he said.
Herrod also strongly opposed giving the entire park a corporate name. "I want this to be named something that's really valuable to the community… Hopefully with a DEI lens on the process as well," he said, referring to the city's recent Diversity-Equity-Inclusion studies.
Mayor Ariel Kelley reiterated that this was in line with earlier council discussions on the topic, to keep the naming of the park itself off the table for sponsors.
Councilmember Ron Edwards said a sponsorship would be reviewed by the City Council anyway. "It's helping us reach our goals, and the council makes the decision," Edwards noted.
City manager Jeff Kay put the sponsorship and funding discussion in perspective. "'We're really not counting on one dollar of sponsorship to move this thing forward," he said. "But we don't anticipate having $35 million any time soon, so we're charging forward….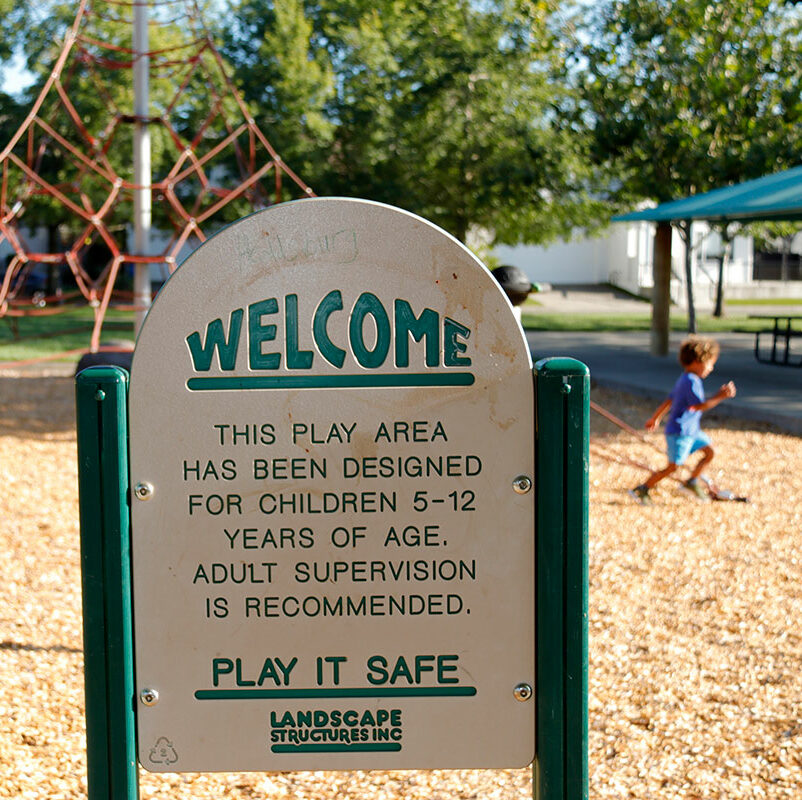 "I don't want to give the council or the community the impression that we're sitting around waiting for some benefactor to make this project go," he continued. "We do have funding. We have plans to get more funding; we're just going to have to phase it in. If some money were to appear and we can get the whole thing done sooner, that might be a good thing."
One thing the council agreed on was that costs for the park and its facilities could only increase over time, so moving forward with seeking sponsorship opportunities makes immediate sense.
Nominations Accepted
While the city will solicit sponsorship support for specific features and structures of the park, the park itself will have a name suggested by the community.
"The City of Healdsburg invites you to contribute your creative ideas for the naming of our upcoming park in the Saggio Hills development! Your suggestions are pivotal in influencing the identity of this soon to be cherished space," reads the city's page describing the initiative.
A downloadable "Park Naming Flyer" in both English and Spanish includes four pages of background information and a two-page form for nominations, with check-boxes explaining the choice as a person, geographic reference, physical component, natural feature or historical event, though more than one check is permitted.
The form can be submitted in a number of ways: by dropping off the completed flyer at the Healdsburg Community Center, or emailing it to [email protected]. The form can also be filled out directly online at www.healdsburg.gov/parknamingform.
The extensive acreage will include roughly 12 acres of recreational facilities plus a 26-acre open reserve area to connect with the Healdsburg Ridge Open Space Preserve. There will be an extension of the paved Foss Creek Pathway through the park, and an improved soft-surface trail network.
The city's community development department has been studying the Saggio Hills Development park proposal for several years. The approved "master plan" includes restoration of the Foss Creek riparian habitat, sports fields and courts, play areas, a large picnic pavilion, open lawn areas, dog play area, community garden, a pump track, picnic grove and special use gardens (e.g. native plantings, pollinator gardens, and habitat for insects and reptiles).
Naming procedures will follow the city's Park Naming Policy, adopted in 2002 to create an equitable way to name existing and future park and/or recreation facilities. "The objectives of this policy include ensuring the naming/memorializing of public parks and recreation facilities will enhance the values and heritage of community interests," reads the city's website.
"As well as, encourage the dedication of land or groups and public use by individuals and groups, and provide recognition of their achievements or community contributions," the website also states.
Said Themig, following publication of the print edition of this paper, "The deadline we initially selected isn't consistent with the park naming policy that requires 60 days. The new deadline will be 11:59 p.m., Sunday, October 29."