Healdsburg High junior Hadley Rueter will travel to Atlanta in June to compete in the SkillsUSA National High School Culinary Competition. Rueter's difficult journey included beating more than 70 competitors across the State of California to make the nationals. This will mark her second time at the national finals: She competed last year as well.
She also swims for the highly rated Healdsburg High team, specializing in the breaststroke, and plays varsity volleyball in the fall, all while being an AP student.
Rueter, a Healdsburg native, went to St. John the Baptist Catholic School before attending Healdsburg High along with her brother, Lincoln, now a sophomore at HHS. Culinary arts have always been a part of her life, as her parents both attended the Culinary Institute of America.
"I have been cooking, since I was probably like 4 or 5, with my parents. They both went to the Culinary Institute of America so they've always been cooking as well, so it was just kind of natural," said Rueter about her inspiration to cook.
She credits her boyfriend, senior Eliot Gomez, for introducing her to the culinary competition. "He told me it was pretty cool," she said. Rueter took his advice and signed up to compete, eventually making it to Atlanta for the first time last year, where she represented the State of California.
At Healdsburg High, Rueter participates in one of the best culinary programs in the country, with Derek Corsino as the lead instructor. Corsino was featured in Season 7 of the Food Network's Spring Baking Championship. In an interview with the Press Democrat in 2021, he said he wore an HHS bracelet in every episode of the show. "Yes, I did this for glory and fame, but at the end of the day I also want my students … to see their teacher up there working hard."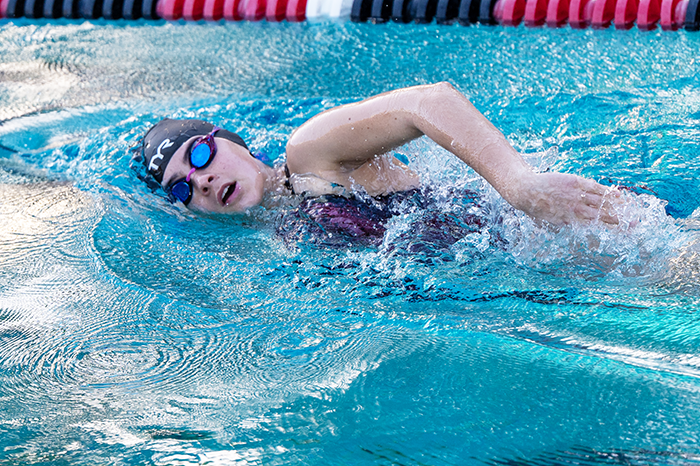 Corsino, who has been on the Food Network multiple times since 2011, teaches the young Healdsburg High cooks who come through his class the skills to cook great food. The program has produced many talented young chefs and is possibly the top program among high schools in Northern California.
"We have a great culinary program," Rueter said. "It's run by Derek Corsino, who is my instructor, and he's really great with providing all the resources. If it's food, cooking tools—anything you need—and just moral support. If he has an idea for something I can try making, or if we come to a road bump, he's always there. I think that's been pretty instrumental for my success."
The school boasts some incredible facilities for a high school culinary department, including a full-size commercial kitchen which gives the 100-plus students participating in culinary classes a chance to cook like professional chefs in a professional kitchen. "The facilities provided at Healdsburg High are really great. No one has anything like them," Rueter said.
This year, heading into her competition, Rueter felt she needed to defend her spot representing the state in last year's SkillsUSA competition. "I'm excited to go to Atlanta again," she said. Rueter prepared for the competition last year in a commercial kitchen, running through the competition timeline for a week, and she intends to do much of the same this year.
"This year will be a lot of the same, but I do already have some of that muscle memory from last year so it won't be as much. It will just be practicing the dishes and maybe one full run-through of the competition," she said.
At State Finals this year, Rueter placed first and Healdsburg High also took third, as sophomore Julia Dolph finished behind Ari Nourmand of Beverly Hills High School, illustrating the dominance Healdsburg High exhibits when it comes to cooking.
Rueter will head to SkillsUSA Culinary Arts Competition in June to take on the best of the best in a tough national competition. The finest high school cooks in America will compete against each other; each will face difficult challenges.
Each competitor will prepare a four-course meal, take a written exam, enter a knife-skills competition and a butchery competition, and will also be scored on sanitation and technical skills, such as their methods of cooking and their equipment use. All of this and more will be graded out of 1,000 points. The competition is expected to take less than six hours.
Rueter wants to study environmental science, sustainability studies and food science, and pursue a career in solving climate change through the food industry. She said, "It [cooking] kind of inspired me to find out about how horrible the food industry is on the environment, so I kind of want to solve climate change through the food industry."