Thursday, Oct. 27:
MOVIE: Nosferatu, the original classic vampire film from F.W. Murnau (1922). The chilling story of Count Orlok and his hapless victims is told in atmospheric black and white, with live piano accompaniment by Frederick Hodges. At the Raven Theater, 115 North St., 7pm; tickets $15, students $5.
Saturday, Oct. 29:
PUMPKIN FEST: Healdsburg Farmers' Market's annual Pumpkin Festival features competition in different age groups for costume, pumpkin carving and decorated pumpkin race car. Register at the market. 8:30am-noon, West Plaza parking lot, North Street.
MOVIE: Coco will be screened in Spanish with English subtitles at the Healdsburg Community Center, free. Viewers can sit on blankets on the field or watch from their cars. Rose's Burgers and Brats, and Lola's will provide free snacks. Come at 5pm for the food and Ballet Folclórico performances; the Pixar classic begins at 6pm. Sponsored by the City of Healdsburg in partnership with Corazón Healdsburg.
MUSEUM: "Speakeasy Prohibition Soirée" at Healdsburg Museum, 221 Matheson St., 6-8:30pm. Expect trivia, music, appetizers and libations. Costumes are encouraged, but not required. This is a party for those over 21; both alcoholic and non-alcoholic drinks will be available. $10 for current Healdsburg Museum members and business partners; for non-members it's $25.
MUSIC: Reverso, a jazz trio co-led by trombonist Ryan Keberle and pianist Frank West with cellist Vincent Coutois, presents original chamber jazz in concert. At Paul Mahder Gallery, 222 Healdsburg Ave., 7pm. $35-$75, the222.org.
At Elephant in the Room it's "Night of the Lovin' Dead" from 8-11pm, $20 cover. 177A Healdsburg Ave., elephantintheroompub.com.
Sunday, Oct. 30:
DIA DE MUERTOS: Recognize Day of the Dead at the Healdsburg Plaza on Sunday, from noon to 6pm. The event includes live music, Aztec and folkloric dances, traditional ofrendas, children's activities and more. All are welcome. Presented by the City of Healdsburg in partnership with Corazón Healdsburg.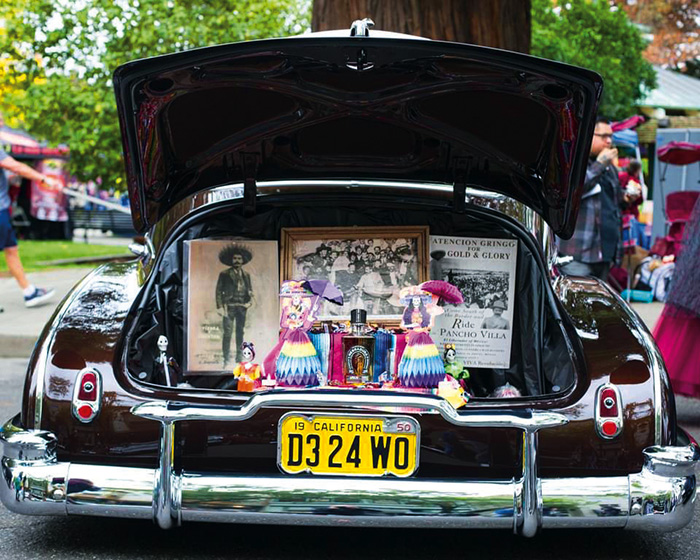 Monday, Oct. 31:
TRICK OR TREAT! Join the downtown retailers, wineries and restaurants for an afternoon of Halloween celebration at "Trick or Treat at the Plaza" from 3:30 to 5:30pm. Don your best costumes and head to the Plaza to trick-or-treat with our businesses. All ages are welcome.