Healdsburg history was remade this week as the long-standing location of Healdsburg Lumber Company closed and a new 43,000-square-foot complex of home improvement services opened less than a mile to the south, toward Highway 101.
"Healdsburg Lumber has been at that facility since 1875 or '76," said Eric Ziedrich, looking at an early 20th-century photograph blown up into a mural behind the service desk at the new store. "That's A.F. Stevens who bought the site in 1907. The lumber yard had just burned down. He bought it, rebuilt it—he was an ambitious, motivated entrepreneur."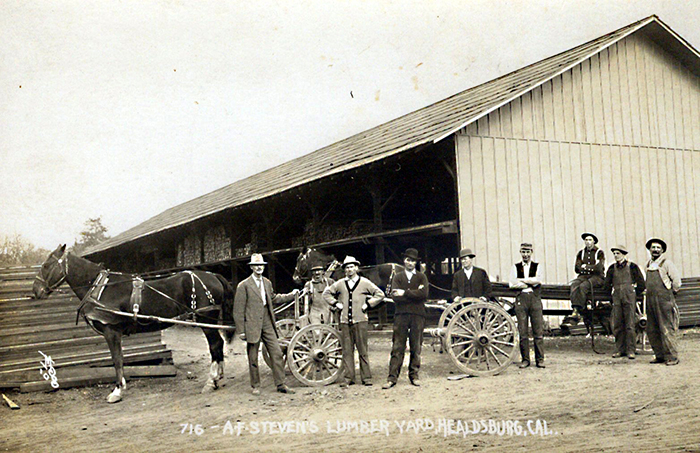 A description which could easily fit Ziedrich himself, a three-time city councilmember, two-time mayor who is currently embracing real estate as a second career. He pulled himself out of the day-to-day operations of Healdsburg Lumber when he turned over the reins to his daughter, Jill Ziedrich Gaylor, in 2020.
She and her two daughters were on-hand at the 13534 Healdsburg Ave. location on Monday morning as Ziedrich cut a yellow caution-tape "ribbon" to mark the unofficial opening of the new site. Gaylor said the official opening would be June 15, once all the bugs are worked out, but her father had organized the Monday morning ribbon cutting to recognize the staff and contractors who made the move possible.
"It's basically just for all the tradespeople that worked on it," said the gregarious and popular Ziedrich. "We'll have a little hokey ribbon cutting and a thanks to everybody that made it happen. And give them a chance to see the final product."
The hours posted on the new store's frost-glass doors announced a change many have long sought: Healdsburg Lumber will now be open on Sundays, 8am to 4pm.
"I think we've always been very contractor-based," Gaylor said. "Opening on Sunday is a big move toward developing a retail base."
The retail-contractor dichotomy is significant, because with the expansion and move Healdsburg Lumber now plays in the same ballpark as the area's "big box stores" many home hobbyists frequent on weekends—Lowe's and Home Depot.
Ziedrich took over Healdsburg Lumber—which previously went by several other names—in 1985 from his parents, David and Dolores Ziedrich, who bought it in 1972 from Pacific Lumber. Healdsburg's core area used to be unapologetically a lumberyard, where the former Nu Forest and Healdsburg Lumber adjoined along the railroad tracks.
Moving down the road wasn't just a real estate opportunity, however—Healdsburg's construction industry has changed, as the abundance of high-grade lumber has all but disappeared. Access to the highway and the market is now more important than access to the resources.
Diversification and Unification
Over the years Healdsburg Lumber has diversified its services, and the new location allows those four different businesses to be in the same place for the first time.
As well as the lumber yard at 359 Hudson St., the company also owned a home-design showroom across the street at Hudson Street Design for the past 20 years. That in addition to the long-standing Healdsburg Door plant on Grove Street, and a warehouse business for storage, also on Grove.
Those four businesses are now all under one roof, and a big roof it is: a 33,000-square-foot lumber warehouse purchased from Capital Lumber next door and the new 43,000-square-foot, two-story flagship store that opened this week with about 20,000 square feet of retail space plus more than enough space for Hudson Street Design—the now-onsite door-manufacturing operation—office space and a huge lumber warehouse.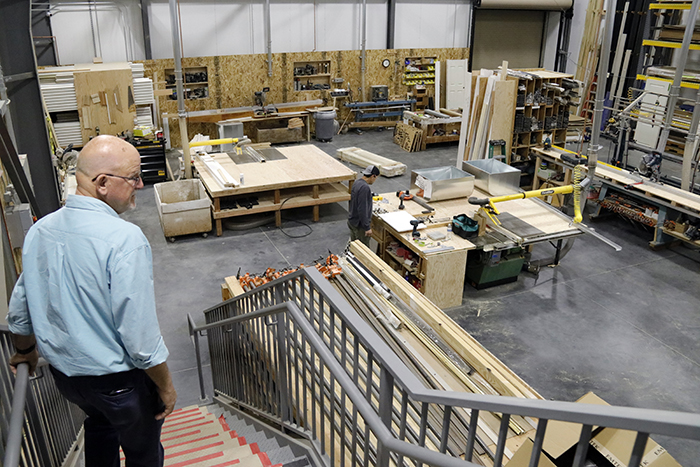 If that sounds big, it's still downsized from Home Depot's stores, which are typically larger than 100,000 square feet. Lowe's are even larger on average, but Ziedrich has no illusions of beating the big boxes in scale. He's focused on service.
"We've always been known as a kind of contractor, a professional yard. Our focus wasn't the retail business," Ziedrich said as we toured the large new facility the weekend before it opened. But he had some strong ideas on how a retail business should operate.
"I shop in Home Depot and Lowe's, so I know the dynamics," he said. "I would say of critical importance to us is the ease in the shopping experience. So we're small enough that you could still navigate, whereas Home Depot, it's a maze and it's a challenge to figure out where you want to go. And of course, we all pick on the quality of their staff."
Ziedrich spent months convincing his architect—Ken Lafranchi of Santa Rosa—to break away from the grid pattern of most big-box stores, looking for something different. "It's boring. There's no there there," he said. His team traveled around the country looking at other retail operations, and was struck by places like Pro Bass Shops and Cabela's.
"They're sporting and hunting, sure, but they have wild animals on the walls, and cliffs with mountain goats staring down at you," he said. "Every department felt like a new experience. It could be a little over the top, but at least breaking it up a bit was important for us."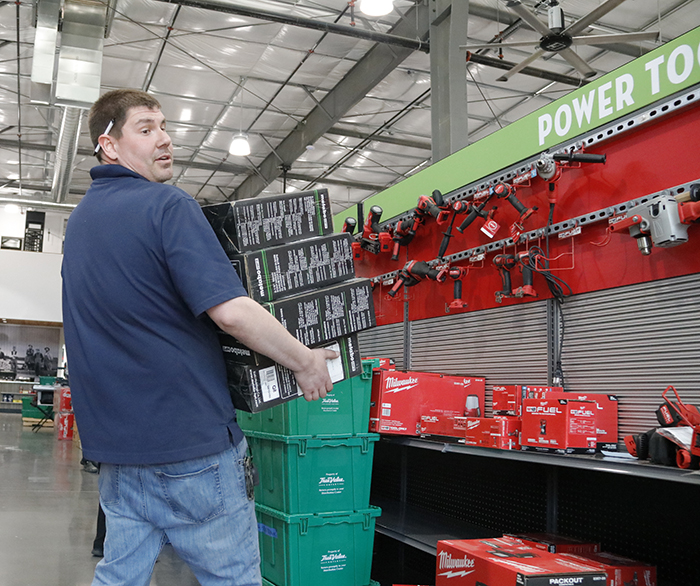 As the different businesses have merged into the new location, the staff has focused on how to make the shopping experience better for everyone. "The minute you walk in the door, there's somebody who can help you find what you need," Ziedrich said. "We have folks that have been in the trade that can advise you how to fix something, or make recommendations. I think it's the kind of thing you rarely get at a big-box."
It sounds like a smaller hardware store, like Garrett's on the other side of Healdsburg. "We never even exchanged conversations about our business plans," said Ziedrich carefully, "but always Garrett's was kind of focused on the consumer, and we were always focused on the contractor trade."
Still, with a much larger footprint and the existing customer base of the 150-year-old lumber icon, Ziedrich doesn't seem worried about the local competition. "I think by definition we should appeal to a larger customer base. And we expect that."
Healdsburg Lumber Company, 13534 Healdsburg Ave, Healdsburg. Open Mon–Fri 6am to 6pm, Sat 7am to 4pm, Sun 8am to 4pm. 707.431.9663. www.hlc-inc.com