The North Coast's top cross-country runners gathered at Spring Lake on Thursday, Nov. 2, and small-but-mighty Healdsburg High went toe-to-toe with the county's best and grabbed the bronze in the boys competition.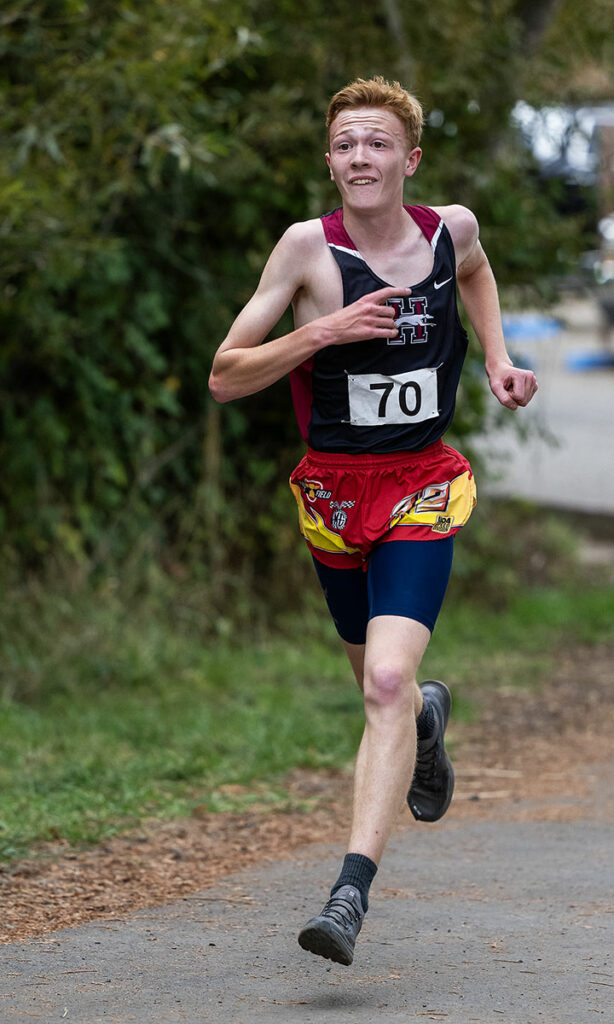 Kaeden Anderson, the top Greyhound runner for the past three years, again showed why he bears watching as he came in second in the hard-fought boys race, losing to Analy's Cormac Gaylord by a few seconds. Gaylord had to sprint for the win, passing Anderson only as the 2.97-mile race neared the finish line.
Anderson also came in behind Gaylord in the Analy-Healdsburg dual meet of Oc. 25, on the 4,250-meter track. Gaylord's winning time was 14.03, Anderson on his heels at 14.16. Both boys are juniors, and their competition will likely continue next year.
Anderson's time of 16.06 at Spring Lake was a personal best at the distance, though his second-place finish was a disappointment after last year's first in the NBL Redwood finals. Anderson did not compete in the Oct. 21 Yoshanny Invitational in Ukiah.
Two other Greyhounds finished in the top 10, giving the boys an overall third place in the meet with 59 points, behind Analy's 37 and Ukiah's 55. Jake McWilliams finished in sixth place (17.18), and Jack Wilmore came in ninth (18.10).
Lucas York (19.43), Ross Fitzpatrick (20.25), Brandon Hausman (21.16) and Dash Willmore (21.33) rounded out the Healdsburg boys team.
Sierra Anderson just missed finishing in the top 10 in the girls race, finishing 11th with a time of 23.03 (The winner was sophomore Stella Finely of Analy, with a time of 19.03). For Healdsburg, Joie Kozubal (24.13), Fia Huebel (27.10) and Brenna Scott (34.26) rounded out the galloping Greyhound girls.
At Analy on Oct. 25, Sierra Anderson was the top girls finisher for Healdsburg, fifth place at 20.06. The top four runners were all from the strong Sebastopol squad, led by Rosemary Harris (16.37).