A little-known country song of recent years begins with the words: "I shook the hand of the man who shook hands with the King." It's about being close enough to greatness to touch it—at least second hand.
Roy Rogers has touched the hand of so many musical legends across several disciplines over his 73 years that some of it was bound to rub off. He'll demonstrate a few of those licks, riffs and beats during his Saturday night show at the Raven, accompanied by the Delta Rhythm Kings.
Now 73, the California native has been on the scene and on the stage with so many music greats of the past 50 years that hearing him play is like dipping one's toe in a deep, wide river of American music.
Born in Redding, growing up in Vallejo and living for years in Novato, Rogers has always been a blues fan. While others danced under light shows to the Doors, by his own admission Rogers was looking for something different.
"I was a blues fanatic in the '60s when I was coming up," said Rogers from his Nevada City home during a recent interview. "All I wanted to do was go to the Fillmore and see Muddy and Wolf and Jimmy Reed and all the blues guys."
He began developing his own blues style in the 1970s—his first record, "A Foot in the Door" with David Burgin, came out in 1978—but it wasn't until about 1980 that none other than John Lee Hooker asked him to join the blues legend's touring band.
Boogie Chillen
Hooker's first hit record dates from 1948, but what a hit it was. "Boogie Chillen" is still a staple of the blues repertoire, with Hooker's stinging guitar riffs, low moaning vocal and its pulsing rhythm.
But playing blues is no guarantee for long-term success. "He was still playing clubs, you know, in 1982," Rogers said. "That was not a blues time by any means." Hooker apparently liked what he heard in Rogers, and asked him to be his band's third guitarist, the guy who would keep the boogie going.
Soon enough Rogers took on some slide solos of his own, then began opening shows for the headliner. "I hadn't really toured nationally per se before that, just locally for the most part," Rogers said. "And so now I became a featured member of his band. That shifted everything for me."
What really threw it all into overdrive for Rogers was being asked by Hooker and his management to put together a 1989 record that called in a series of guest artists. "They had an idea to have all these people sit in with John," Rogers said. "This had been done before, with Wolf and Muddy and so forth. You know, younger players sitting in with the old masters kind of thing, right?"
The Healer
The timing couldn't have been better. Pulled in for the sessions were Bonnie Raitt, Robert Cray, George Thorogood, Canned Heat, Charlie Musselwhite, Los Lobos, Van Morrison and, most significantly, Carlos Santana. The album's title song, "The Healer," put Hooker in front of the Carlos Santana Band and became an FM radio hit—which is how new music was heard before streaming or satellites.
The Healer catapulted Hooker into the A-list at last, and gave him the comfort and success a legend deserves. Though Rogers credits executive producer Mike Kappus with the idea of the pairings on the album, he does take pride in his talent-wrangling for the sessions.
"I was there behind the board and helping pick acts with his manager and so forth," he said. "But you know, you always defer to the artist. John was open for whatever suggestions we made, and it's not like I made this happen or that happen. I must defer. It's always on the artist."
Still, a touch of pride creeps into one story. "You know, with he and Bonnie Ray, I made sure they were eye-to-eye when they did 'In the Mood for Love,'" Rogers said. The slow-burning blues duet earned Hooker his first Grammy, at 73 years of age.
Beyond the Blues
Rogers has ventured out of the blues ghetto a time or two, though. He and Ray Manzarek began to play together, on the advice of their common manager. Somehow the baroque organist of the Doors and the rustic slide guitarist hit it off, and the unlikely pairing paid off in three albums and a successful roadshow. "You know, sometimes it's the people you meet, man," Rogers said. "Sometimes things work out fantastically, and we just hit it off."
Manzarek passed away earlier this year. "We had such a great time," Rogers said. "I miss him. He was such a great guy."
Rogers spent much March, September and October touring with Bonnie Raitt, who he has known for decades, on 15 dates, both as opening act and in a show-stopping finale with Raitt and Rogers dueling it out on slide guitar. "She's such a delightful artist," Rogers said. "So talented. She's riding the crest of the wave."
In fact, a song they wrote and perform together, "Gnawin' on It," won Raitt a Grammy nomination in 2003.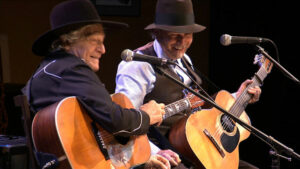 As if drinking from the same well as the living legends of blues and rock wasn't enough, there's always Ramblin' Jack Elliott, for whom Rogers produced two albums. Guest artists such as Bob Weir, Maria Muldaur, Emmylou Harris, Tom Waits, John Prine and Jerry Jeff Walker were a part of Elliott's Friends of Mine, too.
Rogers put it in perspective. "He was doin' it way before all these guys," he said. "I mean, he toured with Woody Guthrie, for God's sake."
Now living in Marin County, Elliott still performs at 92. "And he's still absolutely got all the marbles," said Rogers. "He's such an inspiring cat. In fact, he'll be up here in Nevada City when I'm down in Healdsburg."
It certainly won't be the first time Roy Rogers and his Delta Rhythm Kings have performed at the Raven, a theater the guitarist remembers well. Years ago he opened for the Greg Allman Band there, and played with Manzarek. His most recent appearance was before COVID, and he looks forward to coming back.
"The Raven's the coolest," he said.
So on Saturday night when the Delta Rhythm Kings hit Healdsburg—Steve Ehrmann on bass, Kevin Hayes on drums and Roy Rogers on slide guitar—the audience will hear not just a blues trio, but a wide river of American music pouring through town, close enough to shake hands.
Roy Rogers and the Delta Rhythm Kings perform at the Raven Theater, 115 North St., on Saturday, Nov. 4. Doors open 6:30pm, music at 7:30pm. $25 tickets still available at raventheater.org.