Healdsburg's varsity softball team is putting the pieces together as the season swings into its final month. After losing their first five games, sometimes by embarrassing scores, the Hounds turned around in April and are on a winning streak as we go to press.
It wasn't until the sixth game of the season, on April 4, that the young Hounds team came up with a victory—and a big one, an 18-1 win over Elsie Allen. A loss to Ukiah (12-0) and a forfeit against Santa Rosa set their record back, but thankfully Elsie Allen came to town for a double-header on April 14.
Once again Healdsburg dominated, winning the games 15-0 and 13-4.
Still, there was some doubt that the success the team had against one hapless opponent was a fluke, until Piner's Prospectors showed up at HHS on Tuesday, April 18.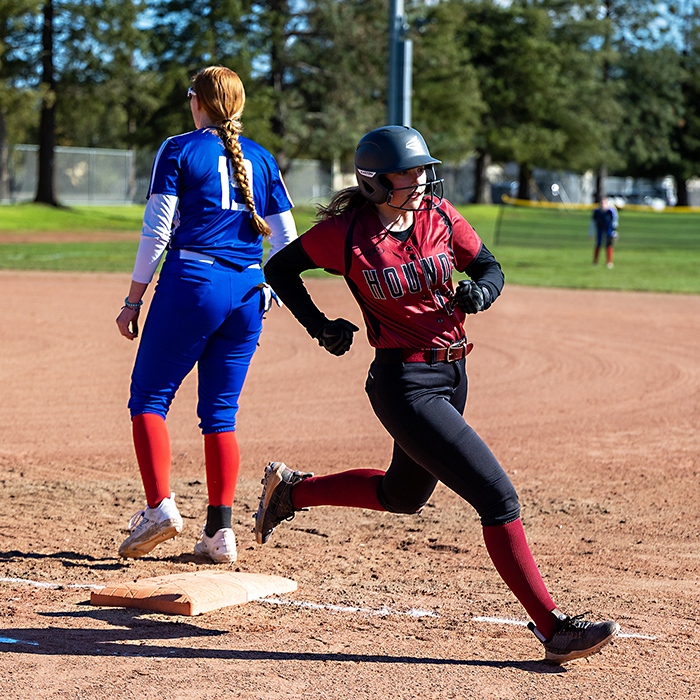 After a scoreless first inning, the home team scored in every inning until the bottom of the sixth. Aggressive base-running kept runners in scoring position and the porous Piner defense was unable to staunch the mayhem.
The game ended 12-1 in the bottom of the sixth, the 10-point threshold having been reached with one out.
"We hit the ball pretty well, pitched well, played defense well," said a pleased Coach Brian Osborn. "So yeah, it was a pretty clean game for us." It left the Hounds with a winning 4-3 record in the Redwood league, a 4-7 record overall.
Osborn is in his third year coaching this time around, though he coached for eight years before he had kids of his own and decided to take a break. In 2021 he came back to the team as softball coach only two days before the season began, when the previous coach quit.
This season did not begin well. The first game was on Feb. 23, a 23-4 loss to Kelseyville. Runs were hard to come by, as were clean outs, and the scores reflected a team still learning the game.
"We're a really young team, so if we make a couple mistakes, they can kind of snowball. And that's happened in a couple of those early games," he said.
He pointed out the youth of the team: a sophomore shortstop; first, second and third base all freshmen. The only senior starts in center, between two more sophomores in the outfield, and both pitcher and catcher are juniors. A very young team.
"So you're going to have those games where things go well, and you're going to have those games where things can go sideways pretty quickly," Osborn said.
Osborn has been around the game long enough to know things go in cycles; a young team can have a poor season, but the next year turn it around and make the playoffs. That's what he is hoping happens here.
"You know, with the size of the town, it's hard to get two teams," he said, meaning fielding a JV squad as well as varsity. "Ever since Covid, it's been pretty hard to get numbers, and the school population numbers are down. I mean, we've had years we won 17 games. We've gone to the second, third round of the playoffs a couple times I've been coaching. So, hopefully we get back to that."
Thursday afternoon at 5pm, the varsity softball team takes on Tomales in a non-league game at Healdsburg High, before heading out of town to Piner for a league rematch on Friday, April 21.
"This year our goal is to make the playoffs so all these young kids can see it, get an experience, and feel it," Osborn said. "Next year, hopefully we should be able to start a trend of going back to the playoffs."