El Farolito, the popular Mexican restaurant at 128 Plaza St., underwent an overnight name change recently to Gallina D'Oro, or the Hen of Gold. The new name partners well with El Gallo Negro, owner Pedro Diaz's increasingly popular restaurant in Windsor. Hours, menu and service remain the same. Meanwhile, brother Octavio Diaz is starting a remodel of the interior space of Agave Mexican Restaurant, in the Vineyard Plaza. The tequila and mezcal bar will move to the front of the house, and expanded dining will take over the back room.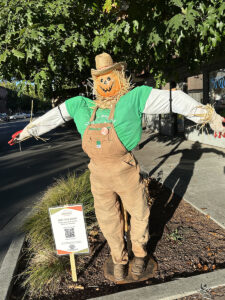 * The Scarecrow Showdown is underway at 17 locations in the downtown area. Handmade scarecrows by local businesses, nonprofits and social groups are on display until Oct. 26, each one accompanied by an online package of goodies up for bid. Winners get the package and the scarecrow, just in time for the city's Trick or Treat on Tuesday, Oct. 31, from 4-6pm in the Plaza, early evening in neighborhoods around town. It's a benefit for the Boys & Girls Clubs of Sonoma-Marin. bgcsonoma-marin.org/scarecrow
* The City of Healdsburg and Corazon Healdsburg will once again coordinate on Dia de Muertos, the Mexican holiday in the Healdsburg Plaza. It will be held on Sunday, Oct. 29, from noon to 7pm with a community altar to commemorate loved ones who have passed away. The free event will include live music, a car show with a "trunk-or-treat" promotion, kids activities, with food and drink available for purchase and more. Other sponsors include Healdsburg Tourism Improvement District, Hotel Healdsburg and Cartograph Wines.
* Movie fans were disappointed to hear that the closest theater, The Clover in Cloverdale, is shutting down. The Clover had tried promotions, memberships and free movies, but the costs of running the three-screen theater on First Street proved too high. That makes the nearest place to catch the latest flick Airport 12, in north Santa Rosa. Kathryn Hecht, wife of the Clover owner Ryan Hecht, said the closure will not interfere with her plans for the Plaza Cinema Center in downtown Healdsburg or affect the educational nonprofit AVFilm. 
* The Healdsburg Community Band announced its concert schedule from Veterans Day 2023 to July 4, 2024, kicking off with their Nov. 11, 7pm performance at American Legion Post 293 in Cloverdale. On Dec. 3, their Annual Holiday Concert will be at the Raven Theater in Healdsburg, 3pm. Next year, 2024, brings the March 9 Pops Concert to the Raven at 7pm, the May 5 Spring Concert to Healdsburg Community Church at 3pm, the Sunday Plaza Concert in Healdsburg on June 2 at 1pm and the 4th of July Celebration, also at the Plaza, at 10:30am. Admission to these performances is free, and donations are accepted.
The band also performs in the Cloverdale Citrus Fair parade and the Healdsburg Future Farmers of America parade, and provides ensembles for various holiday festivities and Prune Packers baseball games.