It was a perfect day for a run—as it so often is—and for 150 folks it was a day to return to Healdsburg for the "annual" Kiwanis Fitch Mountain Footrace.
Though there were fewer participants than in the pre-Covid past, it was the first time since 2019 the race has been run.
"It's just great to have it back; three years is much too long not to have a race that has a history of 47 years," said Skip Brand of the Healdsburg Running Co, on the corner of North and Center, where the race usually ends.
Brand opened the shop eight years ago, and while HRC (as it is known) helps out with the race, it's the Healdsburg Kiwanis who continue to manage the actual race.
The route as always was straightforward, from the starting point in front of Healdsburg Police Station up Center to Powell, then clockwise around the mountain on Fitch Mountain Road and back down the other side to Matheson, ending with a return on Center to the finish line.
The race began with the "starting gun," actually an air horn, that blasted out at 8am. Runners of all ages (and 10 dogs and a couple baby carriages) took off with a grin and an optimistic pace. As usual, there were two race lengths, a three-kilometer run around the residential downtown and the full 10k race, over six miles around the base of Fitch Mountain.
This year, it was locals who dominated, with HRC employee Dante Godinez coming in just under 36 minutes, ahead of his running partner Jake Vanden Heuvel, both recent Healdsburg High graduates. (See box for top runners in all categories.)
The purpose was to raise scholarship money for the Kiwanis Education Fund for local high school seniors. Each year, over $10,000 in scholarships are awarded, raised from various sponsorship levels, from $250 to $2000, and entrance fees of $30 for adults, $20 for minors. While the turnout was significantly down from the usual 500 of recent years, Rob Dobey of the Kiwanis said that $10,000 number was met.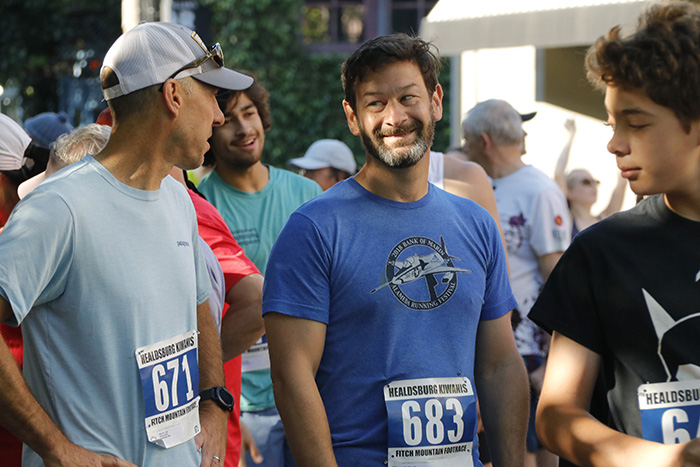 Dobey said that next year's race will also be on Father's Day, Sunday, June 18, 2023. "That will be the 47th, making it one of the oldest foot races in Sonoma County," he said. He also pointed out that next year would mark the 100th year of the Kiwanis in Healdsburg.
Brand said that while his HRC only helps manage the Fitch Mountain Footrace, their degree of involvement is higher for two other local races: the Healdsburg Turkey Trot, a casual 5k through the streets of Healdsburg that this year will take place the day before Thanksgiving, Nov. 23, and the far more challenging Lake Sonoma 50, a long distance run of 50 miles, in which the "short" route is a 26.2 mile marathon.
"Our local community has more of an interest in trail running than road running," said Brand, "mostly because we have a little bit of an aging community. The excitement of trail running, whether it's a 50 mile or 100k or others, is that people don't ask you your time. They ask you if you finished."
Start training now. The next Lake Sonoma 50 is scheduled for April 8, 2023.
2022 Kiwanis Fitch Mountain Footrace Results
10K TOP FINISHERS, AGE, TIME
Dante Godinez, 21, 35:20
Jack Vanden Heuvel, 19, 36:20
Skyler Carr, 35, 45:57
WOMEN
Emma Kudrich, 41, 46.36
Alex Wilson, 35, 47.09
Sarah Keech, 37, 50.17
3K TOP FINISHERS, AGE, TIME
Simon Kolber, 14, 11.24
S. Steinberg, 11, 11:27
H. Reed, 12, 13:11
All results can be found at runsignup.com/Race/Results/131851.