The Redwood Empire Invitational Basketball Tournament (REIBT) unspooled at both Smith Robinson and the East Gym on the Healdsburg High School campus, from Wednesday to Saturday last week.
Todd Sheehy, one of the tournament's directors this year along with Lance Munselle, was understandably proud of the 73rd annual tournament, which has been held in Healdsburg since 1949. "Lance and I would like to thank all of our volunteers, parents, coaches and players for a great tournament," Sheehy told the Tribune. "It is a testament to the Healdsburg community and Healdsburg's continued support for its basketball programs."
Eight schools competed in the girls elimination, and six schools in the boys competition. The Healdsburg Greyhound girls won their first match on Wednesday evening, handing Kelseyville an embarrassing 54-11 defeat.
But they were unable to maintain their dominant play in the following match, falling to Arcata 49-43. Arcata lost the championship match against Ukiah on Saturday, 61-4, while Healdsburg rebounded to defeat last year's champion, Justin-Siena, 48-31 for the third place slot.
The other schools competing in the girls tournament were McKinleyville and Fortuna.
This year's girls championship team was Ukiah, which defeated Arcata. Ukiah's team claimed both outstanding play awards this year, with Xochitl Vasquez earning the girls MVP award and Jayden Diaz earning the best defensive player award.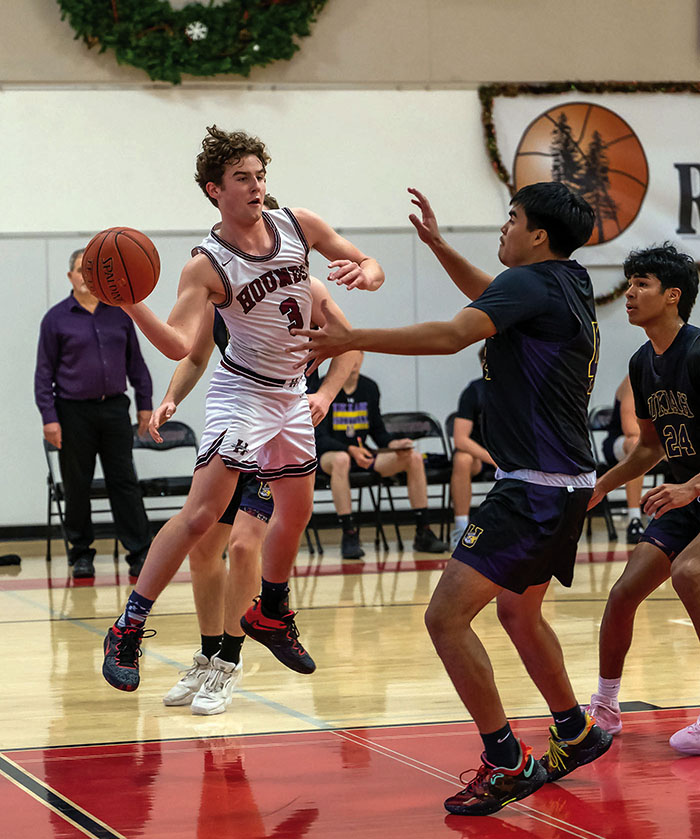 On the boys side, Healdsburg was in the same "Pool B" as Kelseyville and Windsor; "Pool A" contained Middletown, Justin-Siena and Ukiah.
Healdsburg defeated Middletown in their first match, on Thursday, by a 56-47 score, but lost the following day to Windsor, 63-42. Then the Hounds met the Ukiah boys on Saturday for the third-place game, but came up on the short end of a 59-41 score to wind up in fourth.
This year's boys championship team was Justin-Siena, which took down Windsor 61-50 in the final match. This year's boys MVP was Vincent Jackson from Justin-Siena. The boys defensive player this year was Windsor's Jayden Russotti.
The All-Tourney players, selected by the REIBT directors, also recognized Healdsburg's Sam Vanden Heuvel on the boys side and Hailey Webb of the girls for their play.
Basketball continues for both boys and girls Greyhound teams this week as the North Bay-Redwood League begins play. The boys varsity (now 6-2) plays tonight (Thursday) in Santa Rosa against Piner (6-1), while the girls team (now 10-2) meets Rancho Cotate (1-5) at Healdsburg High School on Tuesday, Dec. 20.