There were city staff of every level, four of five city council members, one current and one past county supervisor, and Gustavo Velasquez, the state director of the California Department of Housing and Community Development—making his first visit to Sonoma County. All were on hand for the Jan. 26 official opening of L&M Village on Healdsburg Avenue, a former motel converted by Reach for Home with state funds from Project Homekey.
There were also several residents of the village, an interim housing program that began taking guests just before Thanksgiving, 2022. Their participation ranged from available and voluble to unavailable and invisible, the black shades of their rooms drawn against the afternoon light and dozens of curious visitors.
A sidewalk construction project was still underway on Healdsburg Avenue beneath the mid-century motel sign when the afternoon event began, so guests were directed toward a makeshift entrance off Exchange Avenue. Two site tours, speeches from the assembled officials and a ribbon-cutting, with Mayor Ariel Kelley wielding the shears, served to welcome the 22-room short-term housing campus into the Healdsburg community.
Kelley, Healdsburg's mayor for 2023, pointed out that this is the first interim housing site in Healdsburg history. "I do believe this will make an impact—it's been a long goal of ours, and it's already making an impact," she said. "There are already people living here tonight who prior to this opening in November were on the street."
Case in point: Richard Mayebb. Enthroned in a plastic chair outside his room, Mayebb—known since childhood as Ayett, pronounced "8"—held court for several guests about how he became homeless and ended up in Healdsburg.
"I was a bouncer in Fairfax at Peri's Tavern: then when COVID hit, I and everyone else got laid off," said Mayebb. Soon he didn't have the income to pay for a room, and with his dog Poppy he began walking north. It wasn't their first long wander together: He said they walked from his home state of Ohio to Seattle years ago.
This journey was not as long. Mayebb ended up homeless on the streets of Healdsburg, and his dog was euthanized after 15 years of companionship. He said he didn't have much trouble finding food. Since he didn't drink or do drugs ("My addiction is caffeine," he noted), he could get by without much money. But he knew this wasn't his best life. "I was in a homeless rut, and Reach for Home helped it—it gave me a chance to realign myself," Mayebb explained.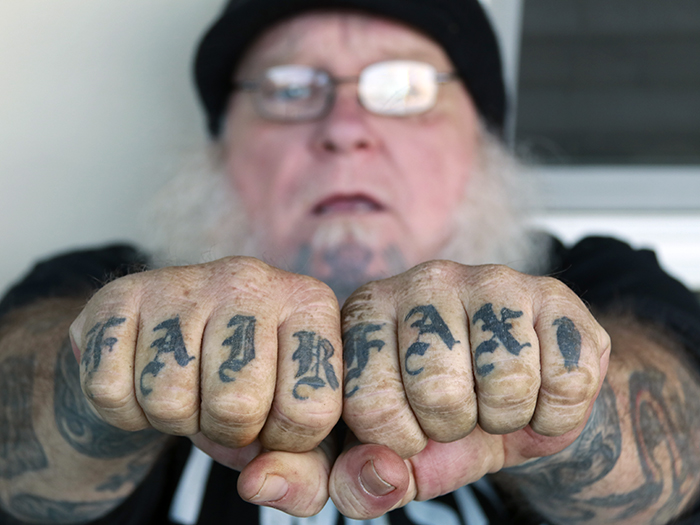 Reach for Home, formerly known as North County Community Services, is the local nonprofit headed by Margaret Sluyk. Its mission is ambitious, to end homelessness in the north county by engaging with community members who are struggling with or at risk of losing housing, and transforming their lives with action plans for their success—promoting self-sufficiency, independence and permanent housing.
Sluyk said the L&M interim housing facility, which took in its first residents on Nov. 21, just before Thanksgiving, was fully occupied at the time of its official ribbon cutting.
The people who are selected to move into the interim housing at the L&M have all worked closely with Reach for Home's street outreach case managers in order to qualify. Sluyk said that the qualifications for shelter include proof of "chronic homelessness"—defined by Housing and Urban Development (HUD) as an individual who has a disability and has been living in a place not meant for human habitation, a safe haven or emergency shelter continuously for at least 12 months, or someone who had four distinct occasions of similar homelessness in the past three years, where the cumulative length of time totals at least 12 months.
Though L&M has only been open a little over two months, Sluyk said two people have already received housing vouchers and are ready to move beyond the interim housing to something more permanent, and they're working with a "housing locator" to find units for more. About a third of the participants have made medical appointments to help improve and manage their health issues, and nearly all of them have made some sort of income while in residence.
So far, no one has dropped out of the village and returned to homelessness, Sluyk said.
As well as the rooms left available for emergency use, the site has 24-hour security from Windsor-based Armorous, with three private security officers in rotating shifts every day and night. "It's been pretty stable here, except for a few hiccups," said Mathew McKay, the on-duty officer during the opening.
Life at the L&M is by no means a vacation for its residents, though an effort is made to de-traumatize them, since some of them may have been without a place to live for over a year. There are case workers on site, assisting residents in their gardening and property maintenance chores. The volunteers also help teach life skills, hobby or exercise classes, and even assist with gardening or art therapy.
After Velasquez and County Supervisor James Gore finished their remarks at L&M's official opening on Jan. 26, the obligatory ribbon-cutting took place, a largely symbolic kick off of a project that is already well down the road of achieving its immediate goal of providing interim shelter for some of Healdsburg's chronically homeless.
Early in the morning following the ribbon-cutting at the L&M Village, over 150 volunteers, outreach workers and paid guides spread throughout Sonoma County in the predawn hours, taking part in the annual Point-in-Time census, whose goal is to make an accurate count of the region's homeless population.
The most recent homeless count, in 2022, showed a 5% increase in unsheltered individuals since 2020 (the 2021 census was not held due to the pandemic). Results of the homeless count usually take months to compile, and even preliminary numbers are not expected until summer.
What of the 22 recently-homeless individuals living at the L&M? Are they still homeless, or have they moved into another category on their life's journey?
"Yes, they are counted as homeless, but sheltered individuals," said Sluyk.