Much-loved cars whose trunks were open to imaginative ofrenda, altars in tribute to the departed, lined Matheson Street. Children dressed as monarch butterflies flitted down marigold petal paths. Aztec dancers stepped and rattled to a racing heart of drums, as incense floated through the midday air at Plaza Park last Sunday afternoon.
It was the annual Dia de Muertos in Healdsburg, the sixth since the Mexican custom was locally revived in 2016. Though it was quiet and restrained in 2020—a particularly poignant time for a celebration for the recently departed—2022 marked the year it came roaring back. The social, family and traditional aspects of the commemoration were all on display, and the town came alive in ways it rarely has lately.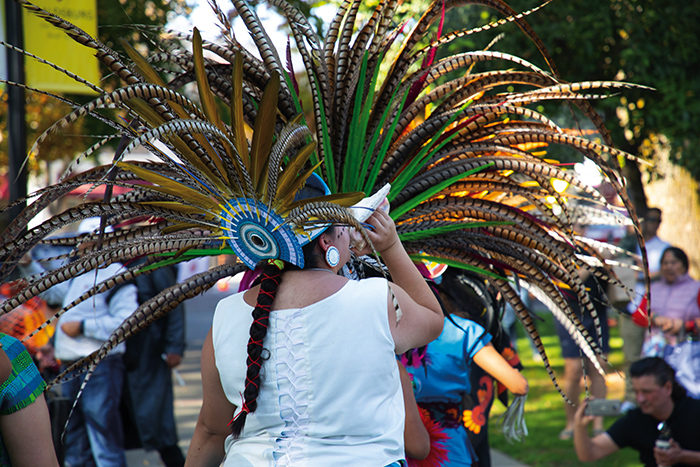 "Community gatherings like Dia de Los Muertos are built on community trust to invite those that may not always feel included on our plaza," Mayor Ozzy Jimenez told the Tribune. He called out in particular to Yolanda Giron and Leticia Romero, strong leaders who have played important roles in supporting community life.
Estimates are that about 4,000 people showed up, and it seemed that most of them stayed all day, until the music stopped at 6pm. They were representative of a population that doesn't often show up in large numbers for downtown Healdsburg events. The crowds—mainly families, with grandparents speaking Spanish, children speaking English and the in-between generation alternating between the two—spilled over onto nearby streets which had been closed by the city to give the event a bigger footprint.
The Matheson side of the Plaza was predominantly tricked-out cars or trucks that were turned into imaginative ofrenda, decorated with images at once ghastly, humorous and commercial. Food trucks and vendors lined the other sides of the Plaza, a zona de niños attracted all ages and music came from everywhere.
"Sunday's event, a collaboration between Corazón Healdsburg and the City, was a beautiful celebration of coming together as a community and honoring traditions of Día de Muertos," said Vice Mayor Ariel Kelley. "Each year, the event grows and matures, and this year was the best one yet."
That opinion—that it was the best one yet—was the consensus. "We work together every year to make this an event that ensures that the Plaza and other downtown spaces are enjoyed as much by the people who live here as the people who visit here," said Marcy Flores, Corazón Healdsburg's interim executive director.
"Everything Corazón does is only made possible with the support of our community. This event this year was no exception, with volunteers organizing the altars, hosting the stage program and performing. It was a very special day!"
During the silent year of 2020, Corazón Healdsburg created a virtual and informative web page at diademuertoshealdsburg.com, which is still recommended.