Drewish Deli opened recently with little fanfare, though none was needed. From opening day, the place has been busy. It's located at the site of the former Wyldwood restaurant (and before that, the Western Boot).
Folks in the area have long had bagels from parent company Healdsburg Bagel Company at the local farmers' market, as well as at Plank Coffee, Big John's and a few other spots around town. Now the bagels, as well as sandwiches, breakfast items, sweets and sides, can be purchased directly from the baker, Drew Ross.
As to the store's name, Ross had a bit of help from his ex-wife, who thought to combine his first name, "Drew," with "Jewish." Though Ross is Jewish, he says it's more in a cultural than a religious sense.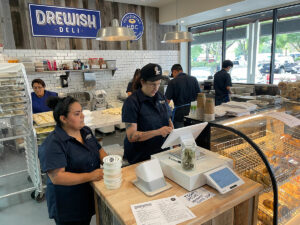 Taking customers' orders and manning the register recently was Elizabeth Cosin, a long-time partner in the business, now general manager and minority owner.
Throughout the morning, a steady flow of customers stopped by to check out the goods. Many were ordering breakfast items and coffee to have at the communal table, while others left with all the components needed to share with family at home. Generally, that was bagels and a schmear or two, perhaps some smoked fish.
Both Ross and Cosin are nostalgic about their favorite Jewish delis and foods from childhood, which seems to have played a part in what they've chosen to offer. As is typical at New York delis, the menu is simple, but there are defining must-haves.
Ross was influenced by the legendary delis he enjoyed in his youth in Los Angeles. Nate 'n Al's was a favorite, as was Bagel Nosh, but he also noted being inspired by New York's oldest deli, Katz's, and the colorful Zingerman's Delicatessen in Ann Arbor, Michigan. In aiming for authenticity, he spent a significant amount of time researching and experimenting, working to craft the perfect recipes as he remembered them.
"Being from the east, I'm used to being disappointed by California 'delis.' Happily, this wasn't the case here," said Healdsburg neighbor Stu Matlow. "Split the smoked fish plate with my wife. The whitefish salad was spot-on and delicious. Loved the salt bagel and accompanying ripe tomato, cucumber, cream cheese, capers and onions. A nice breakfast for two."
Matlow went on to say, "With all the super high-end restaurants opening in Healdsburg, it's great to see a new informal place for locals."
Ross took delight in introducing his staff, many of whom have been with him since the early days of the bagel-making operation at its previous kitchen at the Costeaux Bakery. Since opening the new storefront, Ross has moved all of the bagel-making and food production to the deli location.
For those who have a hankering for Jewish deli standards, Ross has that covered. In addition to offering 17 flavors of bagels, Drewish has schmears that are done with a combination of traditional cream cheese blended with local crème fraiche.
Catering is also available through Drewish. Their kitchen can create trays of bagels with all the fixings and/or sandwich platters and sides. All catering is custom and crafted to meet the demands of the event.
Drewish is located at 11 Mitchell Lane in Healdsburg and has convenient, off-street parking. The shop is open Thursday through Monday from 7:30am to 2:30pm. Food can be eaten at the restaurant or as carryout. Seating is limited.