The Healdsburg High School fall sports calendar is filling up with games, matches and sets in five sports—boys football, co-ed cross country, and girls golf, tennis and volleyball.
Football
The first football game on Sept. 1 found the Hounds on the short end of a 56-27 score as St. Helena kept up the pressure on defense while proving unstoppable on offense. But bright spots emerged, as junior quarterback Nova Perrill threw three touchdown passes and got another on the ground to account for all of Healdsburg's scoring. Max Morris, Austin Collins and Hayden Mariani all had touchdown receptions for the Greyhounds.
This Friday, the Hounds meet Sonoma Valley on their home field, game time 7pm. The SV Dragons have lost their first two. But as this will be their opening home game at Arnold Field, expect some excitement. The next week, Sept. 15, finds the football Hounds playing at Rec Park. JV kickoff at 4:30, varsity at 7pm.
Cross Country
The popular fall running sport is returning this year with an even stronger team, according to coach Mike Efram. "The Boys Varsity is hoping to land a spot in the State meet this year," he said. "After seeing Kaeden (Anderson) make it last year, there is a real buzz to make it on the whole team."
The team's top three NCS finishers are all returning—Anderson, Jake McWilliams and Jack Willmore. Julian Johannsen returns after a year off playing soccer, Lucas York and Wyatt Drew are back and freshman Lukas Brennan is expected to add some points as well. A strong and attentive JV squad also points to a bright future for HHS cross country.
"For the girls team, Beatrice Hawkes is returning, hoping to take the top honors in the league after finishing second last year, behind a senior who has now moved on," said Efram. Also returning are Sierra Anderson, Fia Huebel, Alisa Strykowski and Brenna Scott, with new additions Joie Kozubal and Molly Powell.
"After finishing right in the middle of the standings last year for the league, we are hoping to bump it up a bit, perhaps even take the top honors, given we have Beatrice!" said Efram.
Coming up this weekend is the prestigious Lowell Invitational, an all-day, all-region event at Golden Gate Park. It's Saturday morning, starting at 9.
Girls Tennis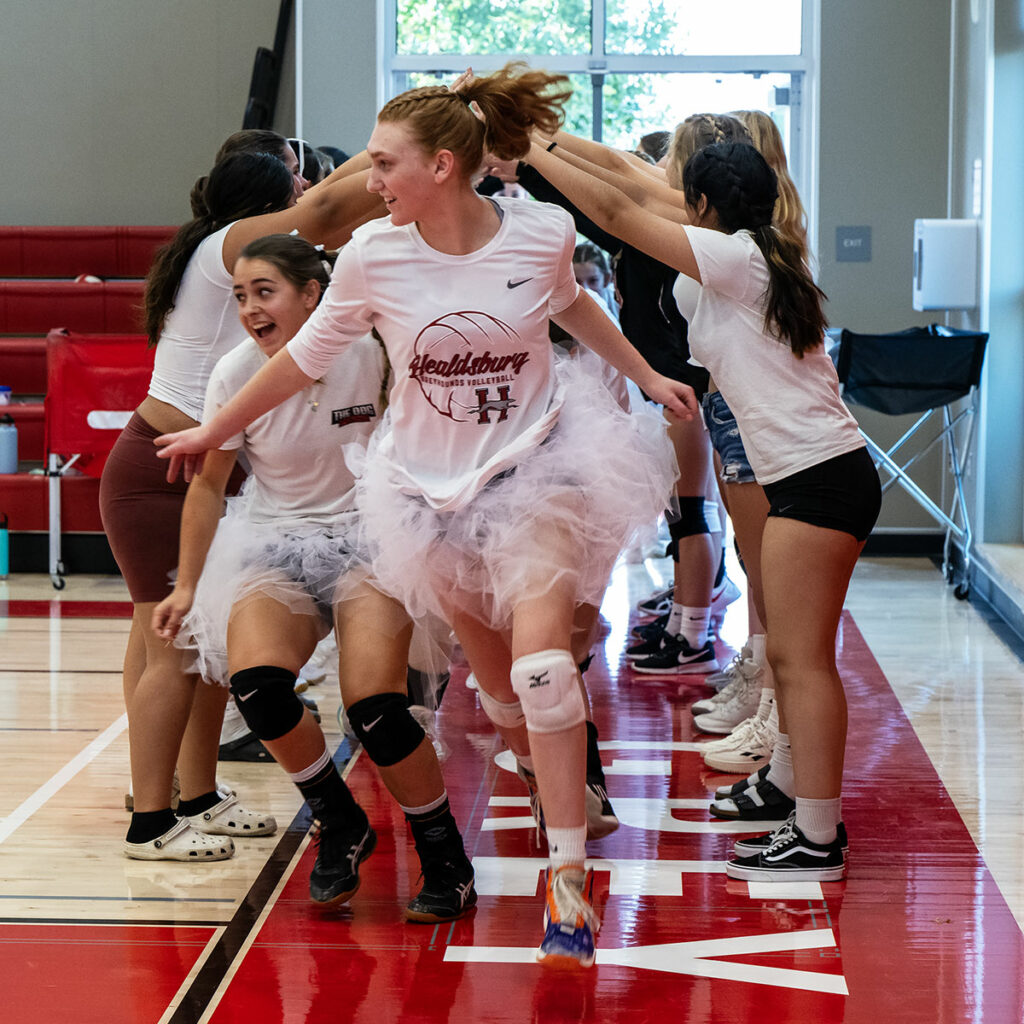 The Healdsburg girls tennis players are off to a strong start, taking a 3-1 record into September play. Their first two matches saw the team undefeated, followed by a 4-2 loss to Montgomery on Aug. 29. They bounced back with a narrow 4-3 win over Analy in Sebastopol on Aug. 31.
Singles players are Isabel Smith (no. 1), Meher Dhiman (no. 2), Amélia Wickersham (no. 3) and Claire Berry (no. 4). Doubles teams are Isabel Lickey / Ruby Leffew (no. 1), Cecilia Hallinan Becker / Margaret Kosta (no. 2) and Sana Katsuki / Kathleen Arriaga (no. 3).
A match against Ukiah was played on their courts on Tuesday, Sept. 5, results unavailable at press time. It will be followed by a home match at the high school against Windsor, 4pm on Thursday, Sept. 7.
Girls Volleyball
On Aug. 30, a volleyball match in Nebraska drew over 92,000 spectators, setting a record for women's college sports. The sport remains a popular one for players and fans alike. And with a three-game home series underway at the East Gym, fans and family can expect excitement and action.
So far, the Greyhound girls have only won two sets in seven matches, but they both came against Analy on Aug. 26, producing a 2-1 neutral tournament match victory.
This week finds the team meeting Roseland Prep (Sept. 7), Sonoma Academy (Sept. 12) and San Rafael (Sept. 14). Games begin at 6:30pm.
The first Redwood League match is scheduled for Sept. 19 against Piner, the first home match against Rancho Cotate on Sept. 21.
Girls Golf
The Healdsburg varsity golf team has an away conference match at Analy (Sebastopol) on Tuesday, Sept. 12. Home matches are played at the nine-hole Tayman Park course on S. Fitch Mountain Drive.