A combination of windy, rainy weather and spring break has made sports results few and far between in recent weeks. Only the baseball team seems to have played more than a time or two, and they continue to deliver exciting games for hometown fans.
After starting the season on a 5-0 roll, the Healdsburg High baseball team hit a rough patch recently with back-to-back losses against non-league rivals. Justin-Siena of Napa won a 10-1 victory on March 16, and a week later Clear Lake of Lake County shut out the Hounds with a 7-0 score.
Still, their league record remains a spotless 2-0, on the heels of a Monday, March 27 victory over Santa Rosa, 9-8. The tight game marked a big step forward for Hayden Mariani. "He is our freshman center fielder and is starting to come into his own," said coach Mark Domenichelli.
"Hayden had a big 3-run scoring double in the first inning with two out and bases loaded to give us some breathing room early," said the coach. "Then in the fourth inning he came up again and singled to center, plating two more runs." Mariani ended up with five RBIs in the game, sparking both innings where the Hounds scored all their runs.
Also delivering was catcher Wyatt Dugan, who doubled in the third inning, but "his defense behind the plate was stellar," said Domenichelli. "Dugan threw out three runners, including the tying baserunner, in the top of the 7th to secure the game."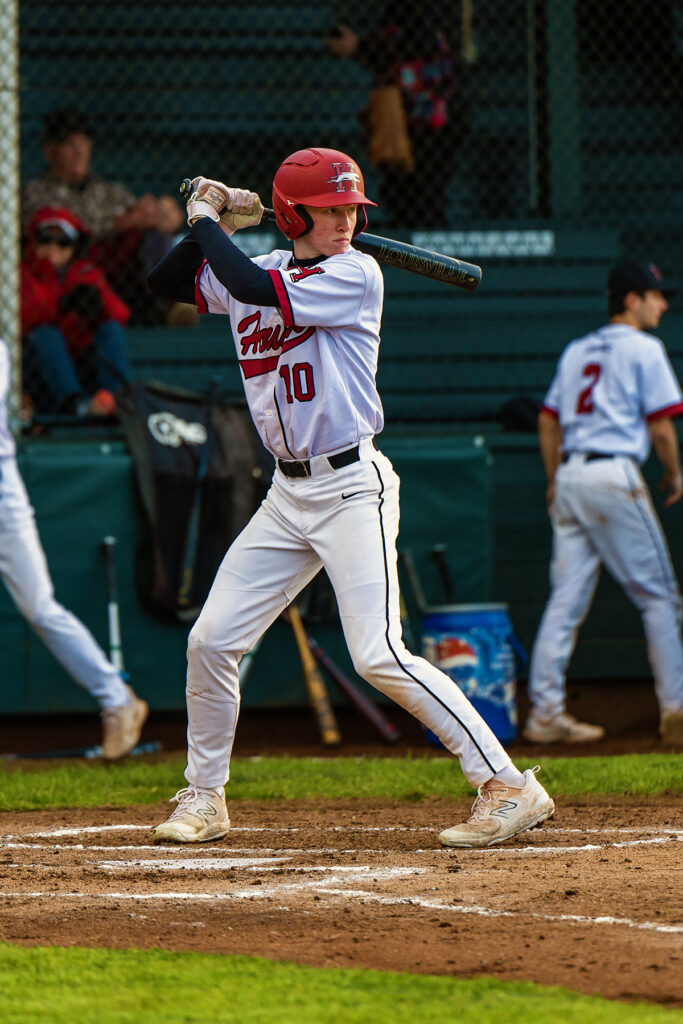 Gavin Vallis made a diving play in the 4th inning to save two runs from scoring when he snared a would-be double to hold the lead at 5 to 4. As a pitcher, he got his fourth win of the season, giving up two hits over three innings and striking out four.
Sam Vanden Heuvel continues to lead the team at the plate, his batting average currently standing at a rock-solid .593 with no fewer than eight doubles, easily putting him among the top hitters in the North Coast.
But it was as an infielder that Vanden Heuvel shined on Monday night, when Domenichelli said he was "a magician with the glove, making great defensive play after play." So far, the senior has played eight games at the hot spot at short without an error.
All three recent games were played at Art McCaffrey Field at Rec Park, where the crowd is always loud and supportive. The varsity is currently 6-2 on the year, 2-0 in the league.
Next league game for the Hounds is Friday, March 31 against Piner in Santa Rosa. Next home game is a week later, on April 7, against Montgomery, starting at 7pm.
Softball
While the baseball boys are competitive whenever they take the field, the softball girls are having a rougher time of it. A couple early-season rainouts means they've only played four games, losing them all by significant point spreads.
Their next home game is April 6 against Ukiah, first pitch at 5pm.
Badminton
Stan Bischof's badminton players came up with an 11-4 team victory over Roseland University Prep on March 16. They end their spring hiatus on Tuesday night, March 28, with a home meet against Elsie Allen, followed by a Thursday match against Analy.
Track & Field
Healdsburg's athletes have been overlooked in the huge fields at the big regional meets—Big Cat (March 4), Twilight Invitational (March 10) and the Dublin Distance Festival (March 18). But this week they went head-to-head with Else Allen at the HHS fields on Wednesday, March 29. Results too late for press time, but check next week's Healdsburg Tribune for a report.
After a couple dual meets away, the runners, jumpers and throwers will next meet at home against Cardinal Newman on Wednesday, April 19, and a week later (April 26) against Piner. Meets begin at 4pm at the school fields on University Street.