Research materials and photographs contributed by The Healdsburg Museum.
100 years ago: Oct. 18, 1923
Flames Destroy Miller Dryer; Blaze of Unknown Origin
Fire which broke out shortly after 7 o'clock Sunday night totally destroyed the Miller & Sons' dehydrator, in the rear of the Miller Packing plant on west Grant street. Outside the city limits where the fire apparatus is not permitted to go, and only with the packing plant equipment to fight the conflagration, the big dryer was quickly seen to be doomed, and efforts to extinguish the flames, though heroic, were in vain.
The blaze, apparently, had its origin near the top of the tall ventilator shaft. Rene Revel, one of the first to see the fire and to arrive at the scene, secured a hose line from inside the burning structure and attempted to bring a stream of water to play upon the flames, but was unable to handle the hose alone to good effect….The fire spread with amazing rapidity. Harold K. Miller estimated the loss in the fire to have been about $16,000. There were about ten tons of dried apples and a like amount of dried grapes in the dryer.
75 years ago: Oct. 22, 1948
Children's Library Films at Plaza on Saturday Morning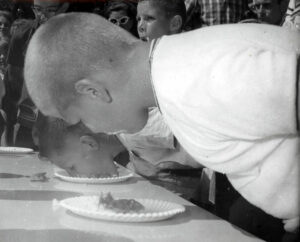 Kids had a great time at the theater last Saturday as they thrilled to a program packed full of entertainment featuring a pie-eating contest and the awarding of one of ten Hobby Horses to be given away each Saturday morning, and finally seeing the film "Adventures of Rusty."
Popular master of ceremonies was Bob Jones from radio station KDAL at Fort Bragg. Jones and theater manager Ken Dennis took the kids through a round of events without a jinks and tossed more bubble gum and candy over the stage lights than one child could eat in two lifetimes. A jumping race down the theater aisles kept the youngsters busy until the cartoons and feature attraction began.
50 years ago: Oct. 5, 1973
Parade, Window Painting Keep the Kids on the Street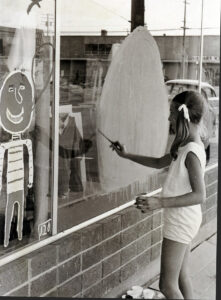 Valuable merchandise prizes will be awarded to Healdsburg area children participating in the annual Halloween costume parade and window painting contest. The Oct. 31 parade, sponsored by the Healdsburg PTA and Merchants' Association, will line up at Center and Piper Sts., and begin at 4 p.m.
First and second prizes for the prettiest, scariest, and most original entries will be given in three age groups. The Halloween window art contest is open to children from the fourth through eighth grades. Students in elementary, parochial and junior high schools are eligible to enter in two divisions grades 4-6 and 7-8. Gift certificates will be issued to the top four paintings in each division ranging in value from $2 to $5. They will be redeemed by any Healdsburg merchant.
The Healdsburg Museum and Historical Society is located at 221 Matheson St. Hours are 11am to 4pm, Wednesday through Sunday. Admission is free; donations accepted.