By Beulah F. Vega
Shepherding a play from an idea to a fully-staged production is a long and sometimes arduous process. It's also a bit of a financial risk for theaters because audiences tend to want to see things they know. Any theater that's willing to stage new works should be commended and supported.
The Raven Player's effort to bring resident playwright Tony Sciullo's Betty and Edith and Sue from their ScriptTease New Works series to a fully staged production is no exception. The show, directed by Neva Hutchinson, runs in Healdsburg through Nov. 19.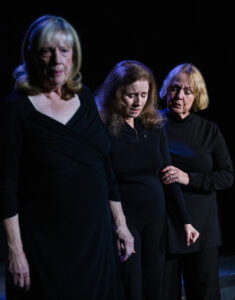 The script is an enjoyable, if somewhat predictable, story about three Italian-American godsisters and lifelong friends. Set in Pittsburgh, Pennsylvania, it centers around the women's relationship with their godmother and how that relationship influences their lives and the lives of their daughters. The action alternates between the early 1960s and modern times. Think of it as the Italian-American version of The Divine Secrets of the Ya-Ya Sisterhood.
What the set by Jenny Brazell lacks in storytelling ability is made up for in the use of projections designed by Artistic Director Steven David Martin. It is rare to see projections used effectively and appropriately, and Martin does both with this show.
The costumes, by Jeanine Gray, were somewhat handicapped by required quick character changes. When allowed to costume a character fully, such as Crystal Wilson's "Young Betty," the costumes were stunning. But quick change-induced oddities like an E.R. doctor in a pair of heels somewhat lessened Gray's effective contribution.
A good script, a talented technical team and actors who can do their roles justice are not always enough to mount a successful production. Sciullo's script deserved better direction.
After casting, timing is arguably a director's most important job. Timing, as they say, is everything. And this show lacks it. Poor timing can lead to many issues, such as an inability to build chemistry, make consistent character choices or be fully present in the moment. Compounding the issue of timing was the inability to hear half the cast.
Directing is hard, stressful and exhausting. Directors must always be focused on the big picture and the nuances. Directing oneself, as Hutchinson does here, creates a conflict of interest which rarely works and, disappointingly, in this case it does not.
Like all new works, this script deserves a fighting chance, and it's hard to win a fight without a dedicated leader.
'Betty and Edith and Sue' runs through Nov. 19 at the Raven Performing Arts Theater, 115 North St., Healdsburg. Thursday–Saturday, 7:30 pm; Sunday, 2 pm. $10–$25. 707.433.6335. raventheater.org