Smith Robinson is rocking again as the Healdsburg High girls basketball team has won five straight in the young 2022-23 season. A sixth game Tuesday night was canceled because Kelseyville said they couldn't make it—but the Greyhounds victories have often come against larger schools, and by large margins: 55-13 over Napa, 48-29 over Petaluma and 65-16 over Lower Lake at the Nov. 12 season opener.
Last year's team played well too, 8-1 over their first nine games and finishing 7-3 in the league for second place. And coach Steve Zichichi says they're building on last year's success. "I am very excited about this team as we are returning all five starters, led by our two returning 1st Team All League players, Hailey Webb and Itzel Ortiz," said Zichichi. Other starters include Allie Espinoza, Ashley Behrens and Maddie Wagner
In fact, Saturday's game against Rio Lindo was briefly stopped when Ortiz scored her 1,000th career point and was presented with a specially decorated game ball. Calling the benchmark "quite an accomplishment," Zichichi said, "she can also really do it all. She led our team in scoring the past two seasons and also can rebound with the best of players."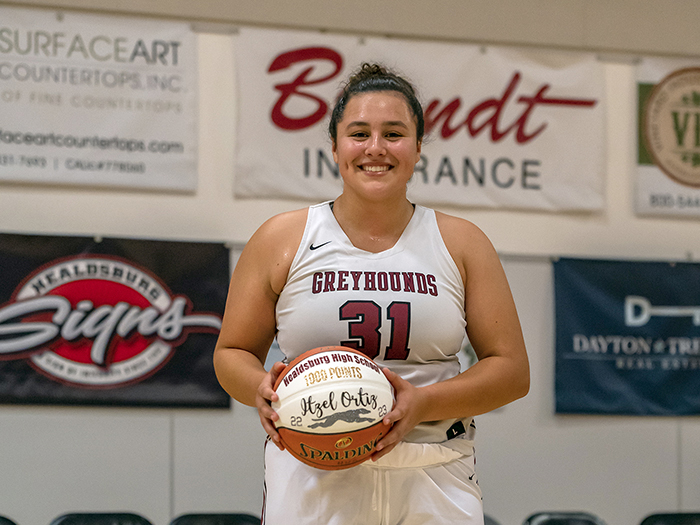 Coach Zichichi had nothing but praise for his other starters too, and the handful of players who round out the compact eight-person roster. He said point-guard Webb "controls everything that we do by expertly running our offense and spearheading our defense." Ashley Behrens leads the team in rebounding, sophomore Allie Espinoza is the team's leading scorer and Maddie Wagner "brings senior leadership to the team" as a four-year varsity player.
Two sophomores, Ruby Leffew and Hannah Sellard, and freshman Amelia Wickersham complete the team, and they all are getting playing time.
"This team is so much fun to coach, and makes me look forward to going to practice every day," said the coach. "They are very business-like once the lights come on during games, and they have been handily defeating teams from much bigger schools, like Petaluma and Napa High."
Their schedule begins to get a bit tougher with a Dec. 3 matchup with St. Joseph Notre Dame (Alameda) and the Redwood Empire Invitational Basketball Tournament (REIBT) that follows. "Our team approach is to take each game one at a time, and the girls have bought into the philosophy of not overlooking any opponent," said Zichichi.
That includes their next home game on Nov. 29 against Middletown, at Healdsburg High, 7pm.
The boys basketball varsity team defeated neighbor Rio Lindo Academy 49-26 on Nov. 17. They will play the season's second game at home on Saturday, Nov. 26, against Santa Rosa High at 5:30pm. All home games are at Smith Robinson Gym on the school campus.