Last week, the National Weather Service issued a "coastal flood warning" for the entire Sonoma County coastal area—including Healdsburg. But a quieter-than-expected rain event over the weekend averted the dire warnings that the higher-than-normal tides would bring to coastal cities.
This week, however, the weather service again cautioned that a flood watch was in effect due to a "potent Pacific storm (that) will bring periods of moderate to heavy rain, causing localized flooding as well as rapid rises on area streams." Most cities and towns in Sonoma and Marin counties were put on alert early Tuesday morning as rain pelted down over the upper Russian River area, including Healdsburg.
In a single hour at 8am on Tuesday, half an inch of rain fell, part of a system that brought just over two inches of rainfall to town. That raised the season's total to 7.33 inches; last year, at this time, Healdsburg had 18.12 inches of rain, and that was a drought year. (The so-called "rainfall year" extends from Oct. 1 to Sept. 30.)
Precipitation waned on Wednesday, but Thursday was expected to bring another three straight days of rain as an "atmospheric river" settles over the region. The water level of the Russian River is expected to crest on Saturday, New Year's Eve, at between 12 and 14 feet, as measured at the gauging station on the river near Camp Rose. Flood state is marked at 23 feet, so the river itself is not expected to overfill its channel.
Historic highs at this gauge include 30.8 feet on Dec. 1, 1937; 30 feet on Feb. 28, 1940; 27 feet on Dec. 23, 1964; and two 1995 high water marks, one at 26.23 on Jan. 9, and again at 25.16 almost a year later, on Dec. 22, 1995.
Foss Creek, however, a small tributary of the Russian that runs through town, may be subject to local flooding. Residents in the past have used kayaks and other small inflatables to enjoy the unexpected overflow water on city streets near City Hall as recently as 2020.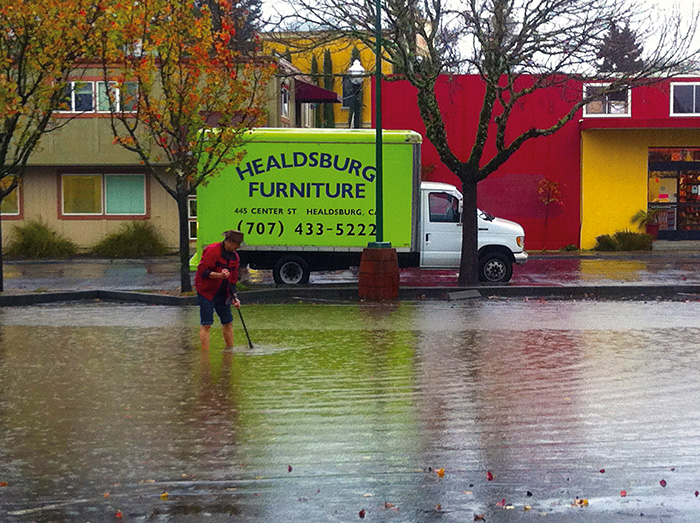 City Stands Prepared
City of Healdsburg officials reassured residents that, despite the year-end closure of city offices, the city's maintenance crew was fully staffed and anticipating calls from residents for support.
"Public works (as well as utilities) staff are on call 24-7," the city's public works director, Larry Zimmer, told the Tribune. "If there is an emergency, residents can call the police or fire department to report it, and it will get to the right hands."
Zimmer said the Utility Hotline, 707-431-7000, is a 24 hour a day answering service that forwards messages to the appropriate personnel. Mark Themig, the city's community services director, confirmed that the hotline is the number to report any park or open-space related emergencies during this time as well.
During the months of December through February, the Russian River experiences its peak flooding season. The communities of the lower Russian River, such as Guerneville, are more often flooded than is Healdsburg. Major flood events have been recorded since the early 1900s, with the highest flood reaching a height of 48.8 feet in 1986, according to the Russian River Historical Society.
Locals don't have to go back very far to remember downtown flooding in 2020, 2019, 2014 and other recent years. Perhaps next week at this time, they can add the New Year's Flood of 2023 to their tall tales.