Yoga on the Mat
The Petty Theft tribute band plays a benefit for the Michael J. Fox Foundation for Parkinson Disease Research, following an hour-long community yoga session at Bacchus Landing on Thursday, Aug. 24. Yoga at 5pm, music event continues until 9:30pm, $50.
Friday Night Live
Cloverdale's weekly summer series continues with "rootsy rock 'n' roll" from Santa Cruz, the Coffis Brothers, on Friday, Aug. 25. Street fair 6pm, music 7-9pm in downtown Cloverdale. Free.
Farmers' Market
Saturday Healdsburg Certified Farmers' Market on Saturday, Aug. 26. Market begins at 8:30am, open till noon at West Plaza Park. Also Tuesday, Aug. 29, from 9am to 12:30pm, at Healdsburg Plaza. More information at healdsburgfarmersmarket.org.
Blood Harmony
Sisters Rebecca and Megan Lovell comprise Larkin Poe, an eclectic electric Americana band playing at Rodney Strong Winery on Saturday, Aug. 26, 6pm.
Skitzo
The underground thrash metal band founded by Healdsburg's Lance Ozanix plays one night only at Coyote Sonoma. Catch them Saturday, Aug. 26, at 8pm. No cover, 44f Mill St. More information at coyotesonoma.com.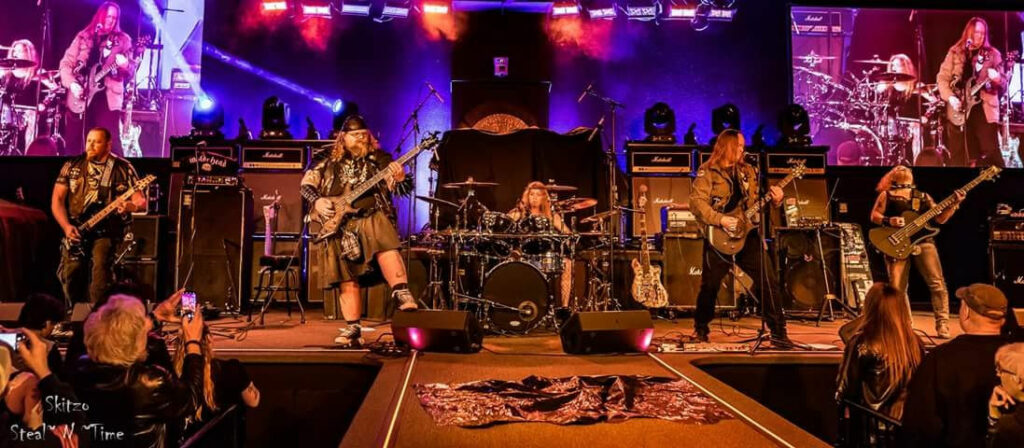 Roaring Twenties
Costeaux Bakery is having another 100th birthday party, this one a 1920s themed event with appetizers, desserts and beverages, special guests and entertainment to be announced soon. Date is Saturday, Aug. 26, 5:30-8:30pm. It's at 417 Healdsburg Ave., $50 tickets at costeaux.com.
Getting Vertical
Author Rex Pickett visits Papapietro Perry Wines to talk about the book, the movie and life after Sideways. 5pm, 4791 Dry Creek Rd.
Afro-Cuban Jazz
Omar Sosa Quarteto Americanos brings a unique musical vision to The 222 on Saturday, Aug. 26 and Sunday, Aug. 27 at 7pm. Tickets $45-$85 at the222.org. The stage is located at Paul Mahder Gallery, 222 Healdsburg Ave.
Jess Williamson
The Los Angeles-based singer, songwriter and multi-instrumentalist plays the Second Story stage on Monday, Aug. 28. See story in this issue. Doors open at 7pm, music at 8pm, $25, upstairs at Little Saint, 25 North St.
Final Tuesday in the Plaza
The community will gather for the year's final Tuesday in the Plaza program, a special event co-sponsored by the City and Corazon Healdsburg. Rocio y Su Sonora return, with a performance by Ballet Folklorico and free giveaways to conclude the summer series. From 6-8pm, free.
Final Windsor Concert
Windsor's regular Thursday Summer Nights on the Green concludes on Aug. 31 with Rudy Colombini and the Unauthorized Rolling Stones. Farmers' Market begins at 5pm, music from 6-8pm.
Cantina Rock
Tremoloco, an eclectic roots band, shows up at Elephant in the Room on Thursday, Aug. 31, 7:30pm. Tickets $10, at 77 Healdsburg Ave. or elephantintheroompub.com.
Access Alexander Valley
A regional wine celebration at the new ACTA Wine, 7505 Highway 128/Alexander Valley Road. $150 ticket includes all-access pass to 15+ wineries, winemaking demonstrations, barrel tastings, artisanal food and music from the Pitchforks. 5-8pm; tickets and information at alexandervalley.org.
Arts Exhibit
"Bounty," described as the reward for a well-nurtured garden or a well-nurtured life, is the theme of the current event at Healdsburg Center for the Arts, ending Sept.3. The community gallery is located at 334 Center St., open 11am-5pm daily, till 6pm on Friday and Saturday, closed Tuesday.
City Council
The Healdsburg City Council meets on Tuesday, Sept. 5, due to the Labor Day holiday. Meeting is at 6pm, at Council Chambers, 401 Grove St. Attend in person or live on Facebook at facebook.com/watch/cityofhealdsburg.
Healdsburg Museum
The current exhibit at the Healdsburg Museum, "We Are Not Strangers Here: African-American Histories in California and Healdsburg," continues Wednesdays through Sundays, from 11am to 4pm. The museum is located at 221 Matheson St. Admission is free, donations are welcome.
Post events on the Tribune's online calendar at healdsburgtribune.com/calendar, and send special announcements to [email protected].