Imagine living in the heart of wine country in beautiful Healdsburg, on property featuring lush flower and vegetable gardens, a fieldstone fountain, paths for strolling and a thriving farm with chickens, ducks, goats and beehives.
The plates coming out of the communal kitchen are embellished with corn, cabbage, peppers, summer squash and other gems fresh from the garden, a play straight from the California farm-to-table manual. That type of meal caps off a day that could have begun with a morning art session and a lively group exercises class and culminated in a fun shopping excursion and an afternoon meet-and-mingle.
This is not a fancy resort or hotel for tourists. It's the way of life at Healdsburg Senior Living, also known as Healdsburg, a Pacifica Senior Living community. The 9-acre complex offers assisted living, memory care and short respite care for 82 residents.
Executive director Cinthya Gamino wants the Healdsburg community to know that the community she now runs is a first-rate communal assisted living, memory care and short-term respite community operating in full state compliance.
Healdsburg Senior Living's last state audit was Dec. 8, 2022, and it recorded zero deficiencies, which Cinthya characterized as "like getting 100 percent." Cinthya, her senior management team and staff are working hard, she said, to correct the misconception that the skilled-nursing closure meant the entire operation had shuttered.
"The assisted living and memory care components were differently operated than the skilled nursing aspect," Cinthya said. "We have nothing to do with prior management. We have a new team that is trying to bring back a sense of community to the place."
Under Cinthya's watch, the facility has a young, enthusiastic team that includes a maintenance director, business office director, resident services director, community relations director, activities director, dining services director and additional staff members. They are dedicated to open and transparent communications with residents and family members, Cinthya said.
"It goes so well, because you are bringing different generations together," she said. "They are curious about each other, and the managers and staff members want to do it right."
The new managers are eager to implement industry best practices, and they pride themselves on being educated and informed, Cinthya said. Managers consistently tell her they find purpose in their jobs at Healdsburg because of the community they serve.
Cinthya is a nine-year veteran in the industry. She has worked for Pacifica Companies for seven years. She has been at Healdsburg Senior Living for 1.5 years, and she spent seven of those months as the facility administrator. An energetic dynamo, Cinthya is the type of executive director who gives residents and their family members her personal cell phone number–and urges them to call her anytime.
"No matter what time of day, I will try to call you back," she said. "My team is the same way. That has helped tremendously."
She studied aging psychology at Southern Oregon University, and she has broad industry experience because she worked in the senior living arena as a caregiver, concierge, activities director and sales director before her promotion to executive director.
"I think the beauty of it is that I have been promoted within the company," she said. "I have had three promotions with Pacifica."
So what's it like living at Healdsburg Senior Living?
"The community gives the impression of a homelike environment," Cinthya said, singling out its one-of-a-kind amenities, homey vibe and the intimate connections created among staff, residents and family members. She asked: "What other assisted living center have you seen that has a farm and garden?"
Healdsburg Senior Living residents can live in a studio one- or two-bedroom apartment, and the community also offers a single memory care unit and a one-companion memory care area, depending on their needs. Residents have access to housekeeping, laundry and linen services plus a restaurant-style dining area and social activities that are directly related to residents' requests.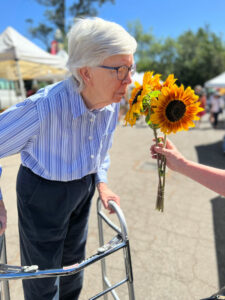 Cinthya has assisted many residents and loved ones with the major decision to move to Healdsburg Senior Living or an equivalent and explained, "There is usually something that happens to trigger the decision."
That can be a major event such as failing health, but often the choice to move into assisted living or a memory care wing involves more subtle reasons stemming from an overburdened caregiver, an individual's lack of desire or ability to upkeep a home or property or a change in circumstance like the loss of a spouse. Residents' circumstances may be as simple as not liking being isolated and alone at home and seeking social living to having substantial memory issues that make living alone and unassisted unsafe. Current residents include seniors who choose an assisted living option because they desire a social community with friends as well as those who require assistance with daily activities, such as meals, medicine reminders or help bathing.
Healdsburg Senior Living can meet many types of assistance, from aiding residents with personal care and other daily support to providing meals, snacks, housekeeping services, medicine reminders and communal activities. An added feature is that Healdsburg Senior Living offers transportation to medical appointments and facilities, a convenience for family members.
Healdsburg Senior Living operates 24/7 so, Cinthya said, so there is always someone available to handle routine maintenance issues from burned-out light bulbs or squeaky cabinet doors to more serious matters such as a leaky kitchenette faucet, backed-up toilet or out-of-commission heater.
Above all, Cinthya said, she and her managers and staff put residents and their needs first, displaying a respectful demeanor in all they undertake.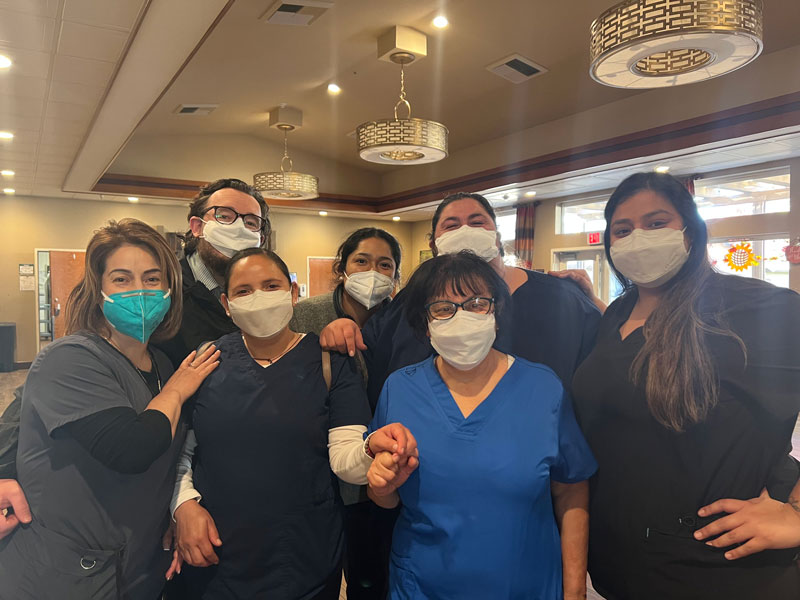 "We are their home, so we try to be respectful," Cinthya said. "That's how I look at it, because I am coming into their home, so I want them to feel comfortable."
Residents' families are pleased with Cinthya, her team, the community and new direction. David P. Cafferrata is one such family member. His father, Alfred John Cafferata, died Dec. 12, 2022.
"I'm grateful for the service the staff of Healdsburg Pacifica Senior Living provided all the way to his passing." he shared with Cinthya, urging her to share his email with staff members and any family members who were curious about the type of care they can expect for their loved ones at Healdsburg Senior Living.
"The staff was and is a very caring and loving team of professionals that have one of the hardest jobs," Cafferta wrote. "To care for someone everyday–to watch the ones they care for deteriorate a little every day–and to watch them pass is very hard on their body, mind and soul."
"Please accept my gratitude for providing the best care that my dad told me he was receiving, every time I came to visit him. I saw first-hand how much all of the staff truly cared about my dad, as each one came in to say their final goodbye. Thank you so much for the care you and your staff provide, not just to my dad, but for all the residents you care for."
Cinthya credits a commitment to open communications as the key to satisfactory care for all, commenting. "Communication is the biggest thing."
Healdsburg Senior Living has big plans to pump up the energy level, with Cinthya working to re-establish a high school internship program so there are more interaction opportunities for residents and their families. Additionally, Cinthya seeks ideas from residents and their families about the wants and desires of the community members Healdsburg Senior Living serves.
Cinthya is proud of Healdsburg Senior Living, her team and what they have accomplished in a relatively short time. She urges any area Healdsburg residents or their family members who might be interested in or just curious about Healdsburg Senior Living to schedule a visit.
Healdsburg Senior Living, A Pacifica Senior Living Community, 725 Grove St, Healdsburg, CA 95448, 707-385-1929, HealdsburgSeniorLiving.com.