The Healdsburg High varsity soccer team has turned into quite a threat in the North Coast Section (NCS) playoffs, with the championship match in sight. The semi-final game in the Division 4 tournament is being played as the Tribune goes to press Wednesday night, against Piedmont in Healdsburg.
If the Greyhounds win, it would make the deepest penetration into post-season tournament play since 2016, when they lost the semi-final game to eventual division champ Petaluma.
It's been a tough season of play in the Redwood League, when the Greyhound boys accumulated a modest 2-4-2- record. But things seemed to gel once the team was selected as a surprisingly strong fifth seed for the North Coast Section division championship tournament.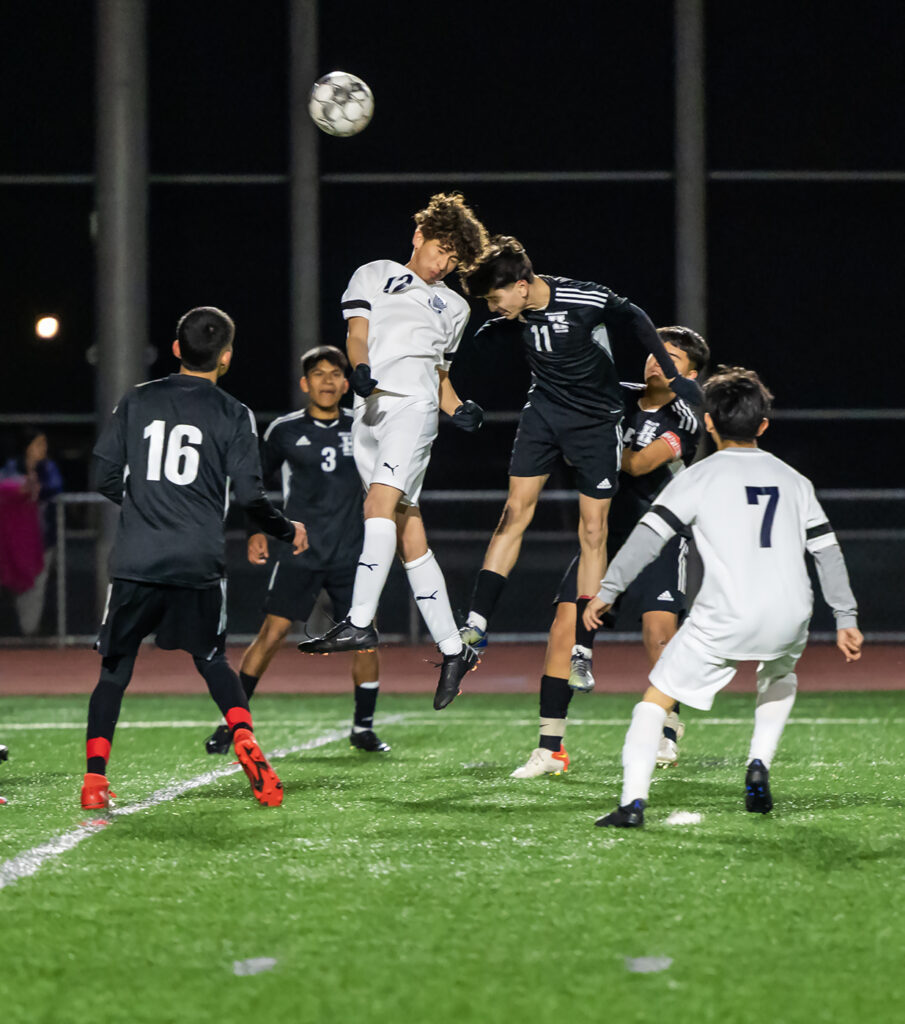 One big reason for their strong ranking was their defense: They allowed only 15 goals in 17 games, said Coach Herbert Lemus. "We play a very strong preseason schedule, which enables our players to get tested right away," Lemus said. About their modest regular season showing, he added, "It is a chance you take when you are a small school playing higher division opponents," which means larger schools with more students to draw from for all sports.
In their last regular season game, Healdsburg defeated Elsie Allen 5-0, then followed it up with two playoff round wins, the first over Marin Catholic on Feb. 15 by a 1-0 score, followed by an upset over St. Mary's 5-0 last Saturday. That adds up to three games without allowing a goal while scoring 11 times.
Notably, each of the five goals in the St. Mary's game on Feb. 18 was scored by a different player, as Juan Pablo Patino, Diego Zavala, Edwin Vasquez, Ricardo Gomez and Jordan Valencia all kicked it in. Edgar Campos had three assists on the night.
But Wednesday night's semi-final game against Piedmont won't be a cakewalk. Though Healdsburg has the fifth seed and Piedmont is eighth, it was Piedmont that upset No. 1 seed Cardinal Newman, 1-0, last Saturday.
The winner of Wednesday's game (results too late for press time) will face the winner of the #2 University vs. the #6 Lick-Wilmerding semi-final played that same day. Which means there's an outside chance that the Redwood League finals could be held in Healdsburg, probably on Saturday, Feb. 25, as games are played on the higher-seeded team field.
Regardless of how the last two playoff games come out, 2022-2023 marks the strongest showing for the Greyhounds since 2016, when they made it to the semi-finals to lose to Petaluma, 2-1. The Trojans went on to win the Division 3 tournament.
Lemus was coach in 2016, as he is this year—his 12th year coaching the varsity team.
Spring Sports
The Healdsburg baseball team is beginning their varsity and JV season with a series of games on the road against non-league opponents. Home games begin March 4 against Credo, start time 6pm.
Season opener for the softball team will be at HHS on Friday, Feb. 25 against Cloverdale, 3:30pm, followed by a Monday, Feb. 28 4pm game against Middletown.
The boys tennis team will hold their first meet on Friday, Feb. 24 at 4pm in Windsor; they have another match against Windsor two weeks later, this time in Healdsburg, again at 4pm.
First big track and field event of the spring will be the Big Cat Invitational at SRJC on March 5, starting at 9am.
Swimming and diving teams, both boys and girls, will hold their first home meet against Rancho Cotate on March 8 at 4pm.
Finally, there's badminton. Healdsburg first competed in the high school sport in 2017. This year, play starts at 4:30pm on March 7 away against Analy, though the first scheduled home match will be on March 14, starting at 4:30pm against Piner.