The Healdsburg Greyhounds football team has had a difficult year, and returns to their home field for the season's last game on Friday, Nov. 4.
Although the 2021 record of 3-6 raised hopes that the Hounds could compete this year, to this point they are winless—with only one game left in the season. But the loyal fans keep showing up and it's expected they will do so on Friday for the Senior Night match against Piner High at Rec Park, starting at 7pm.
The varsity Greyhounds hope to end the so-far winless season with a victory against Piner, whose 0-3 league record is the same as Healdsburg's. As they say, something's gotta give.
"Friday's game is going to be a good game—two teams are looking for a win in the league, and we're both good teams," said Coach Robert "Bear" Gray. "In fact, I know we're a good team."
He ascribes the difficult season the team has endured as being due to its relative youth, with no JV team to act as a training ground for the younger players. "I'm just glad the kids aren't disappointed in the season—we play hard and don't let up," Gray said.
The coach said he got his nickname "from being a bear on the football field, a very big quick guy." He played linebacker for a couple college teams, including for SSU the year they won a state championship.
Recent games have seen Healdsburg lose to three of its four Redwood League rivals: Their last previous home game saw an Oct. 14 loss to Ukiah, 46-6. Two road games followed, to Maria Carrillo 43-0 on Oct. 21; and last week they fell to league-leader St. Vincent de Paul, 43-6.
Senior Night is a chance for the team to recognize the last game of its most experienced players, and for fans to say goodbye to the athletes who are moving on to other endeavors (or sports, as many HHS students are multi-sport athletes).
Graduating next June will be the following Greyhounds football players: running back and safety Cameron Pippi (8), defensive end Reef Cawvy (9), quarterback and safety Jeremiah Michener Jr. (14), tight end and defensive back Otis Hardin (15), defensive tackle and center Alexis Garcia (53), guard and middle linebacker Victor Onate (55), and offensive and defensive tackle Eddie Silva (77).
Moving on
While all of them will be missed when next year's team takes the field for the 2023 season, it's likely Cameron Pippi's absence will be felt the most. According to cumulative statistics as of Oct. 21, he leads his team in several offensive categories and ranks high in NCS statistics as well.
Among them: per game average yards rushing (70.3), yards receiving (11), and from the other side of the line, sacks (3). The all-around player also placed second in tackles per game, just below sophomore Nathaniel Rowland at about 8 each.
Pippi also ran for four touchdowns, almost half of the team's total scores. The other five were scored by sophomore quarterback Jeremiah Tinsley, one pass reception and four on the rush, including his fifth TD in last week's St. Vincent game's fourth quarter.
Pippi, who has been playing football for nine years since Pop Warner play, hopes to continue with the sport when he goes to SRJC next year, but has no illusions about stardom on the big stage: He envisions working in construction or firefighting.
"I would like to thank all my friends and family for supporting me, and a huge thanks to my dad for pushing me everyday," he told the Tribune.
His father, Mario Pippi, was born and raised in Healdsburg and is proud of his son for "giving it all" to the game, even this year. "He's fun to watch," he said proudly.
Jeremiah Michener Jr. is moving on to Shasta Community College after his final year as a Greyhound, though he will suit up for baseball this coming spring.
"I know being a Hound hasn't been easy this season, but through all the struggle, I'm happy with all these teammates who have become more of a family through the year, and helping me through my injuries and challenges," Michener said.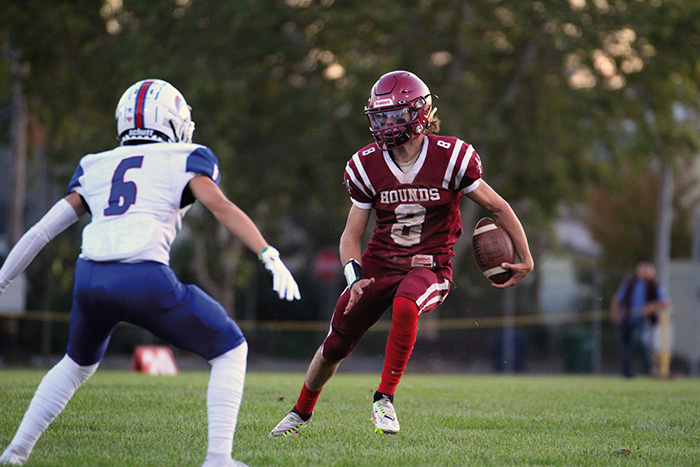 Wait 'Till Next Year
Even without the departing seniors, there's reason to hold out hope for the Hounds next year. Tinsley is coming back next year, as is QB Michener. Junior Wyatt Dugan Jr. has been a productive quarterback and running back. And running back Alexander Harris, who leads the team with 252 yards returned on kickoffs and punts, is only a freshman.
"We're young, man! We're doing the best we can for what we have; I'm really proud of that," said Coach Gray. In fact, 25 of the 32-man roster may be returning next year, possibly to play a more competitive season.
The lopsided records of many teams, both good and bad, has led several schools to lobby the North Coast Section for a new configuration of football leagues, though this would not affect other VVAL sports.
The proposal would have four groups to compete on a more level playing field. Group 4 would include Healdsburg as well as Terra Linda, Archie Williams, Piner, San Rafael, Sonoma Valley, Novato and Elsie Allen. (Group 1, the top league, would include powerhouses Cardinal Newman, Marin Catholic, Rancho Cotate, Vintage, Windsor and San Marin.)
The conference realignment, if it meets with final approval, would not go into effect until 2024, and run on a trial basis through 2028.This year's final Healdsburg High football game will be played at Rec Park against Piner High on Nov. 4. Varsity kickoff time is 7pm.