"It was really beautiful!" enthused Drew Holmen, a 30-year-old runner from Boulder, CO, and winner of this year's 2023 Lake Sonoma 50.
A few seconds later, he amended the remark: "It was so brutal!"
Holmen finished the route, billed at 50.8 miles but according to many a couple miles longer, at 1:14pm, earning not only bragging rights but a $2,000 prize for finishing first. His elapsed time of 6:44.20 put him over 10 minutes ahead of (and $1,000 richer than) second-place finisher Caleb Olson, 27, of Draper, UT, and Preston Cates, 25, of Flagstaff, AZ, who came in third.
Erin Clark, 28, of Missoula, MT, was the first woman finisher, coming in over an hour later at 7:49:27. Allison Baca, 32, and Sarah Keyes, 38, followed her to the finish line. But all of the 214 men and women who finished the race were winners: Completing a run almost twice as long as the marathon of Greek history is epic, heroic.
For "ultra" runners—those who run anything longer than a marathon's 26.2 miles—there is no real conflict between "beautiful" and "brutal." Any 50-mile race is bound to be brutal at some point, and the uphill/downhill rhythm of the Lake Sonoma route tests the endurance of any runner. But it's the pastoral landscape of the Lake Sonoma route that has been said to make the run one of the most enjoyable ultras in the West.
After all, the Lake Sonoma run includes a gourmet athlete dinner and a lively finish-line celebration featuring healthful food, breweries and wine from Wilson Artisan Wineries. All finishers were greeted at the finish line with a high five from race director Gina Lucrezi, and a Wilson employee asking a simple question: "Red or white?" The choice was between a 2019 Sonoma zinfandel or a 2018 Mendocino chardonnay, both with custom "LS50-Relentless" labeling.
The North Face was the event's title sponsor this year, as it was last year. Also, Wilson Artisan Wineries' Children of Vineyard Workers Scholarship Fund directly benefits from the race. "It's been that way since the very beginning," said Skip Brand of Healdsburg Running Company (HRC).
"Relentless" is the brand of the Lake Sonoma run, in all its forms, from the women's half-marathon the previous day, April 7, to the April 8 full marathon and the celebrated 50-miler, a staple of the long distance runner's calendar since 2006. It didn't run only two of those years, once because of COVID (2020), and the other time because of flooding (2011).
Flooding was a factor in this year's route as well. Because of the high water levels in Lake Sonoma—which is more than 100% full—the lake rises into backcountry nooks and crannies usually not under water. One such spot is Warm Springs Creek itself, where it enters the lake (actually a reservoir, the result of the 1983 Army Corps of Engineers Warm Springs Dam).
At that spot, 13.5 miles into the route, the water was so high that Skip Brand and a Healdsburg Running Company (HRC) crew built what's called a bridge dock over the creek. First they tried an 84-foot log, ferried across the lake from another location.
"The problem is that doesn't scale to 800 runners," said Brand. "So we took dock pieces from what the marina had and dock pieces from what the Army had." Adding on with wood platforms atop boat floats, they built a custom bridge for the competitors due to arrive just five days later.
Still, due to the makeshift nature of the bridge, when race day came only one runner at a time was allowed on the span, and a certified lifeguard was on station.
The adjustment of the route further away from the highwater shore also added almost three miles to the 50.8 mile course, adding fuel to the "relentless" reputation of the route.
Race History
Skip Brand has been involved with the race since he opened HRC in 2014. Five years ago, when race founder and ultrarunner John Medinger stepped aside, Brand bought the race for $1. He and his wife, Holly, served as race directors for three years, and two years ago brought in Lucrezi, founder of Trail Sisters, as race director, though Brand remains deeply involved.
"I just believe the more diverse anything is, the better it is," said Brand. "It was a lot of dudes early on, the course was called Relentless and we talked about how tough it was and collarbones broken, all that. It's great history, but it's kind of a macho history. The women are just as tough and sometimes tougher."
Lucrezi said she and her husband founded Trail Sisters in 2016, having both come from the outdoor industry. "The premise for Trail Sisters was to strengthen the female voice in the women's sports of trail running and hiking, because there was a huge void in that space," she said. They started running clubs with local chapters—HRC has one—to develop a national community of women runners.
"They're all free. They're just meetup groups for women to get together to go for fun runs and to hike," Lucrezi explained.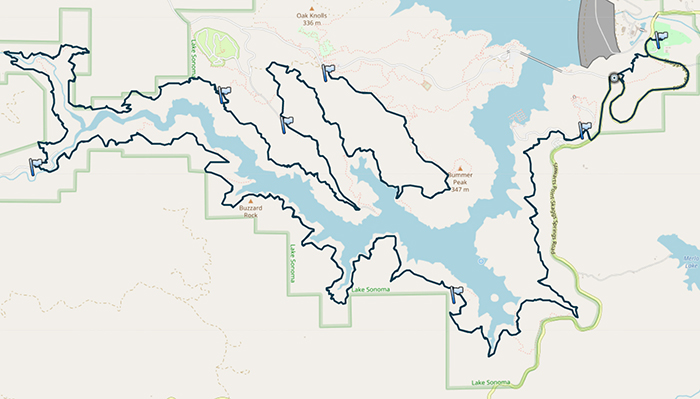 Trail Sisters manages their own local race, a half marathon in Buena Vista, CO, and this year they added a Trail Sisters Half Marathon to the annual Lake Sonoma event. "Historically there's more of a barrier for women to get on the trail, cultural and societal, you know, just how things have been set up," said Lucrezi. "So our hope is to just provide the opportunity for them if they want to come out and do it, to at least have the opportunity for them to embrace it. That's what we're here for."
Though the half marathon followed an overnight rainstorm, and Lucrezi feared the turnout would be dampened, the race was gangbusters. "It was a great turnout. Everybody was super excited. What we had heard from runners on the trail is they loved that it was just the women's only event, just the camaraderie that was fostered along the way was great," she said.
Klaire Rhodes, 24, of Anchorage, AK, won that race in 1:46.27, with Ruby Lundquist, 23, and Brittany Charboneau, 34, both finishing within a step of each other at 1:55.
Since it was first held 18 years ago, the Lake Sonoma 50 has attracted runners from over 20 countries to experience the bucolic (and brutal) course around Lake Sonoma. And though it wasn't heavily promoted, this year's Lake Sonoma 50 was a qualifying race for the American team to go to Europe for the World Mountain and Trail Running Championships, to be held in Austria in June.
That means that the top three finishers in the Lake Sonoma 50, both men and women, will head over to Europe in the coming weeks to compete against the world's best.
"Wow," said Brand enthusiastically. "Running in Europe on the American dime, or the trail running dime, to prepare to beat everyone else in the world.
"And believe it or not, our men are now good, but the women are better than the men," he added with a laugh.