After a season of diverse musical performers at Healdsburg's Tuesday in the Plaza concerts, the city doubled down with a Latino-focused finale, featuring the return of Rocio y Su Sonora, a Ballet Folklorico interlude and free giveaway of shopping bags—bilingual, of course.
Rocio La Dama de La Cumbia, as she styles herself, is a Los Angeles-based performer who has been singing professionally since 1994, and recording since 1999. Cumbia is a folkloric music and dance with its origins in Colombia; Rocio herself was born in Guatemala.
She helped party Healdsburg out of the pandemic with the first Tuesday in the Plaza in June of 2021, and joined the celebration during last year's Merry Healdsburg affair in December. "They actually learned some holiday music for us, in addition to providing some of their standard music for that concert as well," remembered the city's recreation supervisor, Matt Milde.
"Their shows are filled with excitement and vitality, making them a fantastic choice to conclude this year's Tuesdays in the Plaza concert series," said Milde. "We are excited to have Rocio return to Healdsburg."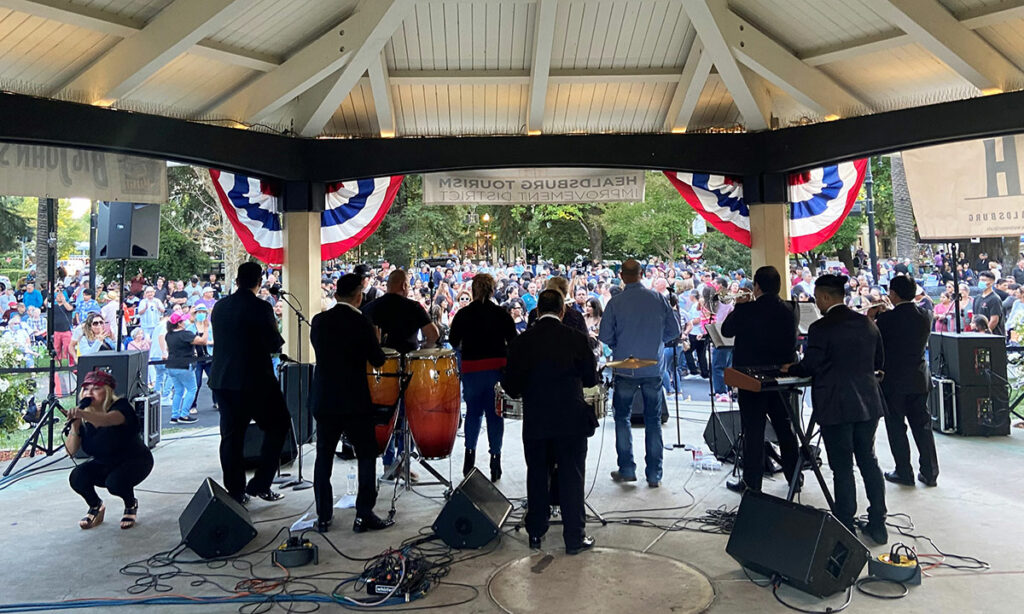 Marcy Flores, the interim executive director of Corazón Healdsburg, said, "Our team worked with the community services team to make this a successful and fun event."
She too singled out the value that Rocio would bring to the final week of Tuesdays in the Plaza. "Rocio brings her bi-lingual, high-energy talent to close out this year's concert series, so mark your calendars for a great evening of singing, dancing and community," Flores suggested.
In addition to the presence of Rocio, La Dama de la Cumbia, and Su Sonora band, the Tuesday night gathering will include an intermission performance by Ballet Folklorico Yolotl. The group was the recent recipient of a $5,000 grant from the city's arts and culture budget.
There will be special food vendors and other surprises, including 400 free reusable bags, bearing the inscription "Healdsburg—Love where you live" in both English and Spanish.
The announcement of the performer for the Aug. 29 final Tuesday in the Plaza was made on Monday, Aug. 21—after a delay of months from the calendar's initial release in May. "We decided that we wanted to do a special performer early on, and we hadn't really slotted any one artist," said Milde.
Working on a Tuesday band with Corazón Healdsburg is an annual practice. But as the summer wore on, the city decided to "put more money into a bigger artist" for the season finale as well, he said. "So we decided as a team to hold off on announcing anything. Let's take the extra time to try to find somebody who would be a great fit for the final concert of the year."
Selecting the final band was not an easy project, admitted Milde. "We actually had a long list of folks that we were looking at getting now; she was certainly on that list," said Milde. As the winnowing process evolved, and more artists became unavailable and fewer names remained, Rocio emerged at the top of the list.
"The one that really stood out as kind of the one that brought a stage presence and was fun and exciting and danceable was Rocio y Su Sonora," Milde noted. Asked to characterize her stage presence, Milde tried several adjectives before finally deciding that "the key word" was energy.
"We've had her recently, and we've had her before, but they have such a great stage performance," said Milde. "The fact that it is cumbia music, it does reach out to the Latin part of our community. It's a great treat to have her."
Tuesday in the Plaza is held June-August in the Healdsburg Plaza on Tuesday nights, 6-8. Attendance is free.