Murals have become a popular means of public artistic expression, from big city to small town.
Locally, the five-panel historical mural at Healdsburg High's Smith Robinson Gym dates from 30 years ago, while the recent Monarch Project mural on Alley Three off Center Street was created this spring. These and other murals illustrate the heritage and history of Healdsburg and the wine country.
Murals at 970 Healdsburg Ave. are not so different—though they are not downtown or on a civic building, but painted on a residential lot on the walls of occupied apartments. Both, however, push forward on the region's Mexican heritage with images of iconoclastic 20th century artist Frida Kahlo.
The mural facing Healdsburg Avenue is a larger-than-life portrait of the artist as a wine muse—her signature hat is made of purple wine grapes instead of her usual bright flowers. Farther back on the property, Kahlo is having a glass of wine in her Mexico City kitchen, but here she's represented as a skeleton, in celebration of Dia de los Muertos.
Muralist JM Knudsen of Sacramento refers to this one as Muerto Frida. He was engaged by property owner Rob Wolf to add some color to the residences, following similar work he had done for Wolf in Sacramento.
"He didn't really give me much input on what to create besides creating something great that would connect to the tenants at 970 and also the community," said Knudsen. "That type of creative freedom helps me thrive when creating art."
Wolf himself said that he and his wife commissioned the murals because "I wanted to enhance the buildings, support an independent artist in JM Knudsen, and contribute something interesting to the city and community of Healdsburg."
"The grapes are the connector to the entire world there," said Knudson. "And the people there at 970 Healdsburg have pride in Frida and have pride in the grapes that provided them with life there and the opportunity of prosperity in America through hard work."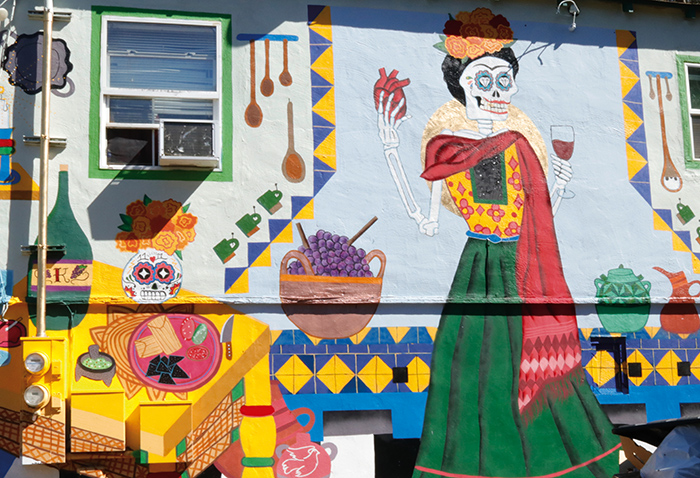 While one of the murals at the address is easily visible driving by on Healdsburg Avenue, the other is on private property and is best seen on a walk past the property, just north of the 7-Eleven shop at the corner of Healdsburg and Powell.
"We're glad that this has captured people's attention and got them talking," said Wolf.