It doesn't always take a stage to put on a show. At Furthermore Wines in Healdsburg, there's simply a corner inside the front doors where the talent—the singer/guitarist, the jazz duo or trio, the five-piece soul band or the stand-up comic—sets up, and just like that it's a venue, a new place in town to hear live music.
It's not exactly the sort of place where the band cranks it up to 11. "There's an intimacy to that room, and part of it is the long, narrow nature of it," said Chad Richard, co-owner with Bob Zeches of Furthermore Wines. A jazz-guitar musician himself, Richard is conscious of the advantages of such a location.
"Some couches are six feet, eight feet away from the musicians, so you get this real up-close-and-personal feel," he said. "It's a little bit more 'lean forward and listen' than you get in some other settings."
That vibe makes it perfect not only for guitar-based music, but also for comedy. Every first Sunday of the month is Comedy Night at Furthermore, with regional talent trying out their latest shtick or reliable routine. Salsa lessons and dancing happen every other Thursday, while folk and jazz prevail most Fridays and Saturdays.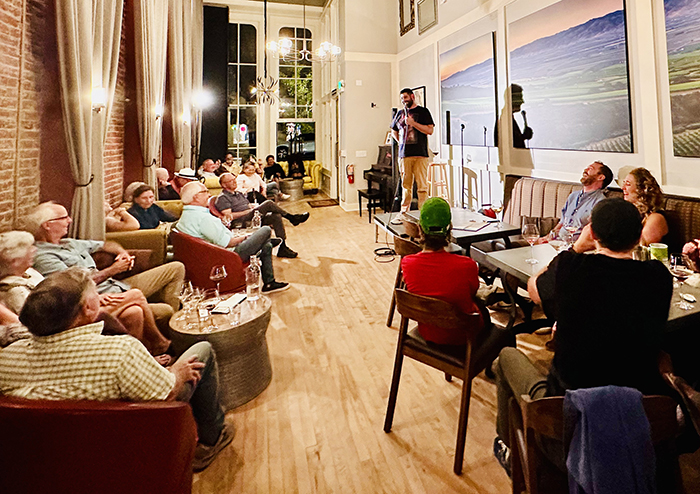 Most of all, though, the location just half a block from the Plaza is like somebody's long—very long—living room, 105 feet long with 30-foot ceilings, actually, large enough for a bowling alley with some room left over. Several large sofas line the walls, a big triptych of vineyards in the Santa Lucia Highlands faces the brick wall just 14 feet away, and down the hall sits a well-stocked wine bar—well stocked with Furthermore wines, of course.
It's hard to tell if the venue is a wine bar or a tasting room, which is an increasingly common confusion in downtown Healdsburg. Several businesses on the same city block share the hybrid business model; Banshee Wines, at 325 Center St., was the first, in 2013, with its relaxed casual furnishings that quickly drew weekend afternoon crowds.
Then BloodRoot Wines opened around the corner at 118 North St., and likewise began cultivating a clientele that liked a good time as much as a good wine. A pandemic-era wood-deck patio helps expand their living room outdoors on balmy days. Noah Dorrance, one of Banshee's co-founders, started BloodRoot with his wife, Kelley Dorrance, in the early days of the pandemic.
Like those businesses, Furthermore focuses on pinot noir. The famously fickle grape has a loyal following throughout the wine world, even in big red-friendly Sonoma County. Several premium Russian River vineyards lie within a few miles of the Healdsburg establishment and still more surround the primary tasting room and wine-making facility near Graton at 3541 Gravenstein Highway North in Sebastopol.
Richard and his college friend Zeches began making wine as part of the "urban winemaker" movement of the first decade of the millennium, when budding winemakers would truck in grapes from Bay Area vineyards to warehouses, industrial courts or mini-malls. When it comes right down to it, a vineyard view is unimportant in the stages of pressing, fermentation, aging and bottling.
After a couple of years in the East Bay, the duo purchased the former Graton Ridge winery in 2015 and moved their operations into the welcoming embrace of Sonoma County. "We have one of our two estate vineyards there, and our actual winery production is there as well as a tasting room," Richard said, clarifying that the Healdsburg location is a "tasting lounge."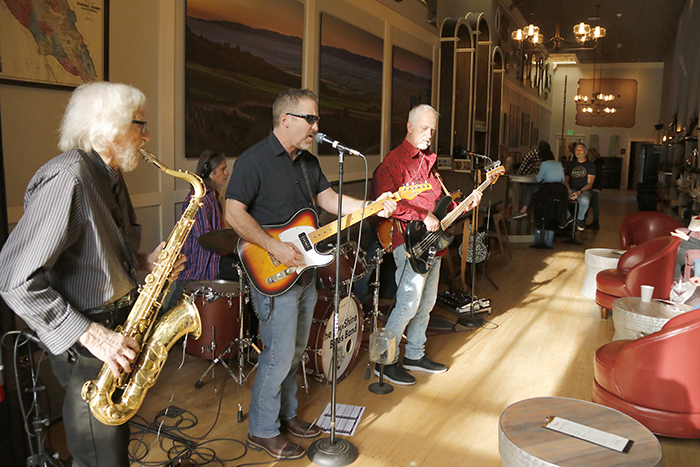 The Graton winery hosts live music, too, on Sunday afternoons from April to October, but it has a distinct summer party vibe as opposed to the cozy-performance vibe offered at Furthermore Healdsburg.
The long, narrow room that comprises Furthermore's Healdsburg location is half of a full downtown business lot; the other half is currently occupied by the real estate offices of Engel & Völkers. The building was recently painted with the name Sam Meyer Hardware, based on an old photograph of the location. Richard is pretty sure it was once used as a bowling alley, too, and the length of the narrow room certainly has that quality.
More recently—within the memory of many in Richard's own cohort—it was Bergamont Alley, a slightly funkier wine bar with a fondness for LPs before they were quite so hip.
"We're definitely a pinot house, as you've noticed," Richard said. Furthermore's default welcome is an introductory flight of pinot noirs from different California regions, sometimes curated into a north-to-south theme.
"We get really excited about the different ways that pinot noir really reflects the place that it comes from, and its terroir or a kind of sense of place, if you will," Richard said.
He extrapolates his way through the full line of 18 or 19 pinots and the single chardonnay Furthermore makes, exhorting visitors to "go on that journey with us" and discover the micro-regional character of their wines, which surprisingly total only about 5,000 cases a year, "definitely on the small side."
Regardless, when the musicians are playing in the cozy Furthermore Wine lounge, it's simpler to order a glass of the wine that's most appealing—after a journey of discovery, of course—and savor it as the music unfolds.
"There's so many great, talented artists hanging out in Sonoma," Richard said. "So I think we're pretty blessed to have a lot of talent in, and we're happy to be helping to contribute to stages that they can play on, for sure."Furthermore Wines, 328 Healdsburg Ave., Ste A. 707.395.0374. furthermorewines.com