It would be unfair to several Healdsburg restaurants to say "At last, there's pizza!" just because Mombo's finally opened up in the Vineyard Plaza, where several previous pizzerias rose and fell over the years. After all, we have Pizzando, La Pizza, Vera, Campo Fino and Round Table, to say nothing of the in-store pizza oven at Big John's—fine purveyors all.
But there's something different about Mombo's. It's a venerable Sonoma County brand, with long-standing locations on Mendocino Ave near Santa Rosa Junior College and in Sebastopol. Its history is colorful, too, stretching at least back to the Santa Cruz beachside community of Capitola, the surfside town where it all began, with the Janis Joplin-influenced name Pizza My Heart.
That's the Mombo's legend, as personified by founder Fred Poulos. His peripatetic life seems as if lived in a wider pursuit of perfection of the culinary variety: from Provincetown—his Cape Cod fried clams were the stuff of legend—to a cuisine coop in Taos to Santa Cruz, on a culinary journey on which he absorbed Greek, Creole, world and surf ingredients into his skillset.
But it was at Pizza My Heart in 1977 that they all came together in the simplest of solutions: pizza by the slice, still the winning formula.
That success was rewarded when Poulos sold the brand in 1989, landing in Sonoma County in the new millennium. Poulos started Mombo's in Santa Rosa in 2002, conveniently near SRJC. A second followed in Sebastopol three years later, and its popularity and sure-fire quality launched it onto many annual Best of the North Bay lists in the Bohemian.
Mombo's made an impact on the cultural atmosphere thought the region. The Santa Rosa location (1880 Mendocino Ave.) was crazy popular with JC students, and the Sebastopol location was in Sebastopol (560 Gravenstein Hwy N.). A series of radio ads, featuring Poulos, who died in June at age 67, and KRSH ad manager Dave Gross, added to the legend of Mombo's.
"I miss Fred," said Gross recently. "I always send friends to Arnold's on Cape Cod for the best fried clams. We always talked about clams! There wasn't a particular theme for the old Mombo's ads that I produced at the KRUSH but one thing that they were, were snarky."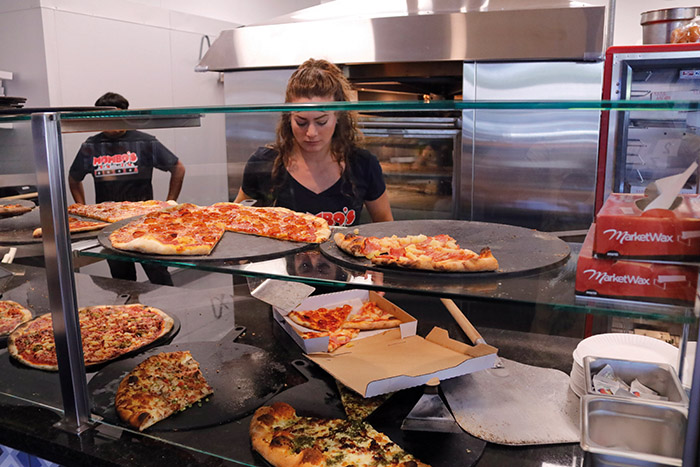 Resurrection
New owner Andrew Peletz started as general manager of both the Sebastopol and Santa Rosa shops in 2014, after almost a decade at Johnny Garlic's during Guy Fieri's involvement. Peletz, who grew up in Santa Rosa and is now 41, formally purchased the restaurants from the ailing Poulos in March 2020.
"Fred taught me everything about pizza and took me to New York to show me the legendary slice spots of NYC," said Peletz. Toward the end, he recalls Fred Poulos coming in every few days to re-energize the dough and the sauce with what he called "bombs," concentrated ingredients that gave the pies the special flavor of the classic New York-style thin-crust pizza.
"It was obviously a real big deal for him when he gave me those recipes," said Peletz. "You could tell he guarded those secrets."
The opening this month of Mombo's Healdsburg marks a resurrection of the founder's Mombo's into what might be called Peletz's version, where dining is a bit more comfortable for those who want more than take-out: salads, pasta dishes, maybe sandwiches. The Santa Rosa store took that turn after Peletz's purchase, and the Healdsburg pizzaria is built in its pattern.
The Covid shutdown gave Peletz and his colleagues additional time to complete a full-scale renovation in Santa Rosa, as the Mendocino Mombo's was closed for almost a year and a half, reopening in June 2021. This coming school year the students are expected back in pre-pandemic numbers, and many will find a new Mombo's.
Long awaited
Peletz committed to the Healdsburg location a year and a half ago, but the remodeling from its former tenants—which included Straw Hat, Mountain Mike's and others—took much longer than expected, and the fits and starts of Covid regulations didn't help. Even now he's still looking for experienced restaurant workers to fill out the Healdsburg team (email [email protected]).
"We're really happy to be open," he said at the 1051 Vine St. restaurant the day after they opened on Aug. 4. "It's been a long wait for the people of Healdsburg, but for us too. We could tell in the days leading up to opening the doors, people just couldn't wait."
Perhaps channeling the effervescent Guy Fieri, Peletz is looking forward to the Healdsburg location as "a place to have fun," and the model of the larger dining area has been transferred north from the newly remodeled and enlarged Santa Rosa location. There's even a polished bar, with trendy local breweries soon to be on tap, a wine list, and big screens showing the game.
Peletz says he thinks it'll be a good fit for Healdsburg. "People need family-friendly places—there's a lot of wonderful restaurants for Friday or Saturday night, but this satisfies the family looking for a pizza." And at Mombo's everyone can have their own slice, if that's how the family rolls on a Saturday night.
"If you want to see what an original Mombo's looks like, go to Sebastopol," he advises – but hurry. "I think the next project will be to update the Sebastopol store with a range and a fryer so we can add pastas to make the menus the same across the whole company," he said.
You can find those menus at mombospizza.com.