By Dave Gil de Rubio
The adjective "Renaissance" is often overused when describing someone proficient in a wide range of fields. In the case of Rhiannon Giddens, the term is drastically insufficient to describe the ride she's been on since releasing her 2015 solo debut, Tomorrow Is My Turn, following her successful run with old-time string band the Carolina Chocolate Drops.
She appears locally on Saturday, Nov. 18, as artistic director of Silkroad Ensemble, a position previously held by the collective's founder, Yo-Yo Ma. They will perform at the Green Music Center on the Sonoma State University campus to end a nine-city tour.
Giddens has accomplished a great deal during the last five years. She released two albums with creative/romantic partner Francesco Turrisi, 2019's There Is No Other and 2021's Grammy Award-winning They're Calling Me Home; wrapped up the second of two seasons playing a gospel-singing social worker on the television drama Nashville; wrote a pair of children's books, Build a House and We Could Fly; scored music for the Nashville Ballet (Lucy Negro, Redux); and was commissioned to write music for an opera for which she won a Pulitzer Prize for Music, 2020's Omar.
And that doesn't include stints hosting a podcast, Aria Code with Rhiannon Giddens, and being named the artistic director of the cross-cultural music organization Silkroad Ensemble, overseeing a 12-part video series called The Banjo: Music, History and Heritage or being named the musical director of the 2023 Ojai Music Festival. And let's not forget she just released the Jack Splash-produced You're the One, her first solo album since 2017's Freedom Highway.
"I tend to work better when I'm also doing eight other things," she said during a call from her home in Ireland. "I think I'm destined to go through life constantly stressed, but it is what it is. I've had a lot of amazing opportunities that I'm grateful for."
While You're The One was released in mid-August, she's currently focused on her work as artistic director of Silkroad Ensemble.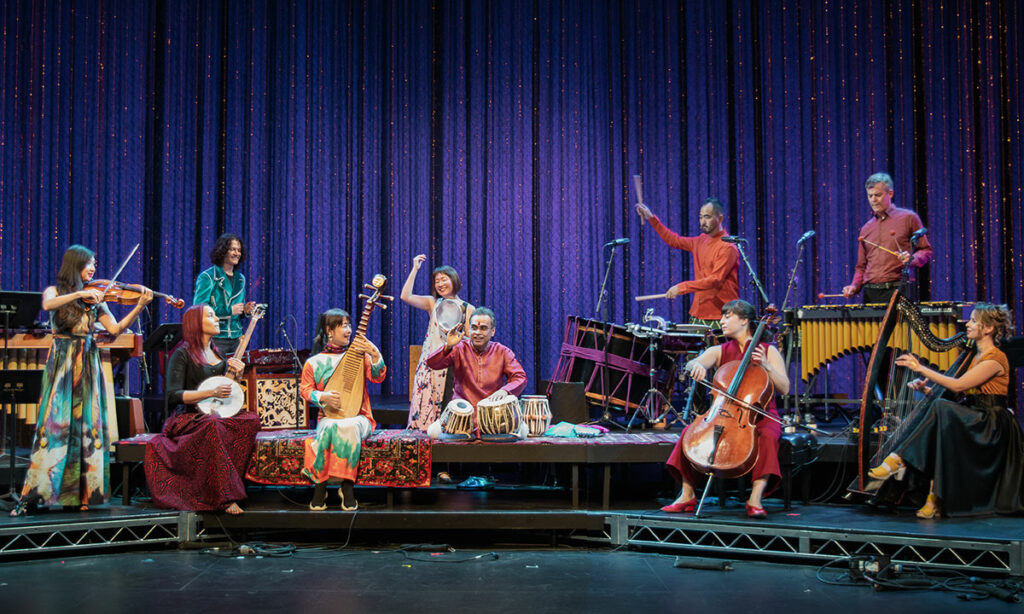 "We have a big initiative called the American Railroad, which is looking at the building of the transcontinental railroad from the viewpoint of the people who built it and the people that were most disrupted by it, rather than the people who benefited most from it," she said.
Giddens is in the midst of a fall tour that promotes the American Railroad project. She'll perform new compositions and interpretations of other material alongside Silkroad Ensemble. The music will complement the mission of the American Railroad project to spotlight the often-overlooked contributions of America's diverse communities to America's railroad history.
The American Railroad project fits well with much of Giddens' other recorded work, which has dealt with weighty subjects ranging from the 1963 Ku Klux Klan bombing of a Baptist church in Alabama that killed four little girls, to the evils of slavery.
And then there's that certain accomplishment of landing a Pulitzer Prize for Music for composing an opera based on the Arabic language autobiography of Omar Ibn Said, a highly literate Muslim cleric who was enslaved and brought over to the United States in the early 1800s, during which time he died in bondage, but not before penning his memoirs.
"The Spoleto Festival USA approached me about it and asked if I'd ever heard of Omar Ibn Said, and I said, 'No,'" Giddens said. "They told me a story about him being brought to South Carolina as a slave, and they asked if I'd be interested in writing an opera about it and I agreed. And then I thought, 'Oh my God, what have I done?'"
She continued, "But yeah, it was an amazing experience. I'm not sure it's one I want to repeat, but it got delayed a few years by the pandemic, which only made it better to give us a little extra breathing room to finish the things we needed to."