'Snapshots' are contributed by Pierre Ratte.
Halloween celebrations and decorations are rooted in Celtic traditions around harvest time. Bonfires were lit and costumes were worn to ward off and confuse ghosts. Ghosts apparently would not recognize people in costume on the day they were allowed to walk on earth. In 837 A.D., Pope Gregory IV created All Saints Day on November 1; the day before became "All Hallows Eve"—hallow meaning saint or saintly. And in time, Halloween amalgamated pagan and religious days.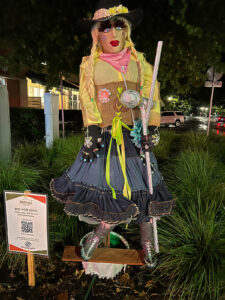 Fun facts: Roman towns had harvest festivals honoring Pomona, the goddess of abundance and agriculture. Some towns have scarecrow displays at harvest time; these towns include Healdsburg, Cape Breton, Canada and Nagoro, Japan, which reportedly has 35 inhabitants and more than 300 scarecrows.
The Scarecrow in the movie The Wizard of Oz was immortalized by Ray Bolger, or perhaps it's the other way around. That Scarecrow thought his deficiency was not having a brain. Nonetheless, Scarecrow is appointed to rule the Emerald City when the Wizard ascends in a balloon.
In other Oz books, the Scarecrow is ousted in a coup by General Jinjur and her Army of Revolt.Born in New York, L. Frank Baum moved to Chicago to work as a reporter and began writing children's books, the first of which was The Wizard of Oz. Baum wrote 14 books about Oz, 41 other novels, 42 theater scripts, 83 short stories and more than 200 poems. He was born in 1856 and died in 1919. In 1939, his first children's book was adapted to cinema. And, as they say, the rest is history.