Healdsburg's Rec Park rocked once again to the sounds of football as the home team Greyhounds faced off against the visiting Timberwolves from Fort Bragg on Friday night, Aug. 26.
The final score was no indication of the energy and enthusiasm the fans, and the players, brought to the game. Cheers were heard for every yard gained and hard-hitting tackle made.
The Greyhounds have had a few years in the red, so to speak, with a 3-6 record in the 2021 season, 0-4 in the North Bay Redwood league, but the school does have a vaunted history in the game and hopes to revive that soon, if not this year then next.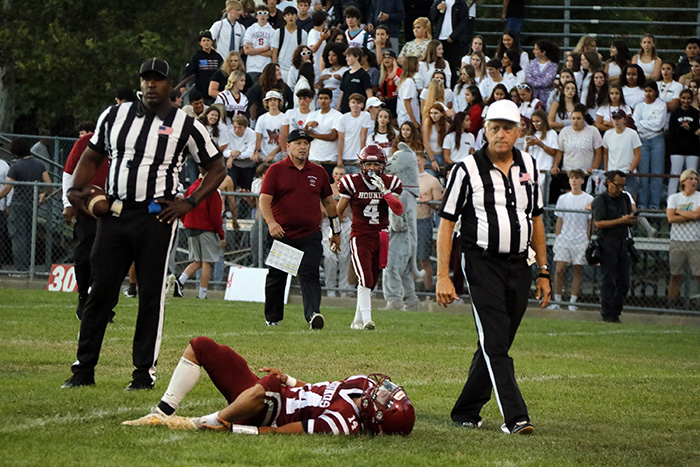 League opponents are Piner and Maria Carrillo of Santa Rosa, St. Vincent de Paul of Petaluma and Ukiah High. The league schedule begins Oct. 14 for the Greyhounds when they meet Ukiah at home, followed by away games against Maria Carrillo (Oct. 21) and St. Vincent (Oct. 28), and the season finale on Nov. 4 against perennial powerhouse Piner.
Coach Robert "Bear" Gray returns to lead this year's 29 players, supported by assistant coaches Adriean Baca, Brad Duffy and Jeremiah Michener. Starting quarterback is Jeremiah Michener Jr., now a senior, who returns from last year's team. He suffered a minor ankle injury on Aug. 26 and left for the first half, though he returned as a running back in the second. Junior Wyatt Dugan subbed in behind center.
Other returning players on this year's varsity squad include five other seniors: defensive end Reef Cawvey, tight end Otis Hardin, and linemen Alexis Garcia, Logan Cardona and Edwardo Silva. That means the roster leans young, which promises stronger teams in the coming years.
Upcoming are two away games against Novato (Sept. 3) and nearby rival Cloverdale (Sept. 9), but then local fans can look forward to a four-game homestand, starting Sept. 16 against Lower Lake, followed by Kennedy (Sept. 23), Irvington (Sept. 29) and the league opener against Ukiah.
Kickoff at Rec Park is 7pm for varsity games, 4:30pm for JV.
Girls' Volleyball
While the football team tries to find its rhythm, the girls' volleyball squad got their groove on early this season and jumped out to a winning season. "We have been playing really well," said Coach Richard Mitts, adding that they "have a great group of senior girls that have gone through some very down times with the program and COVID." In fact, he credits the three seniors—Theresa Helfrick, Lizette Gomez and Emery Joy—for keeping the team together and on track.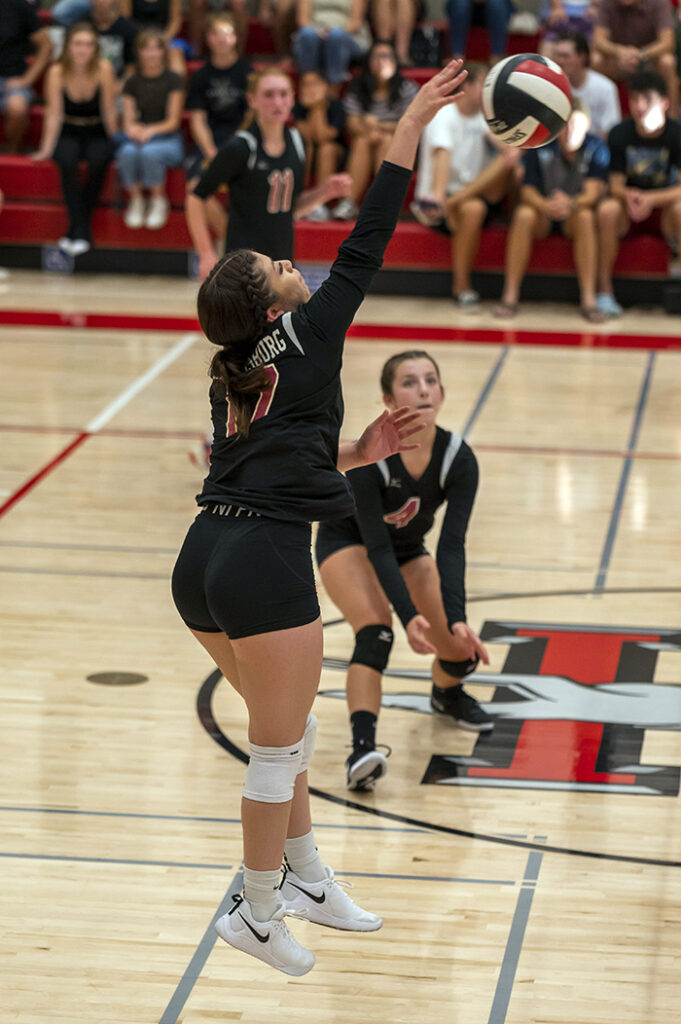 As a first-year varsity coach—he came to the school from Aftershock Volleyball Club in Windsor—Mitts has already seen a big advance over last year's team, which struggled to a 4-17 record. The girls' volleyball season was the first varsity sport to get started, and they have already built a winning record of 6-3, with most of their losses coming in during tournament play in St. Helena.
They have won their last two games without losing a match, going 3-0 against Sonoma Academy on Aug. 23 and against St. Helena on Aug. 25. In fact, Sonoma Academy was one of the losses during the St. Helena tournament, but the Greyhound girls avenged it three days later with a 3-0 sweep over the same squad.
But a big early season test came on Tuesday evening, when they faced off against a larger and strong Santa Rosa High team in the East Gym on the Healdsburg High School campus, the smaller gym adjacent to Smith Robinson. Despite the Greyhounds' dogged attack, the Panthers prevailed, 3-1. Healdsburg High has about a quarter of the total enrollment of Santa Rosa, and will usually compete in Division 4 for smaller schools, though several of their wins so far have been against higher-rated teams.
"They had a tough year last (4-17), but I'm excited for what we have ahead of us. I think we can make some real noise really quickly," said Mitts.
Follow the noise at the East Gym this fall; JV games start at 5pm, varsity about 6pm.