Prep baseball season is running full tilt this time of year, with the top teams in the league meeting for their second or third games as the NCS playoffs loom, beginning May 16.
In the Redwood League, there is no clear league leader as the three-round schedule pits each team against each opponent three times. For instance, the Healdsburg Hounds with their 4-3 league record sit in second place behind 7-2 Montgomery, but the teams split their first two meetings.
Healdsburg won their first meeting, on April 1, 6-3; four days later, the Vikings got revenge with a 10-1 victory. But it was a costly series: All-star Sam Vanden Heuvel was injured in the first inning of the April 1 game, and he hasn't played since.
"He rolled his ankle in the first inning of the first game against Montgomery," said Coach Mark Domenichelli. "Then we lost the first baseman because he got his appendix out last week. We kind of hit the injury button."
The impact of Vanden Heuvel's absence is hard to quantify, but it's real: Though Healdsburg's record on the year is 11-6, they have lost four of their last seven matches since that April 1 game with Montgomery. The senior team captain still leads the Hounds in batting average, on-base percentage and slugging percentage, and his fielding had been near-perfect.
The coach said Vanden Heuvel was game-to-game. "But we'll work through it," he added.
In recent team action, Friday, April 21 found Analy visiting Rec Park in a non-conference game on a warm afternoon that felt like the first day of spring. The two teams were locked in a scoreless and largely hit-less tie for five innings, with Analy's Toby Bush holding the Hounds to a single hit off the bat of Nova Perrill, while Gavin Valls controlled the Tiger lineup, allowing but one run in the sixth.
So with the bottom of the seventh showing Healdsburg down 1-0, the Hounds worked Tigers reliever Connor Dooly into giving up three walks. Add a wild pitch and another Analy throwing error and the Hounds escaped with a 2-1 win.
The next night, Cloverdale came to town in another non-league game, winning 3-1 on the strength of three first-inning runs that the Hounds could never make up.
Healdsburg fielders made five errors in each of the past two games, further pointing out how much "Vanden Hoover" at short is missed—his fielding percentage of .957 is behind only catcher Wyatt Dugan's .984.
The next home game is Friday night, April 28, against Santa Rosa. The third match of three with Montgomery comes next Monday, May 1, at Rec Park. First pitch both nights is 7pm, admission is free, and hot dogs are $5.
Track Action
Healdsburg's track and field team hosted Cardinal Newman last week, on April 19. Though the larger visiting squad outpointed the Greyhound boys, 68-44, the locals put on a strong show.
Cross-country star Kaeden Anderson was the first of four Healdsburg runners finishing in the top five of the 1600 meter race, his 4:41.15 well ahead of second-place Jake McWilliams at 5:06.33. Jack Willmore came in third (5:28.21) and Lucas York fifth (5:34.1).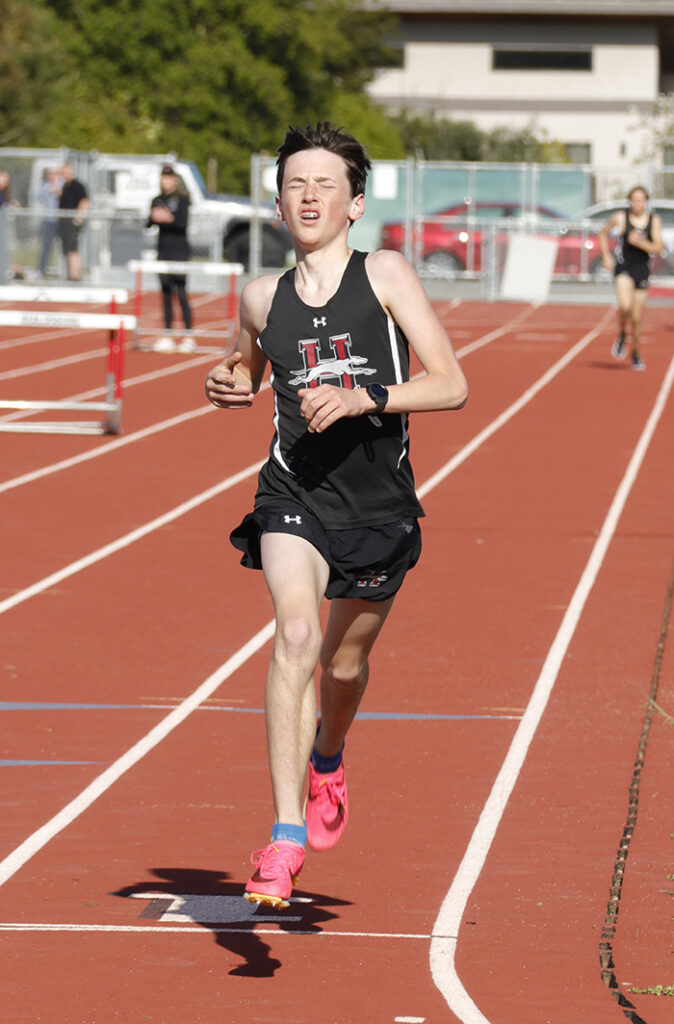 Anderson also won the 3200m in 10:25.2, with Wilmore second (12:00.5).
McWilliams took the 800m ( 2:20.13), leading a Healdsburg sweep ahead of Willmore (2:34.23) and Wyatt Drew (2:37.11).
Cole Pastene had a good day, coming in first (uncontested) in the 300m hurdles at 55.15 and second in both the long jump (16′ 8'') and triple jump (32′ 10.3").
The girls meet had a similar result, with Cardinal Newman outpointing the locals, 80-42. Healdsburg's Brenna Scott won the longest race, the 3200m, in a time of 19:49.2. Beatrice Hawkes took both the 1600m (6.00.0) and the 800m (2:41.2). Sierra Anderson performed well at both distances as well.
Adeline Waterman turned in a Redwood League leading time of 1:05 in the 400m race.
In the girls field events, Alissa Sommer won the high jump with a 4′ 4.5" leap, and Kira Nielson came in second in the triple jump with 25′ 8".