Last weekend's North Bay League (NBL) championships brought the region's best high school swimmers into one pool on Friday and Saturday, April 27-28, at Santa Rosa Junior College. While Maria Carrillo's two teams came out on top, as expected, Healdsburg High swimmers made a strong showing and delivered a number of personal best times.
"We had a really great swim meet," said their coach, Dean Clark. He said the boys (men) team placed second and the girls (women) team came in fifth out of 10 teams in the competition. "This is our best finish in years, and we are the smallest high school in the league," said Clark.
Otis Hardin and Layla Greaves of Healdsburg had times fast enough to qualify them for "consideration" for the North Coast Section (NCS) Swimming Championship meet next weekend. Hardin finished second to Finn Brophy of Maria Carrillo—possibly the top high school swimmer in the country—in two races, the 50 yard freestyle and 100 free.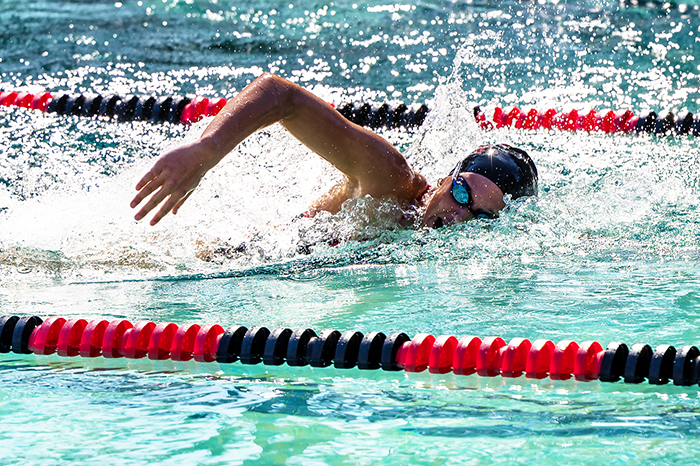 Greaves came in third in the 100 backstroke, behind Natalie Farquhar of Cardinal Newman and Kennedy Lee of Maria Carrillo. She also came in third in the 100 yard fly but missed the consideration time.
Enzo Kluse got a third in the 50 free, Theresa Helfrick came in fourth in the 200 free and Julian Johansen also came in fourth in the 100 yard breaststroke, adding to the team point totals.
Clark explained the difference between "consideration" and "automatic" times. "Both 'automatic' and 'consideration' times are quite fast, but the 'consideration' time does not guarantee you a spot among the 40 fastest times posted in each event," he said.
As it turned out, while Greaves' times did qualify her for the NCS finals this weekend, Hardin's time did not make the cut in either of his two events.
The NCS championship is May 5-6 in Concord; the CIF (state) championship is the following weekend at the same location.
The championship meet came at the end of what Clark called "a really remarkable and successful season" in the NBL Redwood division. "Our women came in second at 6-2 (a close loss to Analy), and our men came in first with an undefeated record, 8-0," said Clark.