There's yellow caution tape over the door and a dead body in the middle of the room. Her name is Sarah, according to the three younger-than-expected investigators, and she has been shot twice.
The investigators evaluate the location of the bullet shells and the gunshot impacts, collect fingerprints on everything from window glass to coffee cups, take measurements, compare notes and come up with a possible solution to the crime—and present it to Police Chief Matt Jenkins.
The body, by the way, is a dummy, and the three investigators are juniors at Healdsburg High who have been placed with the Police Department as interns, part of a 10-year-old program that matches students with potential careers in a hands-on role. They are embedded with local businesses to help them see what their chosen career might look like from the inside.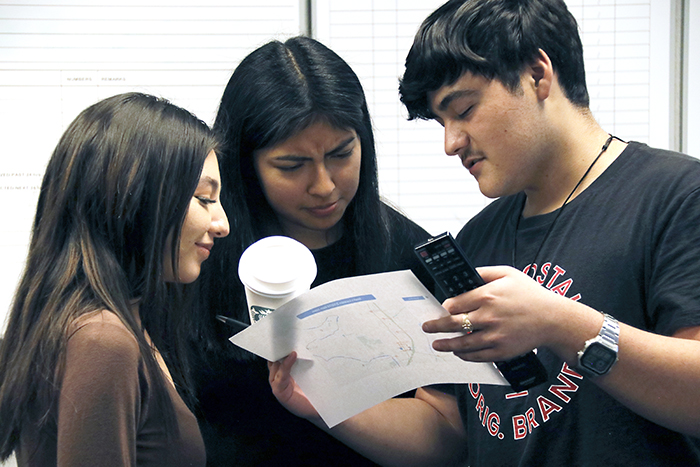 It's part of the Career and College Readiness seminar required of all students in their junior year, 11th grade. Among other things, the course provides lessons in writing resumes and cover letters, financial literacy, sex and drug education, and research into potential colleges or work careers—preparation for entering the world after high school, down whichever path beckons.
A crucial element of that course is the Academic Internship Program, which places every junior in the school with a local company or enterprise for six full days, two days a week over a three-week period in January and February.
It's a program that started 10 years ago, making Healdsburg a pioneer in the sort of parity-building course that values every student, not just the honor roll kids or athletes. The companies that participate reflect that broad embrace: from auto mechanics to computer repair, kitchen and bakery staff, local veterinarians to a university marine biology lab in Bodega Bay.
David Hubbell started running the internship program this year, matching students with mentors who can nurture their interests. The students introduce themselves to Hubbell though a letter of introduction, expressing their curiosity about a particular field. Through interest-based assessments and other tools, Hubbell places the students with local businesses that can show the students what the work is—and which often can get some value back from the students' internship.
Hubbell takes over the role this year from Shelley Anderson, now the school's overall college and career coordinator. When she started with the school, the program was still in a pilot phase. "It was kind of at the beginning of all this effort to get work-based learning more into the classroom," Anderson said.
The program was an immediate success: "We won the Golden Bell Award from the California School Board Association in our third year for outstanding career technical education, exemplifying the best of the best in work-based learning," said Anderson.
She continued, "That's when we started getting calls from other schools saying, 'Hey, how are you doing this?'" Since it began, Anderson estimates that some 1,500 HHS students have benefitted from the internship program, which has now spread to other schools across the state and beyond.
Earlier this month, Hubbell, plus Healdsburg High Principal Amy Jones and Healdsburg Unified School District Superintendent Chris Vanden Heuvel, visited four local businesses to see the program in action, and found the teens actively engaged in the operations and procedures of their chosen business.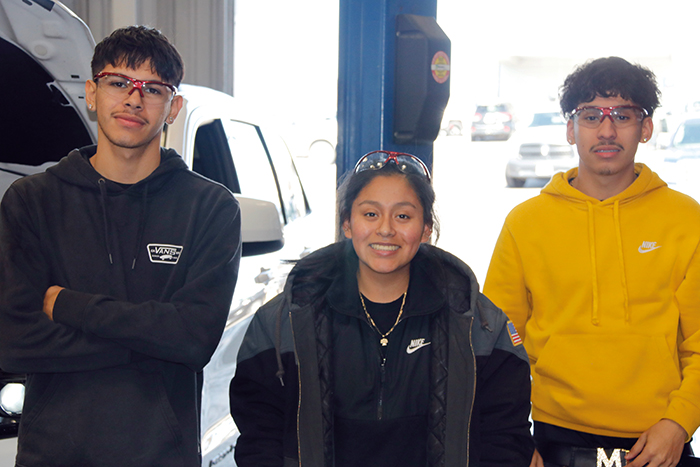 Three students were at McConnell Chevrolet, learning the ins and outs of commercial auto repair. "I was pretty surprised by my internship at McConnell," said Yanet Pacheco. "My first choice was anything in the military; automobiles wasn't it." But Hubbell convinced her to give auto repair a shot, arguing that even the modern military runs on four wheels.
"The value of time management, communication and collaboration were a few of the lessons I took away from my internship," said Pacheco. "I still plan on entering the military after high school, but now I might try to focus on the mechanic field while in the Marines."
Not far away, Lucas York was learning more than he thought he would at Max Machinery, which manufactures precision instruments. York thought he might pursue a career in nuclear engineering, but found his education at Max was about more than flow meters and micro measurements. "I learned a lot about how the work world works, the sort of hierarchy that is seen in the workplace and about how the employees are the most responsible ones for the company's success," said York.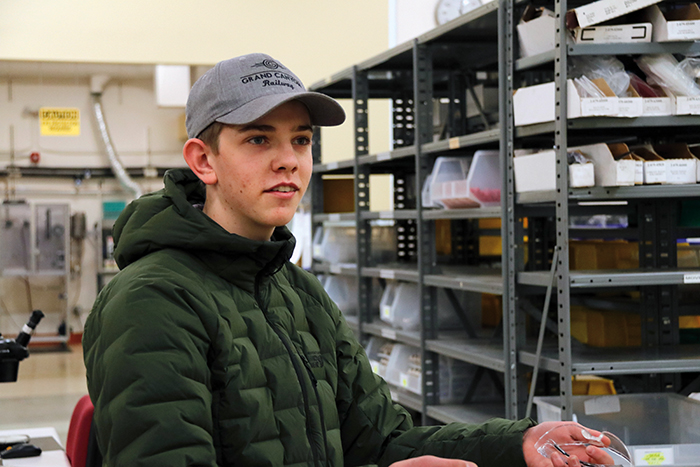 Of course not every student finds the internship is as cool as they thought it would be: That too is a learning experience. "Learning what you don't want to do is as valuable as learning what you want to do," said Vanden Heuvel after viewing the internship program in action.
And what of Sarah, the poor deceased dummy? Cristian Gonzales Dominguez was one of three interns on the case. "My thoughts before starting the internship were that I would get some useful information," he said after solving the case.
"I went out astonished by how much better it was and how informative it all was," he said, adding that what he called the "information overload" of police work started the first day, "which completely changed my expectations."
With 110 juniors this year, finding an internship for everyone was challenging, but Hubbell emphasized that the community businesses themselves stepped up. Five culinary and hospitality students found the Montage provided a level of training and experience that just wasn't available when the program started in the 2012-13 school year. Similarly, SingleThread, Little Saint and the Quail and Condor bakery supported one student each for their hands-on experience.
Niine students interested in a medical career found themselves at Healdsburg Senior Living. Other sponsor businesses included Healdsburg salons and spas, plumbers and electricians, construction companies, wineries, the fire department, marketing companies and real estate offices, even a barber.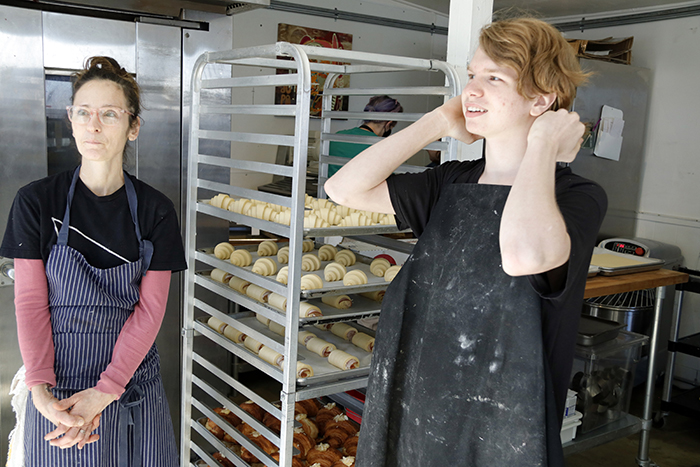 A total of eight students signed up to see if a marine sciences career was right for them. Twice a week for three weeks, they took a passenger van the hour-long drive out to the Bodega Marine Lab, a UC Davis Marine Sciences facility on the coast.
"I think the power of it being so successful in Healdsburg is because we're such a small town and we're so caring," said Anderson. "The community cares about our students, and we really take it seriously. We can't just drop kids off at school and expect them to come out in four years all educated. We all need to be part of it."
Internship Presentation Night is March 9 from 6-8pm, on the HHS campus. Each classroom will have six students presenting, as well as high school staff hosts, mentors and a handful of community members. 'This is a great night to hear from students on their internship experience and learning,' said David Hubbell. Contact [email protected] to confirm attendance.