Familiar faces, new bands and old friends will fill the Healdsburg Plaza on Tuesday nights from 6 to 8 for the 2023 season of free concerts, Tuesdays in the Plaza, presented by the city's community services department.
The weekly summer concerts at the downtown Plaza provide an eclectic and unusual line-up of bands to please a wide array of musical interests. Dancing is widespread throughout the Plaza, though the area in front of the gazebo where the bands set up is sure to be packed with active locals and out of town visitors.
An appetizing assortment of food vendor pop-ups usually includes Lola's Market, Rose's Burgers & Brats, Healdsburger, Nellie's Oysters and Tips Roadside. They will be on hand to offer locally sourced food in various styles for sale starting at 5pm, with the music beginning at 6pm.
This year's musical talent includes:
May 30: Club 90 plays music from the 1990s and beyond. They call themselves the Bay area's premier party band, and perform a high-energy, choreographed show.
June 6: Cosmo Alleycats feature vintage jazz and swing in their setlist, led by vocalist Emily Day, whose voice transports listeners to an earlier era.
June 13: Laura Benitez and the Heartache bring original roots country to the stage, using the "three chord tools of country music to tell the simple, unvarnished truth."
June 20: Carlitos Medrano and Sabor De Mi Cuba return to the Plaza for the third time with their Afro-Cuban jazz, co-sponsored by the Healdsburg Jazz Festival.
June 27: Neon Velvet plays '80s and '90s new wave/pop/rock and calls themselves a "corporate dance band," encouraging the audience to "dance your fancy pants off."
July 4: No concert; the city is planning a big 4th of July event in the Plaza on this date.
July 11: Wreckless Strangers bring their California Americana soul back to town. They are a "collective of six seasoned Bay Area musicians known for their collaborative songwriting and high-energy live shows."
July 18: Dginn promises "a blend of ancient party music with human beatbox, electronics, a taste of traditional Middle Eastern flavor."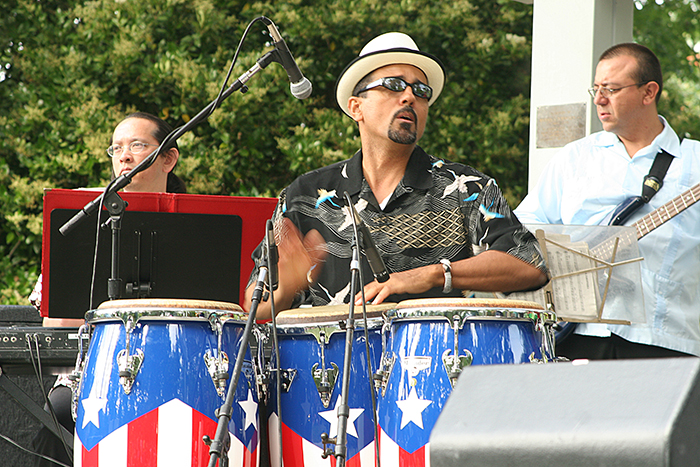 July 25: The John Santos Sextet features the Bay Area percussionist who has made it his musical and educational mission to put the roots back into Afro-Latin jazz fusion.
August 1: Eddie 9V takes his Atlanta-based blues to new heights with a stage show that relies on blues power and sly wit.
August 8: Danny Click & The Hell Yeahs is a local rock and Americana group featuring a front man who left Austin for the Bay Area and never looked back.
August 15: Los Pinguos comes from Argentina by way of Santa Monica with a mixture of Latin rhythms, reggae, rumba flamenca and rock.
August 22: Free Peoples farm the Americana/folk rock field in their own way, presenting an "original mix of songs to its audience with reckless abandon for form within the original compositions."
August 29: The special guest artist lined up for the 2023 finale cannot be announced at this time due to contractual obligations, but it's sure to be a fitting climax to the 2023 Tuesdays in the Plaza season.
The fine print
Concert participants are encouraged to use Sonoma County Bike Coalition's free Bike Valet, available from 5-8pm each week. Riders get a claim ticket to recover their bike, which will be parked in a safe location nearby, at the end of the concert.
There are certain rules and expectations of attendees to the Tuesday in the Plaza music events. Groups are welcome to congregate after 4pm (chairs and blankets left unattended prior to that time will be removed), but should keep seating as compact as possible, not obstruct the view of other concert attendees, and not use pop-up tents or shade structures. No group seating is permitted on the concrete to allow for safe pedestrian passage.
Not allowed are riding scooters, skateboards or bicycles, barbecues or amplified sound. These are pet-free events as defined by the city council—which means no pets are allowed between 5-8pm; only certified service animals as defined by Title II and Title III of the Americans with Disabilities Act (ADA) are permitted. Emotional support animals, comfort animals and therapy dogs are not service animals under this definition.
New this year: Smoking is not permitted in the park or surrounding sidewalk.
Complete information and concert rules can be found on the city's website, healdsburg.gov/TuesdayConcerts.