The Healdsburg girls' volleyball team scored its final set-and-match points of 2023 last Thursday, Oct. 19, at Elsie Allen High, when the Greyhounds beat the Lobos 3-1 for the second time this year.
A week earlier, in another away game on Oct.12, they defeated St. Vincent de Paul, also 3-1, though in an earlier match it was a more precarious 3-2 victory.
In between those games they lost at home 0-3 to Ukiah, a team undefeated in the NCS Redwood League. Coach Richard Mitts felt the 2-out-of-3 series was a good way to end what many felt to be a disappointing season—but one which the players themselves would not give up on.
"I think they overcame, and seeing that growth was impressive," Mitts said. "They easily could have just kind of quit and been done with the year, and I wouldn't have blamed them. But you know, they wanted to make the most of their final season, especially for those seniors."
The Orange County native just ended his second year as Healdsburg's volleyball coach, his fifth overall, and he certainly isn't planning on leaving anytime soon. In his first year, last year's Greyhound girls made it into the CIF playoffs, running up a winning 15-12 season, 7-3 in the league for third place. And they had a league co-MVP in Theresa Helfrick.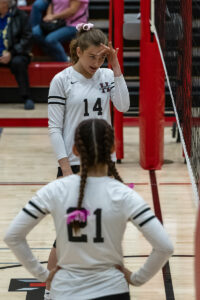 So dealing with a season that included an eight-game losing streak was hard on everybody. "I don't know how to say it, but the team just wasn't as cohesive as one would've liked," he said.
"I think last year, you know, winning solved everything. And this year when the going got rough in the beginning, I think it was very easy for the girls to start blaming each other as opposed to looking at themselves."
As the season wore on, it became more difficult for the coach to motivate the team to show up and do their best. "Usually you have CIF playoffs, so you don't really know when your last game is; when your last practice is going to be," he said. "But this year the writing was kind of on the wall."
At least in part, Mitts blames himself for setting too aggressive a schedule, with too many teams in higher divisions than Healdsburg's Division 4. Yet he thinks the challenges could have a silver lining. "I think that's something big to build on for the juniors and the returning girls—learning what it takes to compete with those, those better teams," he said.
The team's fourth-place finish in the league isn't likely to give them much of a presence on the All League roster to be announced following the CIF playoff series now underway, though Mitts feels that two standout players have a chance to make the list—senior Laurel Heaney and junior libero Melissa Casas, who have the statistics that count in All-League selection.
Mitts also singled out Ashley Behrens, another junior. "I don't think there was a single game she didn't start," he said. "She's obviously a stud, but, you know, she stayed healthy the whole year and that's always hard to do as well. She's just kind of a core piece of the team and I don't think gets enough credit."
Six girls on this year's roster are seniors, meaning that 10 members of the team are likely to come back next year. That bodes well for the near-future of volleyball at Healdsburg High.
"I do think the future's bright," Mitts said. "We basically have a full starting lineup returning next year. Which is, from a coach's perspective, something that's kind of fun to think about."