Just seven years after the West Sonoma County Vintners filed their petition, the West Sonoma Coast—where the cold marine air and heavy fog offer distinct advantages for growing wine grape varieties ranging from Pinot Noir and Chardonnay to Syrah—has officially been sanctioned as a new American Viticultural Area (AVA).
The jurisdiction of the new West Sonoma Coast AVA isn't perfect, but given that the Alcohol and Tobacco Tax and Trade Bureau (TTB) prohibits overlapping AVAs, and the inherently bureaucratic, political process of petitioning any governing body, West County vintners celebrated the announcement of Sonoma County's 19th appellation for many reasons, some of which are not so obvious.
The new AVA includes Fort Ross-Seaview, but comprises a narrower slice of coastline than the greater Sonoma Coast AVA. The Green Valley of the Russian River is not part of the new AVA. But overall, the West Sonoma County Vintners consider it a win.
"Not having a name didn't work very well for [pop star] Prince and doesn't work very well for wine regions either," says Carroll Kemp, the co-founder of Red Car Wines, who left to create the Alma Fria Wines in 2018. "There's a coalition of wineries and vineyards who grow our particular varietals, which are primarily Pinot Noir and Chardonnay, that have a broad level of respect in the marketplace. And many of them are West Sonoma Coast Vintners. Marketing the new AVA together will absolutely have an impact over time," continues Kemp.
West Sonoma County winegrowers never liked what the TTB defines as the Sonoma Coast. To them, it stretches way too far inland. Karah Estate Vineyards in Cotati, for example, is more than 15 miles east of Dillon Beach. Yet they and many others who grow grapes well beyond the cold, marginal viticultural region that is characteristic of West Sonoma County are allowed to print the coveted Sonoma Coast AVA on their label.
The West Sonoma Coast Vintners who tend vineyards along the San Andreas fault—some of them on steep ridges up to 1,800 feet above the Pacific—consider the Gravenstein Highway to be the easternmost border of what they call the "true" Sonoma Coast.
And since they're willing to forego bigger yields and live in a more remote, rural area with cold marine air and heavy fog that creates particularly challenging conditions for grape growing, it didn't seem right that winemakers in Santa Rosa or Petaluma (both more than 19 miles inland) could say their wines came from the Sonoma Coast.
"In Green Valley or the Russian River, if you want to crop at six or seven tons per acre, you can. Yield is restricted by proximity to the coast. Rainfall totals increase dramatically, and it's mostly steep, mountainous terrain. These factors limit the yield potential and make the qualities of the fruit different," explains Ted Lemon, a graduate of the Université de Dijon, who started his career as a winegrower in France before founding Littorai Wines in 1983. Lemon's 10-year average yield projections are just 1.5 tons per acre.
On the true Sonoma Coast, the maritime conditions moderate the temperature in the vineyards. Daytime highs are cooler. Nighttime lows are warmer than just a few miles inland. This modest diurnal temperature swing allows the fruit to ripen slowly throughout the day and the night, a phenomenon experienced only in a truly cold-climate, maritime environment.
The slow, steady ripening promotes the development of fruit that reaches true physiological maturity at lower sugar levels with pronounced acidity. And that bright acidity with moderate alcohol levels unleashes the bursting flavors of wines like Flowers Winery Camp Meeting Ridge Pinot Noir, Peay Scallop Shelf Pinot Noir and Littorai Hirsch Vineyard from, which are all associated with West Sonoma Coast.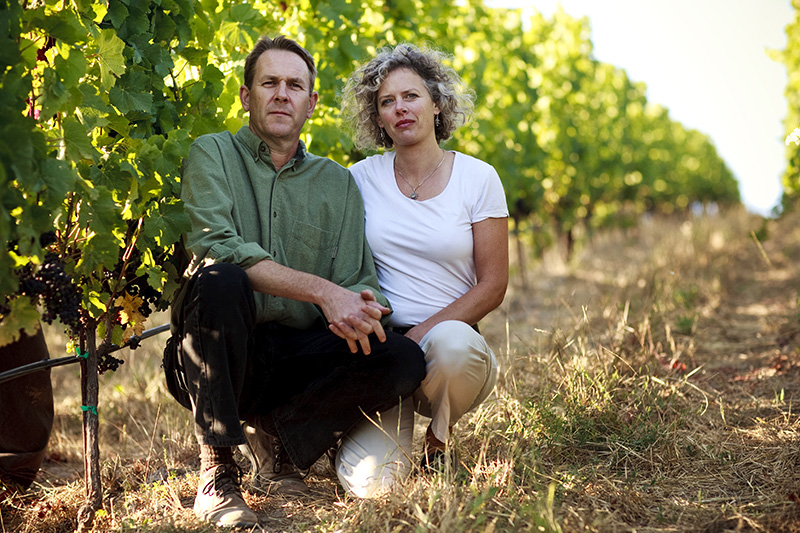 "We are sourcing fruit from a number of vineyards inside the new West Sonoma Coast AVA. I could definitely see us releasing a West Sonoma Coast Pinot in the coming years," says Ross Halleck of Halleck Vineyard, which hosts wine tastings beside the oldest accessible Pinot Noir vineyard in Sebastopol at their Burnside Road estate, across the road from the new appellation.
Based on the imperfect nature of the TTB's sanctioning process, wineries and wines like Halleck Vineyard Estate Grown Pinot Noir, Ceritas Heintz Vineyard, Porter Bass Vineyard and Balletto Burnside Pinot Noir, all of which are characteristic of the West Sonoma Coast, will be unable to carry the new AVA distinction.
The key to understanding the new West Sonoma Coast AVA is acknowledging the decades that wineries like Flowers, Hirsch and Littorai invested in the area before it was proven, and before the market for varietals like Chardonnay, Pinot Noir and Syrah were as lucrative as they are today.
Thirty years ago, West Sonoma Coast vintners started seeing the differences in the wines, the weather and soils, which led to their decision to devote themselves to what at the time was considered a new and unproved winegrowing region. The area attracted a new breed of young winemakers who were drawn there because it was unique, much as their wines have proven today.
From the disillusioned, ex-hippies who migrated there in the late 1960s to experiment with communal living at Gottlieb's Morning Star Ranch and Bill Wheeler's Wheeler Ranch, to today's winemakers—many of whom live off the grid as far as 45 minutes from the nearest neighbor—West Sonoma has long attracted resourceful trailblazers. The properties in the area are larger. Inhabitants are more self-sufficient because they have to be. There's still active logging and sheep ranching. It is still a very rural community.
The new West Sonoma Coast AVA also promises to stitch together a stronger community of wine growers in the region to share information, support each other with technical research and partner to preserve the region's landscape, history and culture.
---
Eric Schwartzman is the editor of the Sonoma Wine Tasting Blog.