For a quarter of a century, Healdsburg Jazz has put the Wine Country community on the jazz map. A series of annual festivals have brought new talents to the same Healdsburg stages as musical legends, at once an education and a celebration of what is widely recognized as America's own musical art form.
But it's not just the annual Healdsburg Jazz Festival, usually held the first half of June and almost always running for well over a week, that fulfills the mission of the organization. Its status as a 501-3(c) educational nonprofit essentially mandates year-round activity, which will offer full expression in the coming weeks.
One example is the upcoming show with the Sullivan Fortner Trio at the Paul Mahder Gallery. Fresh from an appearance the day before at the Monterey Jazz Festival, Fortner comes to Healdsburg for a Monday night show that begins at 7pm.
His music pulls in elements from different eras and styles, and given Fortner's New Orleans heritage, that's a natural impulse. Accompanied by bassist Tyrone Allen and drummer Kayvon Gordon, the 36-year-old pianist draws upon his years with Roy Hargrove's quintet and familiarity with gospel, pop songs and the jazz canon to create a Grammy-award winning repertoire.
While the show will be held at the same location where other non-related events take place under The 222 aegis, it's specifically for Healdsburg Jazz fans and audience. The admission ranges from $25 for students to $40 for general admission and $75 for "gold seating" close to the stage. The bistro tables, wine-by-the-glass service and intimate atmosphere create a perfect venue to enjoy live jazz—perhaps the core mission of Healdsburg Jazz.
Jazz for Snoopy
Fortner's show, however, is just one of three that Healdsburg Jazz has lined up for the coming two weeks, each diverse and representative of the organization's broad mission. The following Saturday, Sept. 30, finds a free family matinee starting at noon at Santa Rosa's Charles M. Schulz Museum—home of Snoopy and Charlie Brown—with the Terrence Brewer Quartet. Naturally, that show will include music from Vince Guaraldi, composer of the memorable score for the animated Peanuts television programs.
"Music education has been a part of Healdsburg Jazz since the start," said Gayle Okumura Sullivan, the organization's executive director. She pointed out that in the year since the end of the pandemic, Healdsburg Jazz has emphasized engaging the community and its school-age residents. "We bring music to our community throughout the year, such as this event on Sept. 30," she added.
Arts Workshop
That emphasis on education continues just a week later—at North Star 2023, a free day-long music-and-performance arts workshop for teens on Saturday, Oct. 7, at the Healdsburg Community Church. North Star 2023 is essentially a day camp for students ages 13-18, designed to inspire young artists to creativity by working with musician mentors.
Its name comes from the belief that education is the "North Star" of the organization. The teaching artists are all involved in collaborations using music as the intersection of diverse art forms. These collaborations include poetry, dance, theater and visual arts, and impart the collaborative spirit to workshop participants.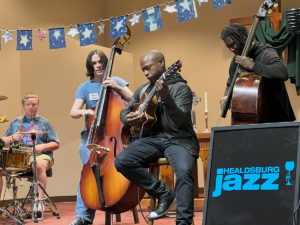 "This is the second time we have done a full day Music and Performing Arts workshop," said Stella Heath, a jazz vocalist who does double-duty as the organization's education coordinator. "We did the first one in 2022, which was funded by a generous grant from the Community Foundation, helping organizations get back into offering educational and arts programing after the pandemic. It is something we hope to be able to continue offering for years to come."
Along with Heath herself, who performed at Hotel Healdsburg during this year's festival, other artists include Andi Wong (visual arts), Allison LoveJoy (piano), Victor Temple (dance and movement), Ian Scherer (guitar) and Enid Pickett (poetry and creative writing). Most of them also have theater experience to share.
The day-long program consists of a series of hour-long workshops, from 10am to 4:30pm, led by individual teaching artists. The day includes student performances and interactive engagement, lunch and snacks, outside activities, and a faculty and student concert to end the program, from 4:30-5:30pm.
The North Star 2023 workshop is still accepting sign-ups to fill five remaining groups of eight students each. "Priority is given to Sonoma County residents, but it is also open to young people outside of Sonoma County if there is interest," Heath said.
Application forms are online at healdsburgjazz.org/events/north-star-2023-music-performance-arts-workshops/. The workshops are free for area teens, though donations are accepted.
These and other programs and concerts can be found online at healdsburgjazz.org.