Healdsburg welcomed its newest address with a house party last Friday, one that included a guest list of enviable proportions: a U.S. congressman, a state assemblymember, all current members of the city council, plus representatives of the county supervisor and government agencies whose focus is housing.
The address is 111 Saw Mill Circle and the name of the building is The Randall. Forty-one new apartments were christened on Sept. 15 in a ceremony complete with speeches and a ribbon cutting, officially inaugurating Healdsburg's newest and largest affordable-living complex.
The four-story building, which notably looms over the McDonald's restaurant and parking lot on the corner of Healdsburg Avenue, is located right near the heart of downtown Healdsburg, making it suitable for walk-to-work local residents.
It is also "just steps away from the future Sonoma-Marin Area Rail Transit (SMART) stop," said Eden Housing of its latest affordable housing project and its first in Healdsburg. In fact, the new building is named not for a local notable or historic figure, but for longtime housing advocate and Eden board member Nick Randall, who is very much alive and attended the project's grand opening as an oft-toasted guest.
Randall, a Sebastopol resident, is the former executive vice-president of DynEd International, an English-language learning software company. He also served on the Hayward City Council, in Alameda County, and is the immediate past chair of Eden Housing, which has developed affordable housing projects in 45 California cities since 1968.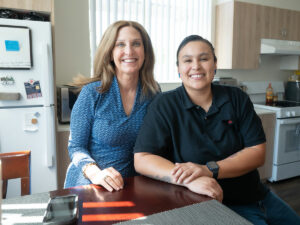 By design, The Randall was the first component of the broader Mill District master development to be completed, opening to residents and fully occupied in July of this year. It includes a mix of 1-, 2- and 3-bedroom homes with outdoor community space including a patio, barbecue and gardening area.
Among the locals in attendance was Healdsburg Mayor Ariel Kelley, whose remarks took note of the city's role in the development of the Randall. "This endeavor reflects our ongoing commitment to not just plan, but [to] act to address housing affordability. City staff has worked hand-in-hand with Eden Housing to ensure project delivery and today marks that significant milestone," she said.
"Today, we are here to celebrate not just the opening of a housing complex, but a promise delivered. These 41 units are a part of the 476 units, if not more, we intend to build over the next eight years."
"The development agreement required the affordable housing to be both built and open first, before the hotel or other market rate development," Kelley said later.
Kelley specified the city's role in the project. "The city convened planning and design workshops for the project, contributed funds from local tax dollars via our measure S fund and General Fund, and assisted with entitlements that allowed the developer to pursue successfully, receiving their low income housing tax credits… which ultimately led to the funding of the project."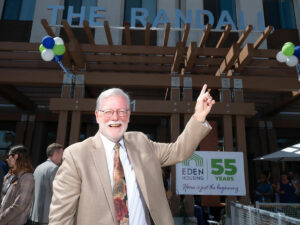 Also on hand at the Sept. 14 opening were Rep. Jared Huffman, State Assemblymember Jim Wood and Jenny Chamberlain, chief of staff for 4th District Supervisor James Gore. Officers of California Community Reinvestment Corporation, Generation Housing, Wells Fargo, Eden Housing and Replay Destinations, the Mill District developer, were also in attendance to inaugurate the apartments.
All 41 of the units are aimed at households earning between 30%-50% of the Sonoma County Area Median Income. "This is a critical step toward equitable housing, giving more people access to the advantages of living in Healdsburg," Kelley said.