Kitka, a vocal ensemble of women singers whose repertoire ranges from the pre-classical and folk traditions of Eastern Europe to modern theater, returns to Healdsburg this Sunday, June 4, with an afternoon concert at the Raven Performing Arts Theater.
The ensemble was first formed in 1979, and while its composition has changed over the years it remains true to its mission of performing the rich traditional music of the Slavic regions, which includes the Balkans, the Caucasus, Russia, Poland and Ukraine.
The group's name—pronounced keet-ka, with an accent on the first syllable—"occurs in many Macedonian and Bulgarian folk songs," according to Shira Cion, a co-director of the group. "It literally means a small bouquet, and is a kind of symbol of woman's purity and beauty." That and, according to Cion, it's "also kind of slang for just a bunch of attractive women."
Adds Cion, "For us, it kind of represents the composition of the group because anyone who comes to the concert will hear eight very distinct and uniquely beautiful voices." The voices heard in Kitka are not all alike; far from it. As diverse as its musical sources are, so too are the voices themselves distinctive, yet they all embody the folkloric sound "that's rooted in centuries of singing outdoors"—open-throated, full and clear.
That sound is haunting, penetrating and other-worldly. The multi-layered voices and their harmonies produce a highly textured soundscape that evokes distant forests, spiritual forces, mythical sirens and sacred hymns. The strengths of each woman are given full opportunity to express themselves in the variety of music they present—which includes classical oratorios, modern opera, experimental theater and traditional Jewish music—through more than 14 CDs and other musical vehicles.
Kitka's June 4 appearance will be their second in Healdsburg. They first sang at The 222 in December, 2021—their first concert following the pandemic lockdown. Tom Brand, of the Raven, heard of them there and lined them up for this Sunday's concert.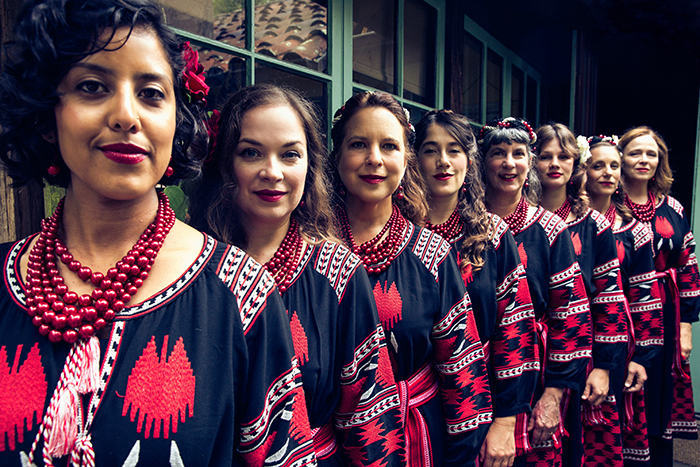 The Oakland-based group currently numbers 10, eight of whom will be coming to Healdsburg next Sunday. Cion has been with them since 1988—there are no original members of the group still performing with them—which makes her one of the two most seasoned members; the youngest is Stacey Barnett, a 25-year-old recruited last year when the group held auditions in the Bay Area.
"Finding a new Kekia singer is like finding a needle in a haystack, because it's a very special kind of vocalist," Cion said. They look for someone who performs with authenticity and confidence the wide variety of ethnic music styles the group demands, adding to the whole instead of just completing it.
Though Kitka is exclusively a vocal group, singing without other musical instruments aside from occasional percussion, the range of their work over the years has taken them into far corners of geography. The ensemble performs in a variety of musical formats, including stage productions of contemporary and original works; they appeared as the chorus in A.C.T.'s productions of Hecuba with Olympia Dukakis and Viola Davis.
The Ukrainian song selection, style of singing and even costuming—a Ukrainian embroidered dress called a "Vyshyvanka" is one of the two costumes they will wear in the Healdsburg concert—have influenced their response to the recent war in the region in several ways.
Not only have they taken part in a number of benefit concerts supporting humanitarian aid organizations, Kitka has also arranged for a Ukrainian-American artist to come to the Bay Area for a 10-day residency, culminating in an early July concert for Ivan Kupala, the Ukrainian summer solstice, at a music festival in Oakland.
Kitka will also perform and hold workshops at the upcoming Global Roots Sonoma festival at the Green Music Center on Sept. 24 of this year.
"We bring lots of influences from the region into our costumes, but we also like to just be creative and colorful," said Cion, to "provide sort of a visual treat for the audience as well as a sonic one."
As far as the unusual Sunday afternoon show time, 3pm, Raven Performing Arts Theater Executive Director Tom Brand had this to say: "Sunday was the only time that fit both Kitka and the Raven's schedules. As the show will tend to have an older audience, matinee show times are appreciated by many seniors."
Tickets for "Kitka: A Women's Vocal Ensemble" are $30–$50, available at ravenehtheater.org or at the door. The concert starts at 3pm at the Raven Theater, 115 North St.