Rates for both water and wastewater services will rise, as reflected on the next City of Healdsburg utility bill, which residents should receive soon.
While the cause is not directly related to the ongoing drought or persistent pandemic, there's little doubt that the two emergencies impacted the financial equation.
Terry Crowley, the city's utilities director, presented the proposed fee increase to the city council in its final budget meeting in June, and the council agreed to a new rate structure that will see some water rates rise by almost 50% over the next four years, in incremental year-by-year increases.
"Some of the bigger take-aways is that we delayed the rate increases due to Covid, and wastewater rates have not been increased since 2015," said Crowley. "Also, the drought has had a significant impact on the water department's operating revenues. This alone required changes to the existing rate structures in order to maintain safe and reliable drinking water."
The fixed monthly service charge for a single family dwelling inside city limits has been pegged at $23.19 for the past several years. It will rise to $26.49 with the July billing statement, itself a 14% rise, gradually increasing to $34.07 in July, 2026—a 48% rise overall.
The charge for wastewater (sewer) services will also go up, from $37.33 for a single family dwelling currently to $43.21 with this next billing cycle, a 15% jump. Again, annual increases will result in a 51% rise as of July 1, 2022, when the service charge will be $56.12.
Water and wastewater customers outside of city limits—primarily the Fitch Mountain area—will see their rates increase depending on their metered connection, as will non-residential customers.
Good news and not-so-good
Perhaps surprisingly, there is some good news buried in the new service rates and charges. Rates and fees for other housing forms, such as single family with Accessory Dwelling Unit (ADU) or multifamily dwellings, will also increase over time, but with a difference. Fixed monthly service charges actually drop for customers at single family plus ADU accounts, and for multi-family accounts (albeit per dwelling unit). For homes-plus-ADU, the current rate of $23.29 drops to $20.22, and for multi-family residences it drops from $16.13 each to $15.75.
The reason given is due to "cost-of-service analysis," which shows that "such accounts use less water and wastewater than previously assessed," according to the water department's proposed adjustments, as presented to the city council on June 21. Over the coming five years, however, these rates slowly climb, though not at as steep an incline as single-family home accounts will see.
Customers are billed more than just the service charge, however, but for water used as well. With water in short supply during current drought conditions, rates for water used are going up. Billing units are expressed in Hundred Cubic Feet (HFC), with one HCF equal to 748 gallons of water. Both potable water and wastewater services use these units, with a typical single-family residential customer projected to use six HCF of potable water in a month, and 5 HCF of wastewater.
(Acre feet of water is commonly used in determining larger-scale water use, such as agriculture; an acre foot of water equals about 326,000 gallons, or enough water to cover an acre of land one foot deep.)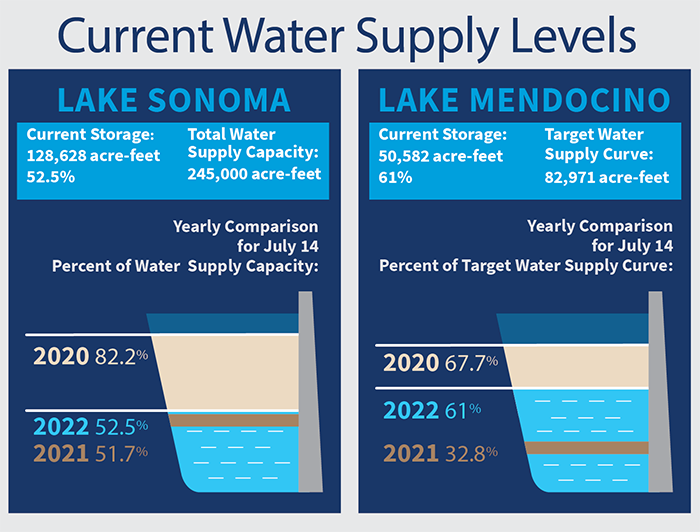 The new formula pumps up a typical family's monthly bill to $62.49 per month, starting with the July billing period. Typical wastewater customers will be charged $96.31, up from about $64.
Wastewater is essentially the water that goes through the sewage system to the water reclamation facility, located along westside road and the Russian River just south of town. The estimate of water a single customer produces for the wastewater system is based on the average winter water use from the previous year, in most cases.
That may lead one to conclude that a customer is being billed twice for the same gallon of water, once on the way to the faucet and once on its way down the drain. While in broad strokes that is true, the technologies, infrastructure and "deliverables" in each utility are completely separate endeavors.
"While it may be the same gallon of water, we are talking about new and used water, and these two entirely different 'water' systems," said Rob Scates, the city's water/wastewater operations superintendent. The drinking water system requires water production, treatment and distribution, while the wastewater system includes sewage collection, treatment and distribution.
"All this to maintain compliance and safely deliver the product, whether it's drinking water conveyed to the customer, wastewater removed from the customer or recycled water available to the customer," Scates said. "There's a lot to it."
The long and the short of it is, that while rates for these services are increasing, the proposed water and wastewater schedules for the next five years are "calculated to ensure that all customers are paying rates that are proportionate to their cost of service," a condition that is a matter of state law.
If a customer wants to keep charges for both water and wastewater down, of course, the key is to use less water. Healdsburg is a leader in this, with an annual water reduction of 32% in June alone; in August 2021, the city cut its water use by half over the previous year—the highest percentage of water reduction in the state, City Manager Jeff Kay reported.
"Healdsburg did do a phenomenal job last year in water conservation; at certain points of time, it was up to 50%," said Terra Sampson, the city's new utility conservation analyst. She reminded residents that the city is still in a Stage 2 drought, with attendant required reduction in water usage.
For the latest on water use and conservation, see the Water Management FAQ on the city's website, www.healdsburg.gov.