Ever since the American Institute of Architects (AIA) came to Healdsburg, the town has turned increasingly self-reflective, attentive to its brand in a way that goes beyond just tourism.
It's now not just a wine destination but a design destination, where city planners, architects, sustainability evangelists and lifestyle gurus gather to contemplate how to build through the next decades while maintaining Healdsburg's unique attractions.
Need some evidence? A second series of Design Dialogues begins Sept. 20, panels that attract local as well as national planning professionals to town.
It goes back to 1982, when the AIA conducted an influential city visioning project as Rural/Urban Design Assessment Team, or RU/DAT. That exercise presented the city with three paths forward: as a bedroom community, a high-tech Silicon Valley spinoff or a tourist industry destination. Their advice was, and the city pursued, the third path.
Imagine Healdsburg 2040
Forty years later, Healdsburg has clearly become an internationally recognized tourist destination in both wine and food. In 2018, when that trend was clear, Healdsburg was one of eight cities chosen by the AIA for a Sustainable Design Assessment Team, or SDAT. A team of seven select architects, planners, artists and economists revisited Healdsburg in August, 2018, and helped the community develop "a vision of a sustainable future and a realistic, attainable roadmap to get there."
The title of the conference: "Imagine Healdsburg 2040."
The impact of that visit, and the white paper that resulted, continues to permeate Healdsburg, and is now part of the atmosphere of the town. Ariel Kelley, one of the organizers of the SDAT when she was chair of Corazón Healdsburg, now sits on the city council.
"The city has started to implement many of the suggested policies and projects found in the report," said Kelley. The SDAT Final Report is found on the healdsburg2040.org website, under Resources.
"After the AIA team departed, Healdsburg 2040 was formed to be the resident-led entity to continue to shepherd the plan forward towards implementation," said Kelley. Healdsburg 2040 persists as a series of workshop groups on different topics—housing, arts and culture, parks and connection, and the general plan—all descendent of the SDAT. They continue to meet monthly in their four workgroups, and engage with the city planning, development and parks committees as a major voice of the community.
Healdsburg 2040 turned up most recently as one of the organizers of the Sept 14 candidates' debate at Coyote Sonoma, co-sponsored by the Chamber of Commerce. Walter Niederberger, active in several of the Healdsburg 2040 workgroups, was one of two moderators for the debate. As a member of the Climate Action workgroup, he promises that in mid-October, a process for developing a "Climate Mobilization Plan" will be presented to the City Council.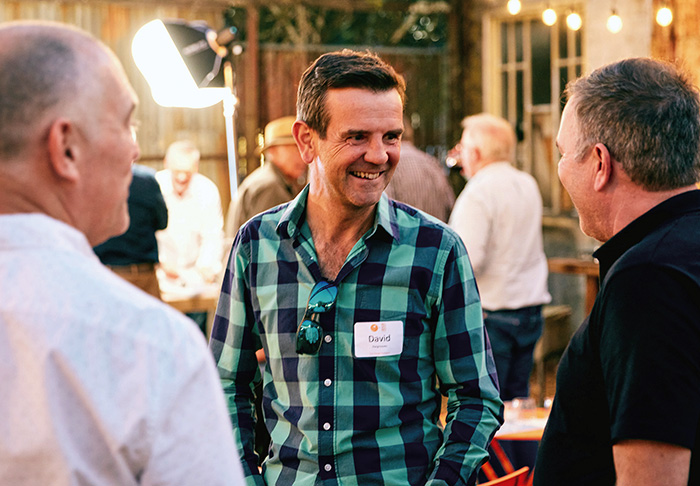 Design Dialogues
"SDAT created the initial 'event' that got people to think different or at least see the problem more clearly, and then have something to organize arounds," said Jim Heid, the urban planner behind the Craftwork co-working space in the Mitchell Shopping Center at 445 Center St. He turned into a developer himself with the River House infill project on Kennedy Lane, a compact campus of 12 residences.
For the past two years, he has presented a series of Design Dialogues, which—to apply a cable metaphor—begins its second season with Designing for Dignity, on Tuesday, Sept. 20. Craftwork's partner in Design Dialogues is the Mill District.
"For those of us who live here, there are so many things we take for granted," Heid said, acknowledging Healdsburg's rapidly expanding reputation. "So the series was meant to help articulate what it is that makes this place so special—so that we enter conversations about our collective future, we can be more articulate about what is special, what needs to be retained and how changes occurring can respect that unique quality while taking us into the future."
Circe Sher, co-director with Paolo Patrone of Piazza Hospitality—which includes Hotel Healdsburg, H2 Hotel and Harmon Guest House in its portfolio—attended and served as a panelist on last year's series. "They are inspiring talks for people interested in building and enhancing community from property owners, non profits, activists and just those interested in thoughtful conversation and design," she said.
This year's first Dialogue, "Designing for Affordability and Home," will be held at Craftwork, in the open-air conference space behind the offices on Sept. 27, starting at 5pm. Panel participants include Oakland architect Michael Pyatok, multi-family housing expert Anne Torney and LEED architect Chris Haegglund (who designs Montage homes). Tisza Bistro will provide edibles; Leo Steen will supply the wine.
Subsequent Design Dialogue episodes are "Hospitality as a Community Amenity," which asks if hotels can be designed to serve residents as well as tourists (Oct 20), and "The New Traditions," which will include the publisher of the Healdsburg Tribune, Rosemary Olsen, on the panel (Nov. 14).
For more information or to register, visit craftworkhbg.com/design-dialogues.