A semi truck loaded with wine bottles overturned on northbound Highway 101 at about 12:50pm on Monday, and what could have become a tragedy turned out to be a viral story on Facebook.
The initial reports to 911 were of an overturned big rig with the driver trapped in the cab, but when first responders arrived on the scene, they found the driver had safely exited the truck and was unhurt.
Not so much the cargo. Although it was a straight section of road northbound on Highway 101, just before the Highway 128 exit (to Alexander Valley), the yellow truck had rolled over onto its side, pulling the long trailer with it and spilling the contents of the load onto the right shoulder.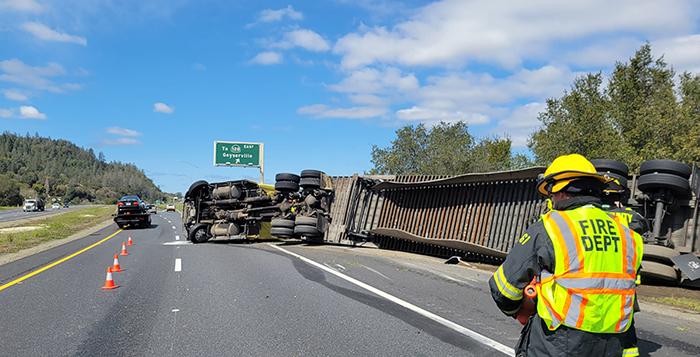 The result was what the California Highway Patrol said was "approximately 10,000 empty wine bottles" that tumbled out, a number that could have been catastrophic loss if they had been full of wine on its way to market. However, since they were empty, the bottles were destined for a bottling facility in Hopland, according to Joe Stewart, captain with Northern Sonoma County Fire Department.
Officer David deRutte, public information officer for the CHP Santa Rosa, said the driver "made an unsafe turning movement to the right and collided with a guardrail on the east shoulder and then overturned."
Eventually a large tow truck arrived, and CalTrans was able to upright the truck, said Stewart. "All the bottles spilled on the ground—there was really nothing anyone could do about that," he continued. Many though not all of the bottles were broken, and many more were damaged in the clean-up procedure, when a street sweeper was used to clean up the glass.
"CalTrans had a crew out there; they did an amazing job," said Stewart.
The northbound lane and Highway 128 exit were reopened at 7pm.