If you're a cannabis consumer who enjoys THC beverages, you're in luck. The THC beverage market is exploding, with a wide variety of options to choose from. Not everyone enjoys smoking or vaping, and that's where THC beverages come in. They offer a convenient and enjoyable way to consume cannabis. THC stands for Delta-9-tetrahydrocannabinol, the primary psychoactive cannabinoid extracted from the cannabis plant.
One of the best things about THC beverages is that they kick in much faster than edibles. They're infused with THC using a process called nanoemulsion, which reduces the molecule size and increases bioavailability, or how fast a substance is absorbed into your system. This means you'll feel the effects within 15 minutes, and the overall high lasts for about an hour. This makes it easier to time your buzz for specific events or activities.
Another benefit of THC beverages is that they offer a more social way to consume cannabis. Instead of just munching on a gummy and heading to a party, you can bring your drinks with you and sip with your friends. They're also a great alternative to alcohol, allowing you to relax and catch a buzz without the dreaded hangover the next day.
So, if you're looking for a new and exciting way to consume cannabis, we highly recommend giving THC beverages a try in 2023. And because we love sharing a hot tip, here are our top bevs of the year.
Best THC Drinks to Try This Year
Our top three faves are sure to please. Whether you like refreshing, crisp seltzers, high-dose delights or something on the sweeter side, prepare to stoke your thirst.
Pabst Labs High Seltzer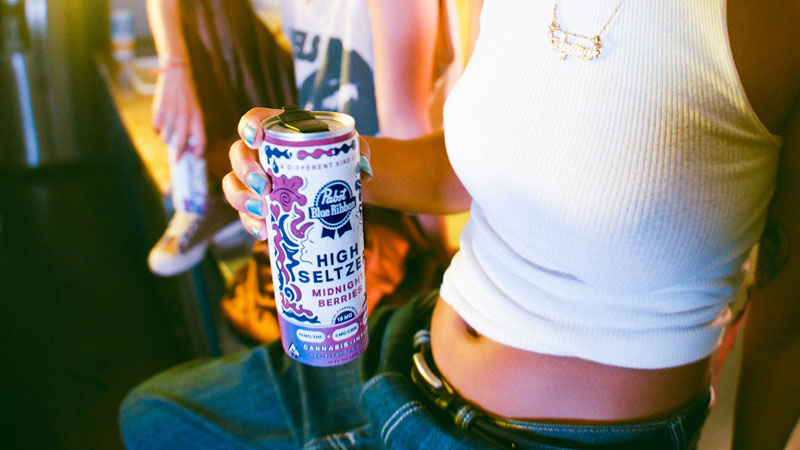 Pabst Labs High Seltzer is definitely worth checking out. This THC-infused seltzer brand was launched in 2020, and we're sure you recognize the blue ribbon from the famous lager makers. However, Pabst Labs is a whole new company, and it isn't making beer. Instead, its THC-infused seltzers quickly found a fan base in the cannabis community. 
The company is known for creating easy-to-drink beverages with the perfect amount of carbonation, and it's been expanding its product line with great success. High Seltzer comes in six delicious flavors, and each with a 12-ounce slim can contains 10 milligrams THC. However, the two newest flavors in the line, Midnight Berries and Energy Guava, include additional cannabinoids.
THC is the primary psychoactive cannabinoid extracted from the cannabis plant, known for that "high" we associate with marijuana. Cannabidiol (CBD) is another type of cannabinoid found in the cannabis plant. It's non-psychoactive, offering more therapeutic effects. CBN stands for cannabinol, a type of cannabinoid that promotes deeper sleep. THCV is tetrahydrocannabivarin, and most notably recognized for its energy-boosting properties. 
High Seltzer Flavors:
Lemon
Strawberry Kiwi
Mango Blood Orange
Passion Fruit Pineapple
Midnight Berries (with CBD and CBN)
Energy Guava (with THCV)
This THC drink is perfect for any occasion. Drink it cold, straight out of the can; pour it over ice; or use it as a mixer for THC mocktails. The price point is also very reasonable.
High Seltzer Pricing:
Single can: $5
Four pack: $18
Variety pack (24 cans): $80
Where to buy: Order online for delivery
St. Ides High Tea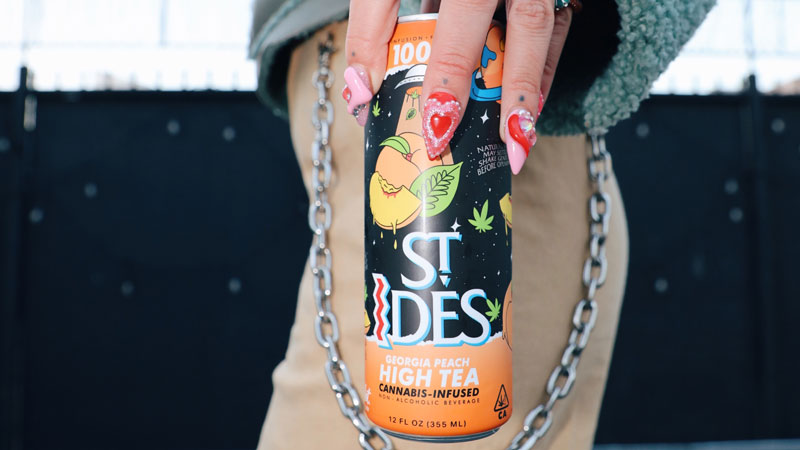 St. Ides is a brand that has been in the cannabis industry for some time now and has recently made a move into the THC-infused beverage market. It initially made a splash with its potent THC shots, each of which contained 100 mg of THC and were intended for experienced users. Now, it's taken that formula and created a line of High Teas, using the same 100 mg of THC dosage.
This new product is going to knock your socks off. It is so tasty, but please remember that 100 mg is for heavy hitters only. Share with a friend or save some for later if this is well beyond a normal dose for you.
High Tea Flavors:
Georgia Peach
Wild Raspberry
In terms of price, High Tea is a dollar-per-milligram value winner. With a cost of just $7.99 per 12-ounce can, that's 12.5 mg THC per dollar, making it an excellent value for anyone looking for a potent THC-infused beverage at a reasonable price.
High Tea Pricing:
Where to buy: Order online for delivery
Not Your Father's Root Beer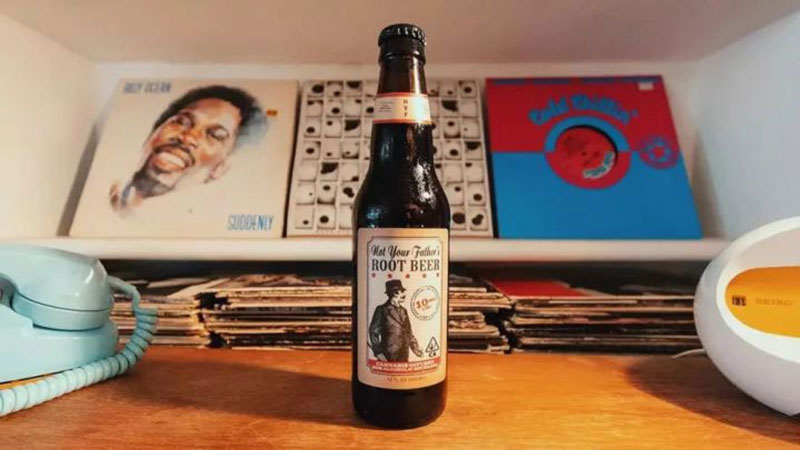 Not Your Father's Root Beer is a unique THC-infused beverage that has a storied history. Initially, it was introduced as a hard soda by Small Town Brewery, but it has since evolved into something much more. Now, root beer fans rejoice over this THC-infused sweet treat.
The flavor of Not Your Father's Root Beer is classic root beer, equal parts zesty, spicy and sugary. Each 12-ounce bottle contains 10 mg THC and is delicious straight out of the bottle or on ice.
We highly recommend that you turn this drink into a classic root beer float because who doesn't love ice cream, soda and THC all in one? Don't forget the cherry on top.
Not Your Father's Pricing:
$6 per bottle
$60 per 12 pack
Where to buy: Order online for delivery
Drink Up!
The THC beverage market is expanding with more and more options to choose from, offering an alternative way for cannabis consumers to enjoy their high. Whether you prefer carbonated drinks, sweet tea or a classic root beer flavor, there's a THC-infused option available. These beverages offer a convenient and discreet way to consume cannabis, perfect for social situations or anytime you want to skip the alcohol.
With affordable prices and delicious flavors, these THC drinks are a great way to experiment and find the one that suits your taste.