Research materials and photographs contributed by The Healdsburg Museum.
Box Car Club to Organize Friday
The American Legion national convention club, which is variously known since its inception as the St. Paul or Bust Club, the Box Car Club and the Ku Ku Klams, will meet Friday night for the purpose of organizing into a working organization. The meeting will take place at the American Legion club house, where it is expected that between 15 and 30 veterans will gather for the formation of the club. The club's aim is to charter a box car, more if necessary, to travel to St. Paul, Minn., for the 1924 national convention of the legion.
75 years ago – November 19, 1948
Watch to Be Dropped At Thanksgiving Day Football Game
A non-breakable watch will be dropped from an airplane at the Greyhound-Alumni football game, Thanksgiving day at Beeson Field. The Finnly Frisch Jewelry Company announced the stunt to demonstrate the non-breakable quality of a brand name watch. Between halves of the game, Frisch will drop the watch to which will be fastened several ribbon streamers so spectators can follow its downward flight.
50 years ago – November 15, 1973
A Quarter Mile of Track in One Pull
Romance may be gone but it's a quick way to lay new rails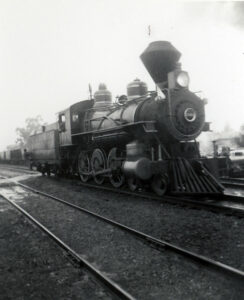 In times past they used to lay rail to the steady sing of a caller, gangs of men working in unison, sweat pouring from their bodies. For anyone who happened along the Northwestern Pacific tracks early this week it was obvious that times have changed.
As a diesel locomotive pushed, tracks a quarter mile long were unloaded from flat cars, with no more apparent strain than pulling a long board off the top of a pile of lumber. Railroad workers seized one end of the rail and then backed the train up, laying a ribbon of steel behind them. A Northwestern spokesman in Willits explained that 8 ½ miles of the continuous rail is being layed this year between Schellville and Eureka as part of routine maintenance.
Because the individual rails are welded together the trains don't make as much noise anymore, besides being quicker to lay. Of course the absence of the "click" may make song writers unhappy, but it's bound to please those who live near tracks. The old rails will be dug up, and special machines used to lift the quarter-mile rails in place. Old track in the Healdsburg area is in the traditional single rail style. The new track will change that but while it is new here, it has been used for several years throughout the country, the railroad reports.
The Healdsburg Museum and Historical Society is located at 221 Matheson St. Hours are 11am to 4pm, Wednesday through Sunday. Admission is free; donations accepted.