Raven Players
Betty and Edith and Sue are lifelong friends who share the same godmother. On stage at the Raven Performing Arts Center, 115 North St. Performances until Nov. 19, various times. See review this issue. Thursday through Saturday, 7:30pm. Sunday 2pm.
Basketball Opener
Healdsburg High basketball teams play their season's first local games at Rio Lindo Academy, making for a crosstown matchup between Healdsburg public and private schools. Girls varsity starts at 6pm, with boys varsity at 7:30pm. The Adventist Academy is at 3200 Rio Lindo Ave.
Black History
Final weekend for the "African American Experience in Healdsburg" exhibit, at the Healdsburg Museum, 221 Matheson St. Open Wednesday to Sunday, 11am to 4pm, until Nov. 19. Free admission, donations appreciated.
Alternative Artist
UK musician John Mason brings his forceful voice and guitar to Healdsburg on Friday, Nov. 17, when he plays at the Elephant in the Room, 144 Healdsburg Ave. Tickets $10, music starts at 8pm.
Farmers' Market
The regular Saturday Healdsburg Farmers' Market is Saturday, Nov. 18, from 8:30am to noon at the West Plaza parking lot. The market celebrates local agricultural heritage and is one of the original Certified Farmers Markets in the area.
Craft Fair
Annual Senior Center Craft Fair is on Saturday, Nov. 18, from 10am to 2pm at the Senior Center, 113 Matheson St.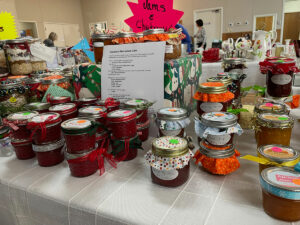 Holiday Boutique
Stock up on holiday gifts and handcrafted jams, chutneys and marmalades from Healdsburg-area home chefs. Also Thanksgiving and Christmas decorations, artwork and loads of jewelry and other gifts. At St. Paul's Episcopal Church, 209 Matheson St., Saturday, Nov. 18, 10am to 2pm.
Hotel Jazz
Regular Saturday-evening jazz in the Spirit Bar at Hotel Healdsburg, Nov. 18. Gypsy Jazz in the style of Django Rheinhardt, with Ian Scherer, Emily Froberg and Trevor Kinsel. From 6-9pm, 25 Matheson St., no cover.
Jazz Duo
Acclaimed clarinetist Anat Cohen and 7-string guitarist Marcello Gonçalves team together in a series of lyrical duets from the so-called Brazilian Songbook on Saturday, Nov. 18. Two shows, at 6:30pm and 8:30pm, on The 222 stage at Paul Mahder Gallery, 222 Healdsburg Ave. Tickets $45 and $85 at the222.org/anat-cohen.
Foster Children Benefit
Coyote Sonoma is the site of a benefit for TLC Child & Family Services on Nov. 18, featuring the Nicole Marden Band at 7pm and headliners the Dustin Saylor Band at 8:15pm. VIP ($35) greeting and food truck service begins at 6pm, $20 advance reservations at store.wilsonartisonwines.com. Coyote Sonoma, 44-F Mill St.
City Council
Regular meeting of the Healdsburg City Council begins at 6pm, 401 Grove St. Public comment welcome from attendees. Agenda available the Wednesday preceding, at healdsburg.gov/543/Agendas-Minutes.
Fun Run
The annual Healdsburg Turkey Trot kicks off at 8am on Thanksgiving Day, Nov. 23. Start and finish are at 333 Center St. in front of Healdsburg Running Company. The 5k run supports the Drew Esquivel Memorial Scholarship. Registration $25 adults, $20 under 12, includes t-shirt. Hosted by the Rotary Club of Healdsburg Sunrise in partnership with the city of Healdsburg.
Fall Open House
Noon-to-6pm event at Hudson St. Wineries on Friday, Nov. 24. Best of Healdsburg's favorite musician, Adam Lieb, plays from 1:30-3:30pm, followed by the Adults in the Room until 6pm. 428 Hudson St., hudsonstreetwineries.com.
Post events on the Tribune's online calendar at healdsburgtribune.com/calendar, and send special announcements to [email protected].