In some ways, Healdsburg High and Sonoma Valley have similar football programs—new coaches, young rosters, each coming off disappointing seasons. And going into the Sept. 8 game, both were winless this year.
In Sonoma last Friday, however, it was the host Dragons who earned their first win of the year by easily defeating the Hounds, 35-9. That puts Healdsburg at an 0-2 season record, with their first home game coming up this Friday at Rec Park.
The Greyhounds relied upon Nova Perrill and Alexander Harms on both offense and defense to muster what competition they could. The pair played almost every snap on both sides of the ball, lined up in the backfield on offense and as linebackers on defense. Such reliance comes at a cost, as the other team invariably knows where the ball's going, and to whom.
The Dragons led 21-2 at the half, taking advantage of turnovers by the skittish Greyhounds and a plethora of Delay of Game penalties that kept the ball moving the wrong way. Only a safety prevented a halftime shutout, though the Hounds defense did prevent a score-at-will game and forced several punts.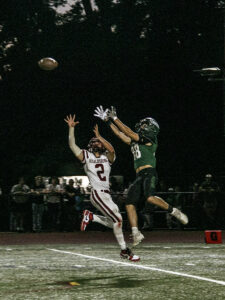 A long 80-yard drive to open the third quarter finally put Healdsburg in the end zone. Harms slipped in from the two yard line following a series of short-gain off-tackle runs by Perrill. The extra point kick by Mario Castro was good, making the score 21-9.
But the Dragons still added two more touchdowns of their own in the half, building on four turnovers in the game by Healdsburg, three of them interceptions, two of those run back for scores. Sonoma Valley's offense was led by quarterback Trent Ohman and receiver Hudson Giarritta and running backs Lee Scott and Cayden Waldrop.
The final score of 35-9 was better news for Sonoma Valley than Healdsburg, and it comes with a footnote: It was the first win for the home team at newly-christened Midgley Field, the artificial turf outdoor sports pitch on the east side of the high school campus. Though the field has been in use since 2019, it was only named last spring to recognize the long-time Sonoma Valley football coach and athletic director Bob Midgley, who died the year the field opened.
This Friday, the Greyhounds host Kennedy High (from Richmond) at the Rec Park grass field, a rarity even among today's high schools. JV kickoff at 4:30, varsity at 7pm.