Editor's Note: With this issue we introduce 'Staycation,' a twice-monthly feature exploring the wealth of day trips, overnights and weekend getaways in and around the greater Bay Area.
The easiest way to maximize vacation time is to spend it locally, and Sonoma County is full of options for this kind of getaway, including the close-to-home but remote-feeling Vintners Resort in northern Santa Rosa, just east of the Fulton intersection.
It's perfect for a wide range of special events, from a quick romantic getaway or a personal retreat, to a catered vineyard wedding convenient for out-of-town and local guests alike, to a family reunion or conference.
Dream Amongst the Vines
Vintners is the first luxury resort on a working vineyard, and is also home to John Ash & Co., one of the very first farm-to-table restaurants in Sonoma County. Besides the vineyard, the 92-acre estate has extensive flower and culinary gardens, fig and olive orchards, all contributing to the restaurant and the resort's unique farm-to-spa treatment offerings.
This local getaway showcases everything about Sonoma Wine Country that other travelers come from far away to enjoy, including the thoughtful, spacious rooms with breezy balconies offering expansive vineyard views. Some rooms even feature luxurious bathtubs large enough for honeymooners, and there's coffee and wine in the room for when one just wants to stay in.
When ready to emerge from the relaxing rooms, there are many ways guests can enjoy personal time at the resort or engage with fellow travelers. First and foremost, of course, are wine tasting and fine dining, and then there are the large-scale chessboard and swimming on the pool grounds for outdoor fun.
Consider delighting in a leisurely late-morning brunch at the on-site River Vine Café, then go for a swim, head to the spa for a treatment or even venture out into the country for a little antique shopping that could never normally be done here during the bustle of day-to-day life. The advantage is that the places one discovers can easily be returned to again and again since they're local.
Back at the Vintners Resort, the Front Room Bar and Lounge makes for a fine happy hour. With some luck, while awaiting dinner reservations, there might also be a complimentary wine tasting. On a recent late afternoon, Scherrer Winery was showcasing its splendid old- and mature-vine varietals in the lobby sitting area.
Dinner at the John Ash & Co. restaurant could be the highlight of any stay in Sonoma County and all the more convenient when it's a mere stroll away. Widely known as the first Sonoma County restaurant to introduce the idea of cooking with seasonal, locally sourced food, the restaurant is also known for its expert pairing of regional wines with its stellar cuisine.
The namesake restaurant of James Beard Award-winning chef and author John Ash (a.k.a., the "Father of Wine Country Cuisine"), the restaurateur opened the establishment in 1980 to instant critical acclaim. A passionate supporter of sustainable food practices, Ash served on the board of the Chefs Collaborative, as well as Seafood Watch, an initiative of the Monterey Bay Aquarium.
Passing the Toque
Today, executive chef Thomas Schmidt continues the tradition of quality at John Ash & Co. His broad knowledge of wine informs the creation of meals that are creative accompaniments to the restaurant's extensive, award-winning wine list.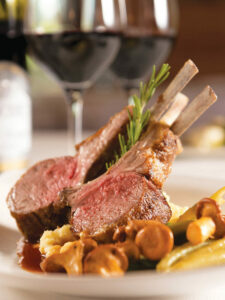 Indeed, the restaurant's seasonal offerings are not only created from the bounty of local farms and purveyors, but also from sustainable and organic produce from the resort's own gardens, overseen by culinary gardener Chris Connell.
The restaurant is relaxing, with a vineyard view, outdoor banquet table, indoor or outdoor seating, and Mediterranean accents. The rural environs of the establishment are transportive, while embracing contemporary "foodie" culture.
This combination is amplified by a recent addition to the culinary team, chef de cuisine Dylan Ghadiri, who joined executive chef Tom Schmidt and his team at the restaurant this summer.
"Dylan is a talented chef with an enviable depth of experience at some of the most legendary Bay Area establishments," said Vintners Resort general manager Brian Sommer. "Our inspiring cuisine has helped to shape the culinary movement over the past several decades—placing the Vintners Resort on the global stage and establishing us as a major culinary destination. We're thrilled to bring Dylan's expertise and energy to our tightly-knit culinary team."
Ghadiri brings with him more than 10 years of culinary experience in Healdsburg, Geyserville, Marin and San Francisco, at restaurants and wineries including the Francis Ford Coppola Winery in Geyserville, Sonoma.
"As a Marin and Sonoma County native, Josh Ash & Co. has always been on my radar as a dream job," said Ghadiri. "The possibilities are endless—and I look forward to collaborating with the team to showcase Sonoma's world-class cuisine to our guests."
Table Time
For the table, enjoy an artisan charcuterie and cheese board, which features house made chorizo, a rich bresaola, a country paté, cheeses from the Valley Ford creamery and the Bohemian Creamery, nuts, pickled vegetables, mustard, and a selection of flatbreads and crackers.
Then begin the meal with local Hog Island oysters and an estate heirloom tomato and burrata salad. This can be paired with one of the many locally produced white wines for a tasting experience that will start a meal off right. In fact, one may ask the server to recommend a wine that pairs with each course for a real wine country farm-to-table experience.
Entrees range from the vegetarian Bellwether Farms ricotta cavatelli pasta with estate basil and cherry tomatoes, sweet corn cream and smoked butter, to the black angus beef filet steak with whipped potatoes and sauteed spinach. Or one may try the herb-crusted pork, pan-seared scallops, salmon or Rocky chicken breast.
And remember to save room for dessert and, for that matter, a dessert wine. Pastry chef Desiré Blanc creates seasonal offerings that change often during the year.
Who doesn't love a dinner out? But the best part? When vacation is over, it isn't really over, because it's only a few minutes away.
---
Vintners Resort is located at 4350 Barnes Rd., Santa Rosa. 800-421-2584. Vintnersresort.com.