"We have a great team," said Mary Beth Chandler, head coach of the Healdsburg High School varsity girls tennis team. She points not only to the winning record so far this season but the energy her players bring to their game.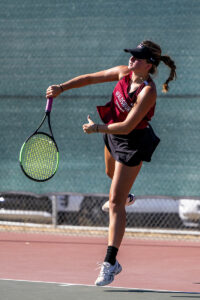 Those players include Isabel Smith, the team's Number 1 for the second year in a row, who Chandler called "a committed senior and improving." Smith is also a standout on the varsity swim team in spring.
Number 2 singles player is Meher Dhiman, who is so far undefeated in local matches. "She's gifted at adapting to her opponents," said the coach, who predicts Dhiman could challenge Smith for the Number 1 position before the season is over. Dhiman plays on the basketball team in winter.
Amelia Wickersham, Number 3, played primarily doubles last season. "She has staked her position at singles and just keeps improving," said Chandler.
Number 4 singles is Claire Berry. Never having played singles previously, Chandler said "she's tremendously athletic; it won't be long before she converts those rallies to her advantage.
Doubles teams include Ruby Leffew and Isabel Lickey at #1 Doubles. "Their second year as partners is evident as they continue to battle it out and learn new doubles tactics, supporting each other throughout," said Chandler.
At # 2 Doubles, Cecilia Hallinan-Becker and Margaret Kosta complement each other in talent, said the coach. "Although new to competition as a freshman, Kosta's balls fly down the middle of the court while Hallinan-Becker angles a volley just out of reach—followed with a smile and a racquet bump with her partner."
Other players on the squad include sophomore Kathleen Arriaga, who played badminton her freshman year, at Number #3 doubles, with whom the coach called "her athletic and persistent partner," Sana Katsuki.
The team is rounded out by Abby Wetzel, Haley Davis, Angelina Mengali, Thea Meyer, Eloise Parr, Bryanna Cortez Sierra, Ivy Stark, Elizabeth Abend, Julia Vega and a newcomer, exchange student Lara Vigano from Brazil.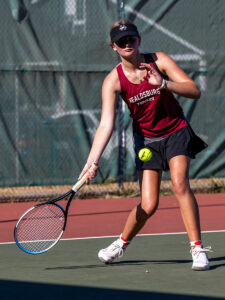 Chandler also noted that the school's athletic director, Josh Cavanaugh, is a tennis coach himself for the boys team. "He has been instrumental in recruiting and promoting the program to keep it going, which is no small task," she said.
Home tennis matches are played on the Healdsburg High courts off Monte Vista Avenue, with start time at 4pm. The Sept. 12 match in Healdsburg against Rancho Cotate resulted in a forfeit as the Rohnert Park school could not field a large enough players to compete.
Next home matches include Thursday, Sept. 14 against Piner, and next Thursday, Sept. 21, against Cardinal Newman.